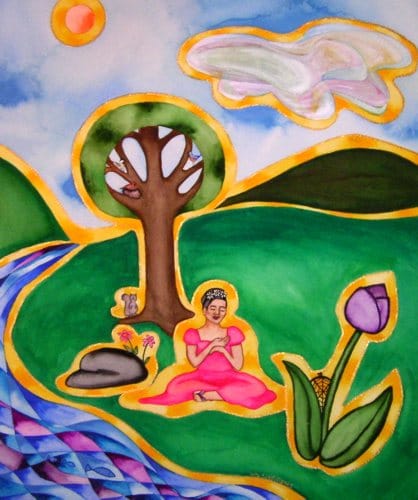 I feel exhausted I go outside and sit with nature. I take notice of every thing living. People, animals, insects, plants and trees. I imagine everything breathing in the same rhythm And then I join that rhythm And breath in the life force of nature.
In this painting the woman is one with nature and shares the same life-force energy with all the different elements of life. She feels connected to life and strengthened by the connection. This is one of the visualizations I use when I am feeling low in energy.
The woman has a Frida Kahlo look to her because Frida is an inspiration for me. Frida also created healing art and she suffered from chronic pain.
The woman's dress is pink to symbolize self-love. The woman tenderly holds an insect creature in her hand to show her respect for things smaller than her. There is a light around everything to symbolize the life force energy that runs through everything and connects everything. And the water symbolizes flow in her life; not holding on to what harms her whether it be thoughts or relationships or ideas or believes.