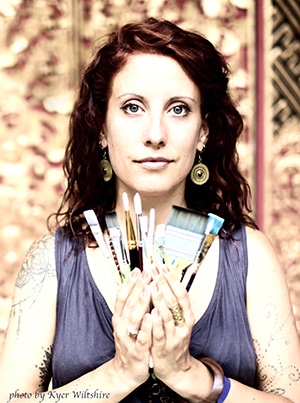 Autumn Skye Morrison's meticulous and poignant paintings weave together refined realism, iconic symbolism, and glowing geometries. She teaches and exhibits worldwide, and otherwise paints and thrives on the beautiful Sunshine Coast of BC, Canada. Considering herself immensely blessed, Autumn Skye strives to support others through creative empowerment and the perpetuation of inspiration.
"I believe that through creativity we have the opportunity to transmute shadow and pain into expressions of healing and wholeness. While the world is at the precipice of momentous change, artworks have the potential to be maps, and these maps can help guide humanity forward into new and positive ways of seeing and being. I offer my artwork as a mirror, both an intimate personal refection and a grand archetypical revelation. Within these visions, may each viewer recognize their own sacred heart and cosmic divinity. And, through this recognition, may we remember the innate grace that dwells within."
What is Visionary Art? And how did you get involved in creating Visionary Art?
I believe that all art is "visionary". Creating worlds out of nothingness, bringing forth something that was not there before, portraying portals to other realms no matter how literal or fantastical, is a magical and mysterious act. That said, "Visionary Art" as it is known today is akin to Surrealism, Magic Realism, and Psychedelic Art, and portrays the interconnectedness of life with the mystical and unseen realms.
Each artist's tool or vehicle may be different in how we find that flow of spiritual inspiration; through meditation, dance, shamanic journeys, etc.; but the language of light is what we have in common. Each creation is an offering: a positive reflection of ourselves and humanity, a celebration of evolving consciousness, an opportunity for healing and deepening, a vision of a bright future and Now.
I connected with the Visionary Art Movement as I dove deeply into the Transformational Music Festival scene in 2009. It is the closest label I have found to align my work with, and the community and audience has been a wonderful support and network to grow within.
I watched the gorgeous videos on your website and saw that you offer Soul Portraits Painting Retreats. Can you explain what a Soul Portraits Painting Retreat is?
Over the past seven years, I have had the honor and delight of teaching my "Soul Portraits Painting Retreat" in incredible locations around the globe: Costa Rica, Hawaii, Bali, Italy, Mexico, and British Columbia. The experience has been incredibly deep and enriching, and has taught me so much. It's such a precious responsibility to support and guide others in their creative path, and participants always surprise and amaze themselves at what they are capable of.
I offer attentive art instruction and step-by-step guidance, while each painter explores the process of creating their own "Soul Portrait". The painting is rooted in the tradition of self-portraiture, however, it is also embellished with strong intention setting, deep diving into the heart and inner world, symbolism and meaning to honour each person's soul journey. In the process, I give equal emphasis to developing skilled technique and trusting creative intuition.
What types of healing moments have you witnessed while teaching your retreats?
There have been innumerable tears, "ah-ha" moments, breakdowns & breakthroughs. There are so many voices in our heads, stories of trauma, judgment, fear, inertia, and doubt. Everyone has these voices, and some are completely incapacitated by them.
It is incredible to witness students taking the leap of faith to attend a workshop and face those voices, to sit down at the easel and face everything that has been holding them back.
It is even more profound seeing them bravely move forward, surprising themselves at what they create, empowering and healing from old patterns, and applying their new understanding about the creative process to how they walk in the world. Painting is a potent teacher, and the creative process is an amazing metaphor for life.
When you transitioned into being a teacher, was it hard at first to find your voice after living the inward life of an artist?
I thought it would be. For years people asked me if I would teach, to which I would reply, "I don't know what I'm doing, I just paint!" However, if they would ask me a specific question about technique, supplies, or process, I would be able to elaborate at length on the topic. I realized that teaching, for me, is the same process as painting. I find a balance of planning the curriculum with key points and topics, then I breath, relax, and get out of the way to let the teachings through. It flows beautifully and I have had incredible results and feedback from students.
How has your art and creative process been healing for your own life?
I was blessed with total support of my creative exploration while growing up. There was never a doubt of what I would do with my life, and even before I knew the concept of "Artist" I knew who I was and what I was here to do. I am grateful to say that I have never wavered in my mission of helping inspire, uplift, and heal the world, to the best of my capability. For as long as I can remember, I knew my mission was to share my creations with the world. As soon as I was old enough to hold a paintbrush in my hand, I began making art. As an adult now, I have minimal creative blocks to work thru. Stuff still comes up though, and I am constantly learning and reaching new levels of understanding and depth through the humbling creative process. I will forever be a student.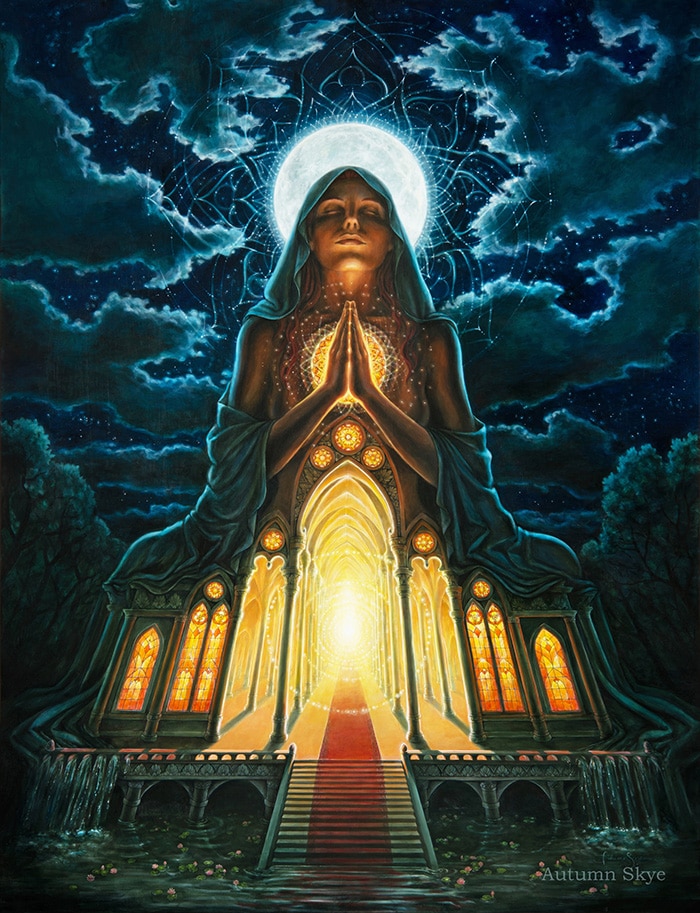 Do you think creating art and learning to love yourself goes hand in hand?
As in any form of art; dance, painting, music, healing, cooking, gardening, etc.; as we release judgment, move past our mind, breathe deep into the process, and find bliss in each step; we realize that we are boundlessly assisted in our expression. We are able to see that the art is not born of us, but through us, and in this knowing we are humbled yet profoundly empowered. When we are in the creative "flow", it is so clear that we are tapping into something much greater than ourselves; some pure source of love and inspiration.
I believe that it is our divine duty and our spiritual responsibility to create art (of ANY medium) and to help uplift humanity, especially at this time of change. As we honor our personal creative paths, we contribute vitally to the whole through our own well-being, by inspiring those around us and encouraging them to create as well, and by manifesting visual mirrors to the light, potential, and divinity of each viewer.
My favorite painting of yours is "My Body, My Temple". It is exquisitely beautiful! What inspired its creation? Can you explain your creative process?
The idea of this painting was in my mind and head for quite a few years, but it didn't clarify and come to fruition until I spent three months teaching in Vienna in 2014. The incredible architecture of Europe is awe-inspiring, and while wandering the ancient streets I would spend countless hours sitting in contemplation in cathedrals. Walking into these vast cavernous structures is humbling and deeply inspiring, and I was reminded of my earlier vision and intention for this painting.
I was synchronistically gifted an enormous canvas by a friend and fellow painter, and in my small downtown Vienna bedroom studio, I began the meticulous work of unfurling the vision of the piece onto the linen. I spend innumerable hours integrating the precise architecture into the body of the monumental figure, and the rest of the vision unveiled itself as I excitedly and tirelessly painted in the hours when not committed to teaching at the Academy.
This piece speaks to the deep truth that our body is indeed our temple. We are a vessel for spirit to fill. We contain a divine light, a space of sanctuary and stillness, that is available to us at any moment if we choose to go inwards. I believe that this is what the Bible means when it says, "The Kingdom of God is within you." Over the many months of painting this piece, the mantra came to me and repeated again and again in my mind, "My body is my Temple and my Earth is my Home."
Your spiritual journey seems to be expressed in your artwork. What message do you want people to receive when they look at your artwork? What do you hope to achieve?
I feel that artwork has the capacity to be a mirror to the viewer. As people stand before my paintings, it's my hope that they may receive a deepened understanding of themselves or the world around them, and that they find some sense of inner peace, empowerment, and healing. I intend these painted "mirrors" to reflect the beauty and grace of humanity, both on a personal level and a global level. Each creation is an offering; a positive reflection of ourselves and humanity, a celebration of evolving consciousness, a vision of a bright future and Now.
Art offers honesty, a vulnerability and openness that the viewer connects with and responds to.
I believe the paintings are a safe place; they hold space for us to reflect. They are experiential and sensual, poignant and compassionate. They are receptive, and have the potential to offer back to us tenfold our own projections of the world.
I believe that the role of the artist is especially crucial at this challenging and exciting time, while the world is at the precipice of momentous change. We have an opportunity to transmute the shadow and pain that we witness in the world around us into visions of wholeness. Artists are map-makers, and those maps can help guide humanity forward into new and positive ways of seeing and being.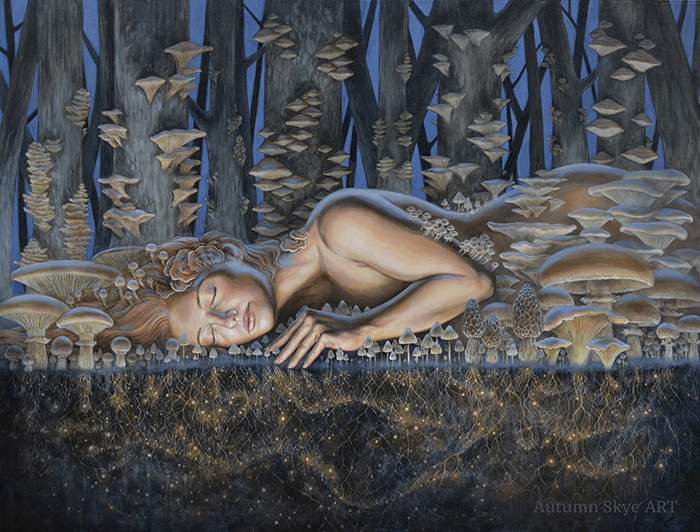 Your artwork is so deep and mystical. Do you ever have mystical experiences while creating your artwork? If so, could you share?
Though I have occasionally been blessed with inspiration and visions in my dream-space, and often have ideas come to me in the twilight-reverie between waking and sleep, generally my visions and concepts come to me while deep in the painting process. As Picasso said, "Inspiration exists, but it has to find you working."
The creation of my paintings is like a waking dream; a dance with inspiration and color, allowing the imagery to unveil itself to me as I journey through the piece. I am a witness. It is a balance of mentally stepping out of the way, yet staying present and attentive. It's a flow between left brain & right brain, in-breath & out-breath, giving & receiving, effort & surrender. This process is my greatest teacher and metaphor for how I strive to live my life. When I trust and relax into this amazing and humbling process, regardless as to if I understand where I'm going or if it "looks like I planned", I am gifted and guided in surprising and wondrous ways. And, in the end it always makes sense.
Was the inner-critic ever a problem for you? How did you get past the voice of the inner-critic, and how do you teach others to silence their inner-critic?
So much of both the creative process and the teaching journey is about "cheerleading", to yourself or to others. It is a practice of support, encouragement, problem-solving, and amplifying existing strengths. We all have voices in our head, old stories of fear, doubt, guilt, and being "not enough". They are not naturally our own voice, usually adopted from some external influence of parent, teacher, or peer; but they are often so subtle and thoroughly integrated that we believe they are our truth. These voices may never go away, and we must accept that they may always be chattering in the background of our creative process. However, we can learn to stop listening to them or paying them heed.
Vincent Van Gogh put it well when he said, "If you hear a voice within you say 'you cannot paint,' then by all means paint, and that voice will be silenced!"
Living creatively and following your passion is not about eliminating fear, it's about learning to act despite fear, to trust the process, let go, breathe, show up, and do the work that is called for.
Is there anything new or different you would like to accomplish with your art? Any new direction you would like to go into in the future?
I have never been much of a goal-setter. I am honestly having such a fun, profound, and inspiring journey, that I don't think I could have planned it if I tried. I do schedule events, make commitments, and dream into ideas of exciting new endeavors, but I feel they must feel right and bring a sense of aliveness, otherwise it feels forced or contrived. I have no doubt that wondrous opportunities and experiences are on their way into my life, and my gratitude for… was has been, what will be, and what is…is immense. I take a similar approach to my art itself. I will continue to follow my inspiration, take leaps of faith, show up, do the work, and get out of the way.