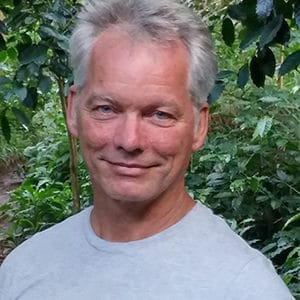 Based in Santa Cruz, CA, Bruce Harman has been painting his meditation-inspired images for over 30 years. A self-taught painter, he spends many months crafting his detailed images. Trained as a printmaker, he creates archival prints from each painting with care, printing and framing every piece in his studio.
When did you first start creating art?
Some of my earliest memories are of ignoring my teacher and drawing little conveyor belts where objects would go in a bigger box and come out the other side changed. That was pure magic to me and set my course in life…
Were you encouraged or influenced in childhood to be creative?
My mother would doodle fashion models when she was on a phone call, and that impressed me greatly. She insisted her abilities were negligible, but I thought she was wonderful!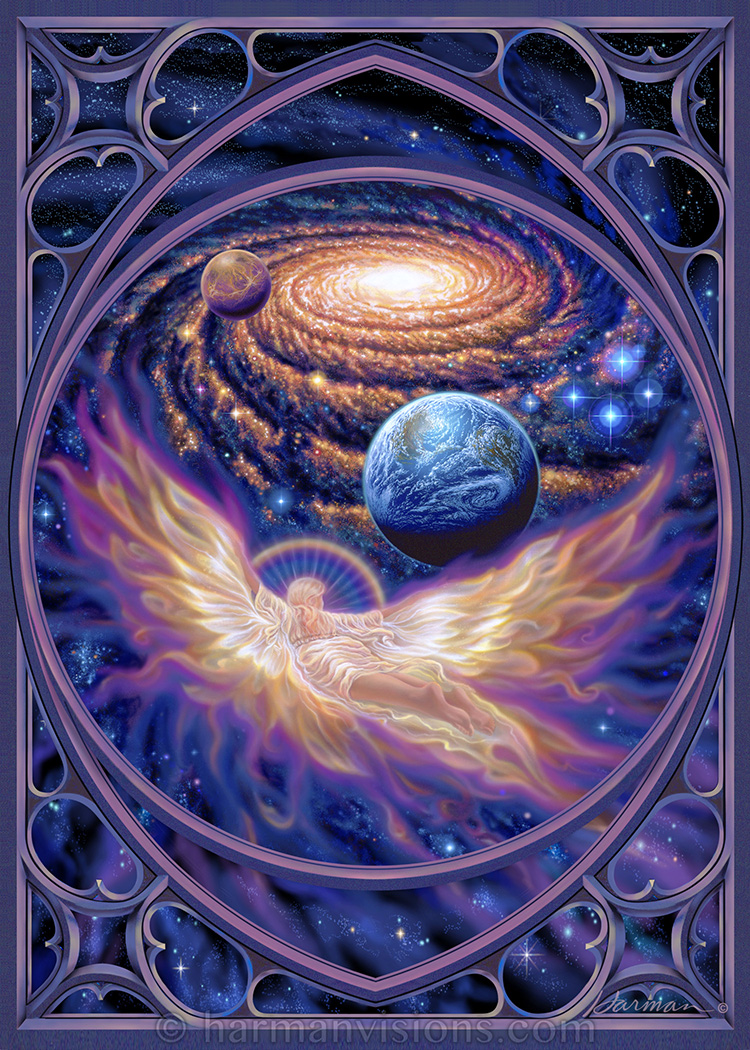 Did you have formal art education?
I spent four years at the Philadelphia College of Art, from 1976 to 1980. The first two years were typical for art students, lots of partying and a little bit of art making, but I tightened up the last two years. My degree was in Printmaking, and I chose to study wood engraving and stone lithography mostly. I never took a class in painting, but I was amused to see that the painting students were actually at their easels even less than us printmakers were at our presses. Fine art students are given the freedom to create whatever they want, which involves making a lot of art destined for the trash can. We were encouraged to admire the tortured artists who created from turmoil and distress, or those whose work was oblique, enigmatic and masterful. The aim was to create "important art", and the Holy Grail was gallery representation. My senior year I worked in a respected gallery for a few months, and I was repelled by the attitudes enshrined in that commerce. When I graduated, I was using the airbrush a lot, and that helped me get work in the real world. In that first year, I read Yogananda's Autobiography of a Yogi, and it opened the windows of my heart and mind.
What category do you place your spiritual artwork in? Visionary? Spiritual? Other?
I call it "visionary" most often, but "soul-inspired" might be more accurate to my current direction. When I started meditating, I would get flashes of inspiration, complete images shown to my psyche for a moment or two, so "visionary" applied best.
These days, the ideas feel like they well up from soul levels, and sort of suggest themselves to my awareness.
When and how did you get involved in creating spiritual art?
When I started getting the visions, it felt like a bestowal without expectations. After working through my ideas of "important" art, I was able to accept these colorful New Age inspirations as my focus. The big shift was to work more as a conduit, less as a personality. When I study sacred art from various cultures, I feel a deep affinity for those nameless craftsmen, working to glorify their temples, painting in a meditative state.
How did you get past the voice of the inner critic?
The inner critic feels to me like a purely mental construct, with layers of learned art school attitudes, fear of success or active sabotage, and the regrettable desire to feel more-than someone else. Meditation was a huge help in identifying my stumbling blocks, and then relaxing into the work. If you can tap into the sense that your work is multi-dimensional, the critic in your head becomes less important.
My favorite paintings of yours, are Water of Life, Inca Prophecy, and Seven Stages. Can you share how you received inspiration for any or all of these paintings?
Seven Stages is one of my early paintings, made with the airbrush. I was studying esoteric books, permeated with the concepts of reincarnation and past lives. This was one of my flash inspirations, about the hidden truth that we evolve in stages, over many lifetimes. At some point in our unfolding, we might look like a perfect human to our less evolved selves.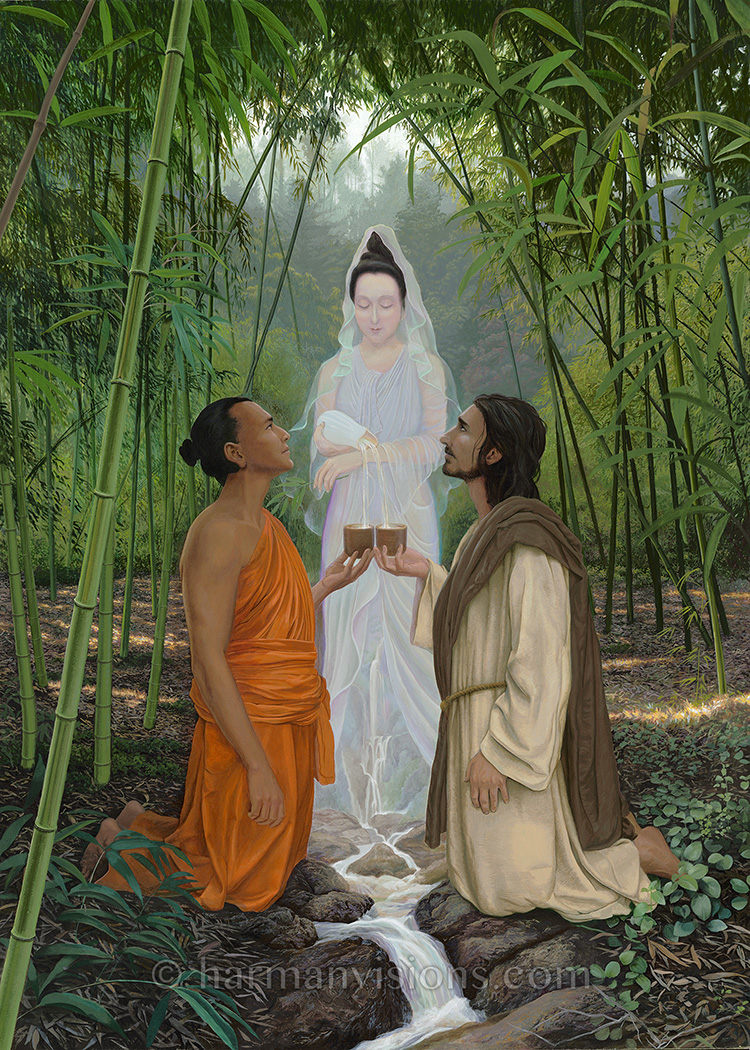 Water of Life was an idea that arose after a difficult conversation. I had been talking with the owner of a Christian bookstore, trying to understand her views. For her, the image of Jesus meditating was unacceptable. He didn't meditate, he prayed! Encountering her mind helped to clarify my ideas about spiritual beings. Surely a truly evolved person is open-minded? If Quan Yin met Jesus and Buddha, I think they would recognize each other's light and get along splendidly! The painting is also an offering to the Divine Feminine, and the truth that she precedes all organized religion.
Inca Prophecy was a commission from a modern day monk named Jack Quirk, a man who has deeply studied the shamanic traditions of Peru and has synthesized his own insights with theirs. When we started talking about the image, I felt a strong affirmative energy that this would be a significant picture.
What does the hummingbird above the incan man symbolize?
The hummingbird is sacred to the Q'uero, the mountain tribe Jack has studied with in Peru, and it symbolizes the crown chakra. I love the idea of showing the chakras in alternative ways to the traditional Hindu.
Have you ever had a mystical experience while creating your artwork? If so, could you share an incident?
There is a deep mystery in what happens when a person dedicates their energy to painting something recognizable.
It might be a flower, a person, or an idea about a person. Pledging one's life force to the project, one is brought into union with it somehow. It feels like an unfolding, beyond words or concepts, an understanding that can only be held in one's private heart. I tend to spend months solving the visual problems, trying to convey a realistic rendering down to tiny details. It might seem like compulsion, but it feels like an honoring, a necessary devotion.
How has your art and the creative process been healing for your life?
One feeling I have often had while painting is that my unseen friends and allies are looking over my shoulder, silently encouraging me. Being in that zone is deeply affirmative, and sends a glow through my heart, mind and soul.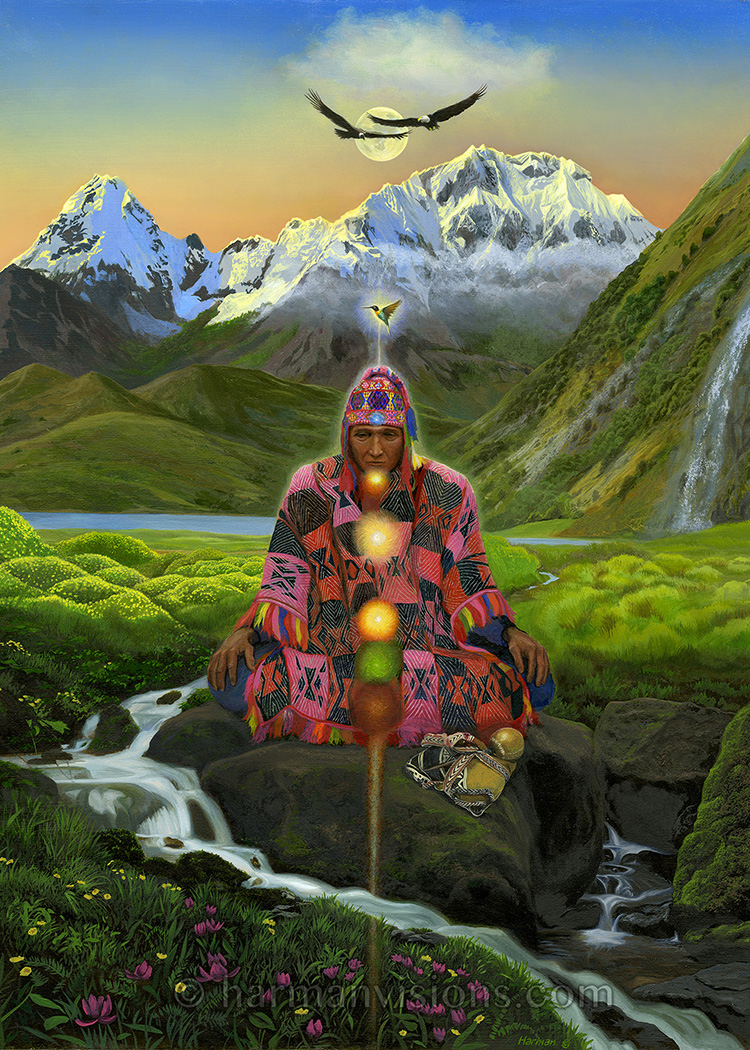 Do you have any new or different goals for the future concerning the direction you want to go with your art?
For years I painted with acrylics, struggling to get effects that are simple with oils. Having recently discovered that it's possible to use oils without solvents and fumes I switched over. Now I am thrilled to paint, it's no longer a chore! I am able to convey much more dimension and depth, and greater subtlety in lighting effects. The dues I paid learning acrylics are paying dividends now with oils.
The dynamics of psyche are what I find fascinating these days. My favorite author is Bill Plotkin, who wrote Nature and the Human Soul, Soulcraft, and Wild Mind. His work is deeply inspirational and will inform my next paintings.
Who are your favorite artists past and present?
Leonardo Da Vinci always comes first, but Botticelli follows in the same breath. I honor Maxfield Parrish and continue to learn from him. I surrender to Lalique, the glass artist, he melts me. Matisse astounds forever. Nicolas Roerich, the Russian painter, blazed a lofty path for all artists of the meditative. Present day, one has to mention Alex Gray and young visionary artists like Android Jones.
Are there any final words you would like to add to the interview?
A word to any young artists who are attracted to transcendent art: much more important than talent is tenacity.
Keep doing your practice, keep picking up your brushes and make steady progress. Our distracted world truly needs this art! I like to think that aliens visiting our planet find us humble creatives to be the true exemplars, often unheralded but always contributing.