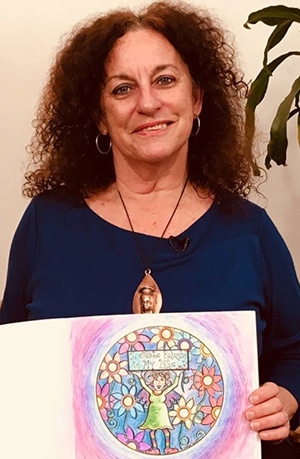 Carol Omer is an Artist and Certified Life Coach from South Australia. She specializes in coaching for creativity and women's empowerment tools. Her Mandala coaching/colouring book,The Big Girls Little Coloring Book, is published in several languages and is used as a stress-relief and relaxation tool by women across the globe. Along with facilitating Women's Colouring and Conversation circles in community settings and women's shelters, She also hosts The Art of Change program for staff training and team building. For many years Carol was on the board of an Aboriginal Women's Domestic Violence Service and a facilitator in Aboriginal women's healing camps. Her work has also taken her into CALD (Culturally And Linguistically Diverse) communities where she delivers the Art of Change program to women recovering from trauma.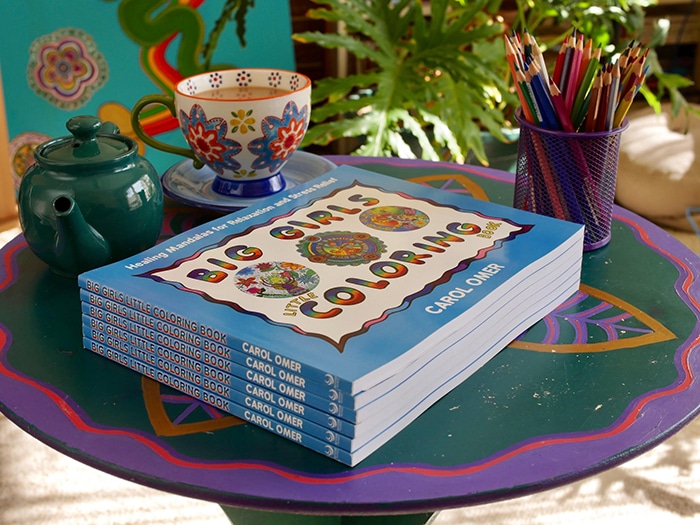 How long have you been a professional artist?
I began incorporating Art into personal development programs back in the late 90's when I was working full time at a women's shelter. Although I did not formally identify as an artist back then I realized that I had been drawing on creativity and the power of the imagination for many years in my role as a women's empowerment facilitator.
In 2015, I published The Big Girls Little Coloring Book and in the year leading up to that I was working almost full time on the artwork and learning the creative discipline aspect of how to create a book.
What category would you say your type of your art falls into?
I call my artwork a MedARTation – it incorporates a form of open-eyed meditation as the colouring process is rhythmic and meditative. Every design I create is made with the intention of creating a portal for self-reflection and relaxation for women. In a sense it isspiritual art but the accompanying affirmations /stories are often based on the very practical tools of life coaching, such as goal setting, recognising self limiting patterns etc.
What inspired you to begin creating art?
My Mother was a very creative person. She was an artist and designer of wool and embroidery crafts and she made sure we had lots of art materials throughout our growing years.
When other children were putting down their art tools, because the education system often replaces creativity with curriculum learning shortly after junior primary, I was fortunate to remain connected to the creative inspiration and the pleasure of drawing and painting and designing images.
In my mid 20's I began to work in youth shelters and then domestic violence shelters and found that art was a much richer, more engaging tool for connection and community building than some of the programs that were running in these settings.
In 1995, I was inspired to create an in-house personal development newsletter. A couple of years later I read Carl Jung's book Memories Dreams and Reflections and my lifelong love affair with the Mandala art form began! As a result of the impact of learning about the power of Mandalas, I transformed the personal development newsletter into a semi-colouring book, and art reflection journal for our program participants.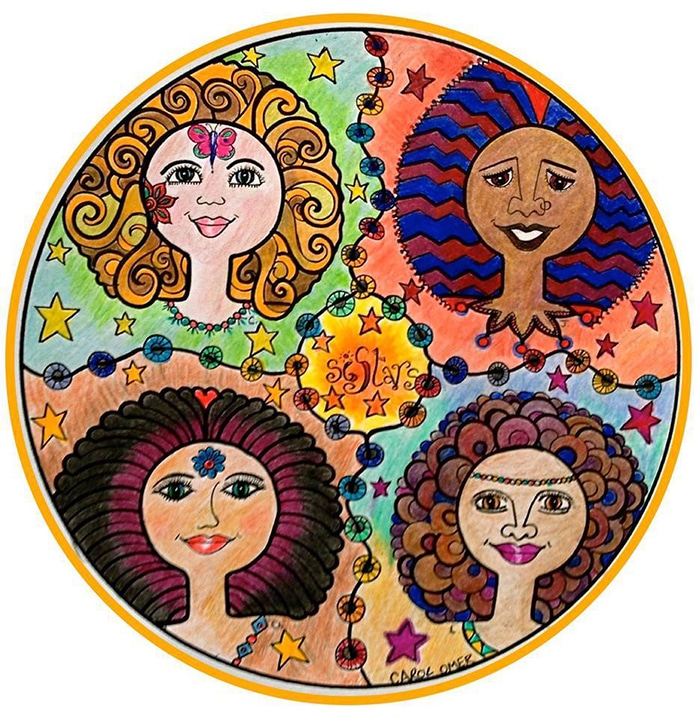 What keeps you inspired to create your art?
Every day life. I am inspired by the pleasure of creating and the infinite ways I can interpret the world around me. I am deeply inspired by the stories of the women I meet in shelters and at times the depth of admiration and respect is so profound, only art, not words, could capture the experience.
How has your art and your creative process been healing to your life?
In 1998, I completed The Artists Way 12 week creative recovery course by Julia Cameron. It was a turning point in my life. I was 38, nearing the end of another difficult relationship, providing creative tools for women but still feeling like I was missing something. I had been a teenage runaway many years before and some of my personal patterns from unresolved trauma were around negative creativity, such as imagining worst-case scenarios or self-defeating thinking.
Over the 12 weeks of the course, I was lead through a profound process of self-discovery and creative recovery and was able to release some of the "myths and monsters" that had wounded my creative capacities over the years and in doing so I reclaimed my gifts and discovered my higher purpose.

In shelters I was in the privileged position of walking alongside women whose lives had been devastated by domestic violence and their trauma touched the place where my healing art was waiting to be developed.
I believe in the words, As within so without, so the more I created colouring pages and craft tools for others, the more I moved into a deeper, more peaceful place within myself.
My lifelong friend was murdered in 2001, a week before September 11, and in the weeks after her death I created a large Mandala that represented her life, her children and our friendship. At the end of the completion of the Mandala I was able to write her eulogy without the overwhelming grief preventing me from thinking clearly and honoring her memory in the way she deserved.
I knew that creating the Mandala had processed much of the shock and the impact of the violence of her death and 17 years later I continue to share the Mandala and her story with other women who are also at risk of greater harm.
My Mother used to say to me, "If you are bored it means you are not creating" and her words along with the healing modalities I have engaged with over the years, form the corner stone of my art as both a healing and a visionary tool in my life.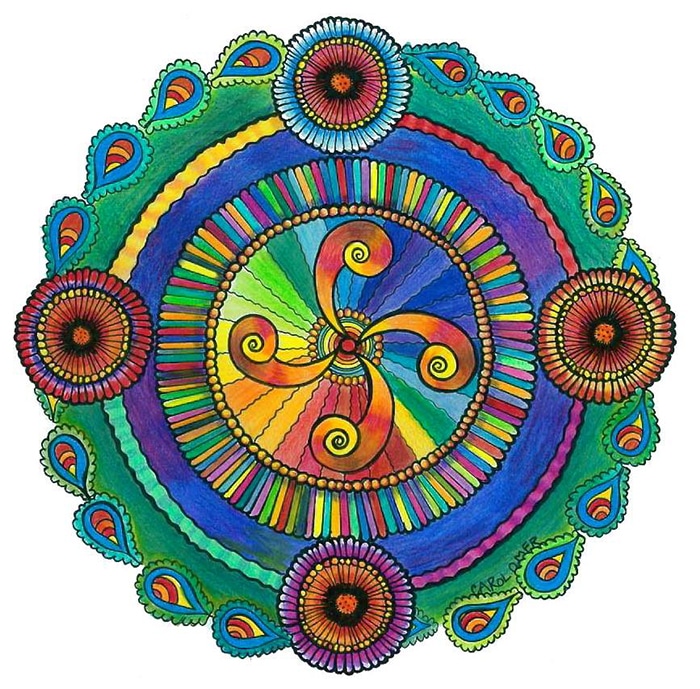 Was the inner-critic a problem for you in the beginning and how did you get past it?
My inner-critic was not concerned with whether I could make art, I was certain of that because of my art based programs and my Mother's utter belief in my creativity but I definitely had to navigate the inner-critic telling me I couldn't make a living from my art and I would be better off in a 9 to 5 job!
If I ever fall into the trap of comparing my art to the work of others, my inner-critic jumps at the chance to remind me that my self-taught style is not appealing to a larger market, so I navigate that outdated belief by focusing on gratitude and appreciation for my creativity and the difference it makes in women's lives at a point when they are truly in transition from their old life of fear and domestic violence to an empowered and self-reliant future.
What achievement in your art career are you most proud of?
The publication of The Big Girls Little Colouring Book and my current crowd sourcing campaign to place 20 boxes of the books into 20 women's services here in South Australia.
What would you still like to accomplish in your art career?
My intention is to create more interactive artwork and incorporate digital media into my art-based life coaching programs.
Is there anything you would like to add to give a fuller understanding of your art or process?
Carl Jung once said: "Sometimes the hands can solve a mystery that the intellect has struggled with in vain."
I truly believe that when we re-engage with the free-flowing creativity that we knew as children (before the conformity of sitting still in class rooms and responding to prescribed curriculums overtook spontaneity and use of the vivid imagination) we will reignite the inner artist.
Which reminds me of a quote by Pablo Picasso, "Every child is born an artist, the problem is how to remain one."