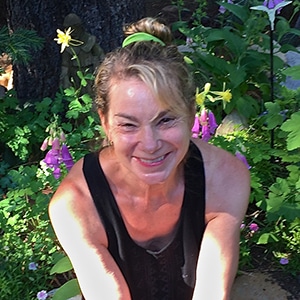 Cathy McClelland has drawn and painted most of her life. Art has always been her escape from day to day life, taking her into the realms of her imagination. She studied illustration at the Academy of Art College, in San Francisco. In 1979 she moved to the north shore of Lake Tahoe for the summer and never left. Lake Tahoe's beautiful environment is a constant inspiration for Cathy, bringing her close to the heart of nature. The mountains, water, forest, moon, animals and stars feed her creative spirit. At Lake Tahoe she has free-lanced as an illustrator, art director, designer, muralist and painter. Her art interests have gone in many directions from handmade paper creations, printmaking, watercolor/dye illustrations, paintings, hand painted tapestries and murals. While painting murals she developed her own technique combining acrylic paint, using both airbrush and hand to enhance and detail her work, giving her creations a feeling of depth and a soft magical beauty. Her work encompasses many themes that are sacred and magical, as well as, animals, scenes of Lake Tahoe, lush jungles, cross-cultural symbols and places in between.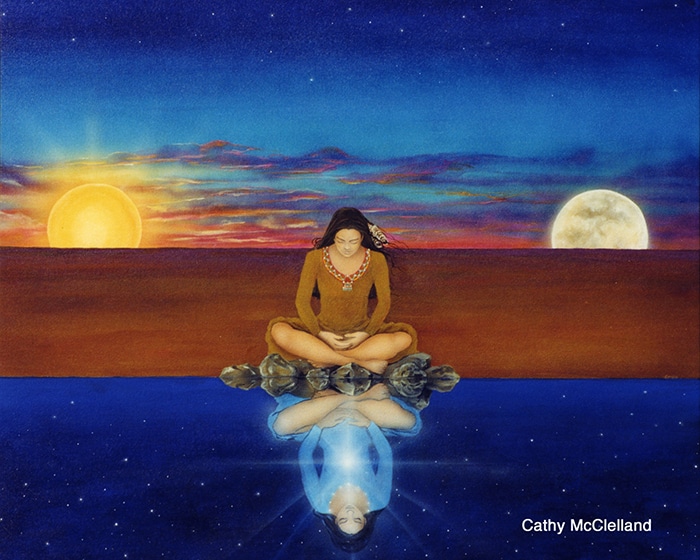 Were you encouraged or influenced in childhood to be creative?
At the age five I saw the Nutcracker Suite ballet and was awed by the magic and stage colors of the performance.
My love for magical subjects was born, and the theme of fantasy and enchantment weaved its way into my artwork.
My parents recognized that I loved to draw and they encouraged me to pursue art. We had a neighbor next door who was an abstract artist. She and my Mom decided that I would take art lessons from her once a week. I was eight or nine at the time. I painted with tempura paint. The subjects I painted were my love of animals, nature and events I had experienced in my life. Mrs. Pitts (my neighbor abstract artist) helped me expand myself artistically and let me play with ideas and the medium. There were no rules or expectations – just create and have fun was her motto. I had my first one-person art show at the local library when I was nine.
Did you have formal art education?
I majored in art in Junior College, then went to the Academy of Art in San Francisco to study illustration.
What category do you place your artwork in?
It is a bit difficult to categorize my art. My subject matter is all over the board. But, I would say most pieces I do have spiritual and magical qualities flowing through them. Maybe you could call it representational, spiritual and magical expressions.
What artists past and present influenced you?
When I was growing up two illustrators influenced me greatly. Maxfield Parrish and Arthur Rockham. Both had fantastic imaginations and fabulous drawing skills. I loved Maxfield Parrish's blues and far away places. Arthur Rockham's fantasy and fairytale art inspired me very much. His colors were muted and beautiful. The two together sparked my imagination and I began to explore subjects that made my heart happy. Present artists influences – there are so many! But one that comes to mind at this moment is Kinuko Craft. Her artwork just blows me away. I love everything about her paintings.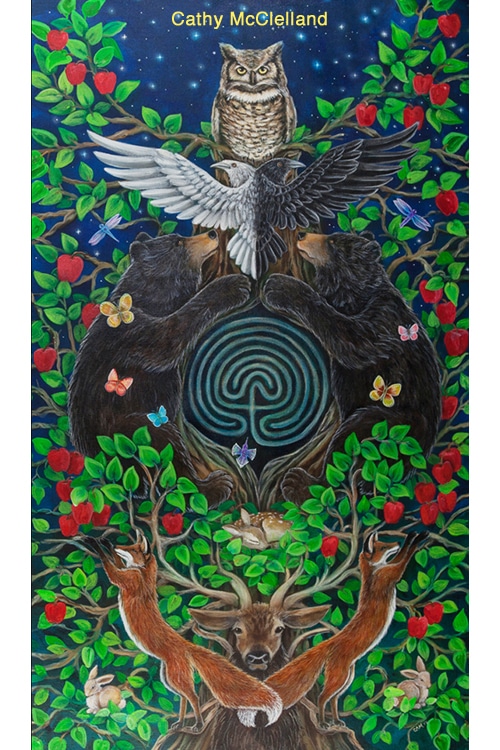 What inspires you to paint?
Animals, nature, spirituality, sacred places, different cultures, music, stories, mythology and symbolism are all things that inspire me. My imagination soars with these inspirations.
Can you explain your creative process?
I work in various painting mediums, mostly acrylic and use airbrush to enhance and shade the artwork. I also paint wet on wet with acrylic using iridescent paint, which gives the art piece a whole different feeling.
I would say the themes that pull it all together are my love for nature, the moon and the stars; the magical and sacred. I love to paint big as well as I love to paint small detailed work. Nature and the mystery of the universe play a big part with my inspiration. I like to weave the two together in my creations, hoping to inspire others to enjoy the beauty of nature and the wonderful creatures around us. My colors can be bright magical stage colors to moody blues or anything in between. When I start a piece of art, it always seems to take on a life of it's own. The anticipated colors can change as well as the mood of the piece. I never really know how a piece will turn out. I learn from each creation I do. Like life it is a never-ending journey.
Once I am inspired, I will sometimes see the painting in my head. I then sketch small drawings of it and gather information and reference material on the particular subject. Then refine the composition and begin to paint.
I love your painting entitled Meditation. Can you explain the symbolism and what inspired it?
Meditation is a personal/private way of prayer to understanding your soul and purpose. This painting was inspired by one of Joseph Campbell's statements. He was recalling a time when he experienced the sun setting and the moon rising at the same time. It is the twilight time, the time between two worlds; a perfect time to meditate between the two worlds of the self; the conscious and the subconscious. This is a time to explore the spiritual, quiet, and intuitive self, (reflected in the water). It is a quiet and reflective time.
The painting has a very quiet feel to it, because that is where meditation takes you, but also, it's the time of transition of the sun and moon. It would seem to me, to be a very magical time where one would get goose bumps and feel anything is possible. It is an abstract time that is wonderfully visual, where the portal of transformation is possible.
And I love, Opening the Heart Chakra! Can you explain the symbolism and inspiration for that one too?
Opening of the Heart Chakra was inspired through meditation on the heart chakra (the 4th chakra). Also referred to as the seat of the soul. The heart chakra is about unconditional love, not only for others, but for oneself. When one is able to totally open this chakra, you are then free to live your life without fear. You are able to forgive and heal. You can live your life in total truth of what is most heartfelt for you. You develop compassion and understanding. You become a channel for universal love, opening yourself up to your higher self.
In this paining you see a woman opening up her heavy green cloak. Green is the color that represents the heart chakra as well as the physical realm. When the chakra is opened, it changes to a rose color. The star glow appearing on her chest is the heart chakra opening. Her starry gown reflects the universe above and all the possibilities. The pond below is sacred and speaks of the cycles of the moon. The moon being full represents the blossoming of the soul. The butterfly represents the transformation of the self, when one can open the heart chakra. The white calla lilies represent spiritual purity and the roses behind represent the light of love.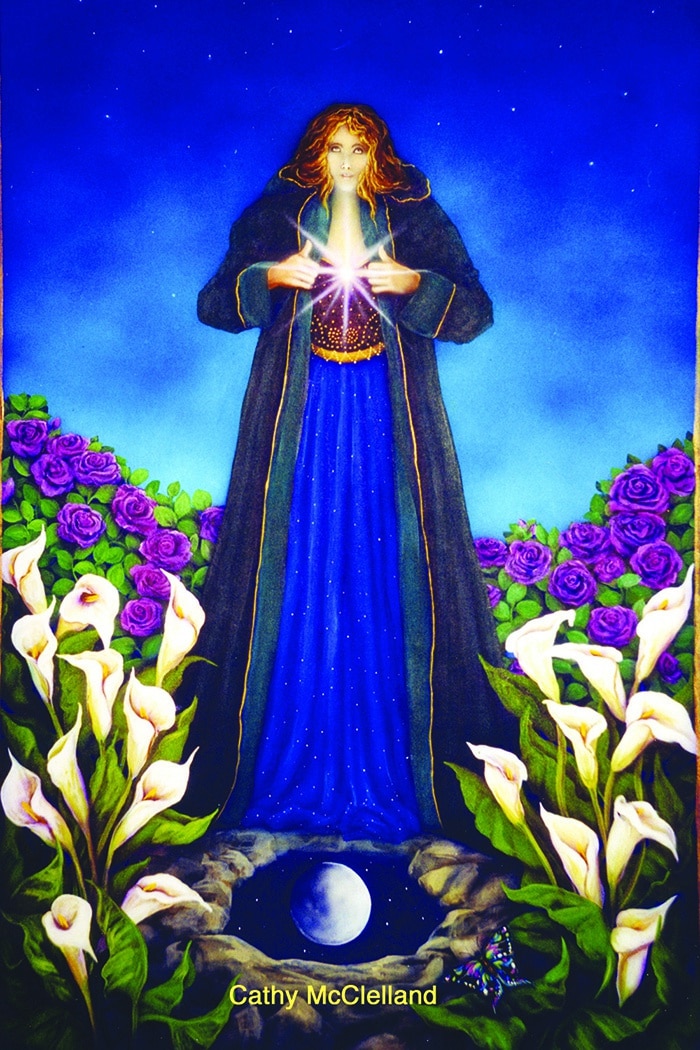 How has your art and the creative process been healing in your life?
Art brings peace to my soul. It is very meditative. I am not sure how conscious I was in my younger days when creating. Art school had me look at my creativity more as a job to please the client and a lot of times abandoning the freedom that art gave me. Somewhere during that time I lost my spark of imagination. Later it came back and at the same time my spiritual practice increased and the healing artwork started to unfold.
Each piece not only healed a part of me. But I found that it healed others as well.
Was the inner critic ever a problem for you? How did you get past the voice of the inner critic?
Yes, and still can be. There are so many talented artists in the world now, from the past and coming in the future. I felt and feel I could never be at their level of expertise. But what helps me get past that, is to remember, we each have a specific gift that makes our talent/s unique and special to you. Also, I see my self on a continual learning curve of artistic expression that is ever evolving just like life. That is exciting to me!
Do you have any new or different goals for the future concerning the direction you want to go with your art?
I sometimes wish there was five of me so I could explore all the creative avenues that I am attracted to. Just a few are my of love ceramics, printmaking, creating things from found objects and spirit dolls. As I had mentioned before, I am all over the board with my subjects. I would love to create a goddess series, a mandala series, a labyrinth series, power animals, totems – the list goes on!
You have a tarot deck and book set out called The Star Tarot. Can you talk little about that project?
I have been interested in the beautiful symbolism and spirituality of the tarot for many years. There are 78 cards in a traditional tarot card deck and those 78 cards are divided into two sections, the major Arcana (21 cards) and the Minor Arcana (56 cards). I decided to create my version of the Major Arcana.
The short story is that it took about twenty years to complete the 78 card deck and write an extensive book to go along with. I studied, meditated and took in life lessons through out the process when creating it. The Star Tarot is a traditional tarot deck that approaches life in a more spiritual way and embraces a stronger feminine expression that is less patriarchal. The images are full of color expressing cross cultural symbolism, animals, and nature.