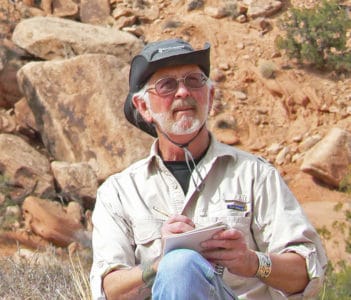 Charles Frizzell is a Kentucky native, and moved to Colorado in 1969, settling first in Cripple Creek, Colorado, where he maintained a home and studio in the 1970's. Later, he had a home and studio in Victor, Colorado, for many years, and now he lives and works in Canon City, Colorado. At this time, he is showing his work only in the Longworth Gallery in Santa Fe, New Mexico.
Mr. Frizzell is a member of the International Guild of Realism, and his art has been shown and collected nationally and internationally. He has participated in and has many awards from numerous group and solo exhibitions throughout the southwest. His artwork is in the permanent collection of the Colorado Springs Fine Arts Center as well as being in the permanent collection of the Sangre de Christo Fine Arts Center in Pueblo, Colorado.
In the mid and late 1980's, Mr. Frizzell worked with legendary artist Frank Howell in his studio in Denver and later in his Santa Fe studio doing layout work and under-painting. Mr. Frizzell's artwork has been reproduced on CDs, book covers, magazine covers, calendars, greeting cards, collector plates, high quality limited edition fine art prints and posters, and has been exhibited and collected worldwide. His art is also featured in the recently released books; "Acrylics 2-Departures", as well as in "Acrylics 3, Texture", and; "Acrylics 4-Color".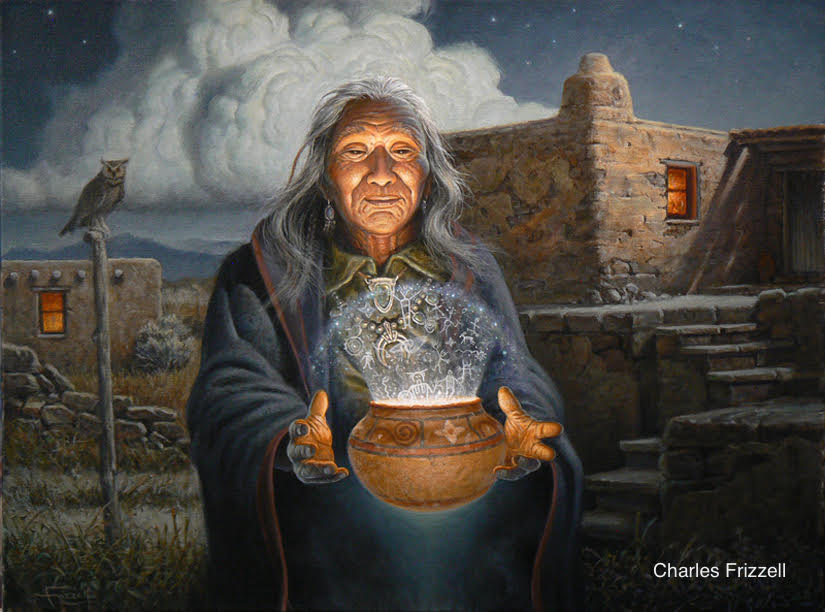 Were you encouraged or influenced in childhood to be creative?
My father encouraged me quite a bit. He could draw pretty well. He would draw WW 2 airplanes with me watching and sitting with him in 'his' chair. He had been a crew chief on P-38 fighter-bombers in the Pacific during WW-2, and knew a lot about various aircraft. So I did a lot of drawings of planes while very young.
My mother's parents lived with us, and my grandfather also influenced me by taking me to places around the little town where we lived in west Kentucky. He would take me down to the railroad station and encourage me to draw the big steam locomotives on a little tablet that he gave me. He was also into gardening, and he encouraged me to draw when I came out with him to his garden. I tried to find that tablet after my grandparents and parents had passed, but to no avail.
What kind of art did you create as a child?
Mostly planes and trains as a very young child. I could not remember, for the most part, my art before going to college. However, after my family had passed, my brother and I cleaned out the house that they had lived in for 55 years, and I found a treasure trove of artworks stashed under the bed where I had slept for so many years. So even though my mother had not encouraged me to be an artist ("You can't make a living as an 'artist'; go to college and learn to teach art if you want to continue to be an artist") she kept all that artwork. And in the garage, I found all of the large paintings that I had done on plywood or stretched canvas.
Did you have a formal art education?
The town I lived in was a 'college town' for Murray State University. In the early 60's it was known for being a very good college for the liberal arts and especially for teaching. So my mother was happy for me to go there. The idea at the time, even when in the arts programs, was that "If you can't make a living as an artist, you can always teach art!" So I took a course in teaching, which I left about mid semester and then took every course possible in the arts department.
There were two really great instructors who encouraged me and helped me to get every course possible in drawing, painting, etc. The life drawing classes were great for being precise in observation and drawing skills, especially the human body, and I did well in them. The painting classes leaned toward the works of the abstractionists; Motherwell, deKooning, Pollock, Rothko, Kline, etc. etc. So I followed that for a while but I tired of it quickly. (I did still have some 4'X6′ or larger paintings of that time stored in my dad's garage. Must have been fun slinging paint like that.)
Then, lighting struck, big time! I discovered Andrew Wyeth!
The class assignment was to study composition, and the rule was to find an image, painting, photo, whatever, in a magazine that we really liked, or that we really did not like. Cut it out and bring it to class and turn it upside down and tape it to our drawing board and copy the composition of whatever we had with pencil and chalk. I had brought a Wyeth photo. When meeting the assignment, and looking at what I had sketched, it was totally abstract, and with a better composition than many of the famous abstract artists. That was a turning point in my artwork, and I began to paint in a more realistic style.
In 1973 there was a major Wyeth exhibition in San Francisco, and I rode my motorcycle from Cripple Creek, Colorado to San Francisco to see the exhibit. I spent three days perusing the museum, and I still feel that I learned more about composition, drawing, color, and especially watercolor in those 3 days than I had learned up until that time. To this day, I think of the lessons of not only the artwork, but also the way I learned to 'SEE'.
By the way, you may not know this about my work but I do many types of images other than just 'metaphysical-mystical-dreamscape' subjects. I work in pretty much all media that can be put on a flat surface. I also paint all manner of subjects. And I have used graphite, watercolor, ink, oil, acrylics, whatever!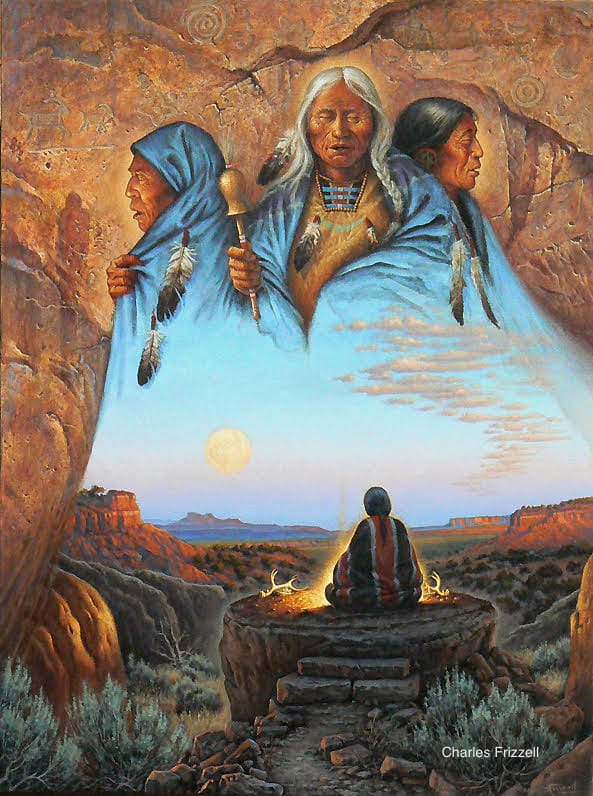 When and how did you get involved in creating your magical style of shaman Art? What were your influences?
After coming to Colorado in 1968, my wife and I moved into Cripple Creek, Colorado and we opened a gallery with another artist in the old mostly abandoned downtown. It was considered to be a 'Ghost Town' at the time. That marriage did not last, but I met, and eventually married another woman I met up there. She was gifted in the ways of the native peoples, and she knew many who visited us from time to time. This started the voyage into learning about the People, their lives, their beliefs and their culture. I had always been fascinated by the American Indians, but knew little of the lives and the culture of the people. And I knew nothing of the spiritual side of that life, but my partner, Shawn, was wise in that aspect, and helped me to learn and respect all aspects of the spirit of the people.
Another major influence in my art was Frank Howell, the very famous artist of indigenous peoples in the mid to late 70's and through the 80's. I worked with him in his Denver studio while I learned the technique of stone lithography images from him, and then later, in his studio in Santa Fe, I did layout work on his prepped canvases and did under-painting on a few large canvases. The largest canvas was 8ft X 12ft. He taught me a lot, and he did indeed influence my imagery toward the more metaphysical look of my paintings of the indigenous people.
How do you find inspiration to paint your art? Where do your ideas come from? How do you enter into the realm of magic in order to see what you are inspired to paint? Do you do any research?
I do a lot of research sometimes, and at other times it just feels like my brush takes me on a trip and has me put the right image with the right color in the right place.
The 'inspiration' is almost always there; if not, I go for a hike. And hiking in the high mountains does give one ideas and feelings. We lived at almost 10,000 feet altitude, and the sheer altitude alters one's sight and feelings. The sunlight at that level is intense, as are the stars. The moon will sing to one on a quiet night. So perhaps the altitude puts me in a 'realm of magic'.
For the past several years I have lived at a lower altitude due to having little air to breathe at higher altitude, as I have gotten older. However, Shawn maintains her cabin up there and I go often for a few days or so to get an 'injection' of the high mountain air and sunlight. Shawn is great with knowledge and experience, and she and I discuss new images and ideas.
One of my favorite paintings of yours is called, The Healer. Can you tell me the inspiration for this painting? How did it come about?
This painting is also one of my favorites, and I would like to redo it life size. The original is quite small, too small for the energy that it symbolizes.
The moon and the planet alignment are important, although I cannot remember right now the reason. Looking at it now, I most likely thought that the energy of the humming birds and the crystal was held in place by the moon/planet alignment, so it was a perfect time for the healing of the woman in the background with the humming birds scattering her bad juju in all directions.
What do the hummingbirds and crystals symbolize in your art?
Crystals hold 'stuff'. Thoughts, images, secrets, health or sickness, directions, future happenings as well as ancient happenings, and will give these to us when we ask (if we know how). So, as most people know about life in general, be careful of what you wish for because you just might get it. Humming birds carry energy, both for our lives and movements, but also for our knowledge and our health. They carry intensive beauty, and a fantastic show of aerial dexterity. We should always pay attention to humming birds and their antics. (One once landed on my headband just above my brow and pooped on my nose. I have never really figured out the meaning of that one!)
And what does the owl symbolize in your art?
To me, the owl has always symbolized knowledge and change and in my paintings, it always stands for 'good' knowledge as well as for a 'positive' change. We have had an owl turn up from time to time on the road as we have traveled, and because we did not 'know' the owl, we had no idea of what it went through or the energy and knowledge that it carried. However, Shawn and I both tend to imagine that the energy is positive; and comes to us with the message of change; change in our lives and/or our thoughts. We have some really interesting stories about some of our owls.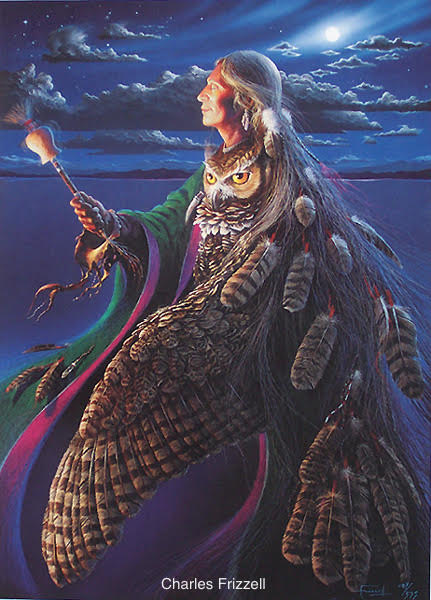 Oh please tell me one of your owl stories!
As we traveled east of California's Mono Lake, late in 1987, the open desert promised a great view of an eclipse of the full harvest moon. Anticipating this eclipse for days we (myself, my partner Shawn, and our son Ian) had planned to be as far from light pollution as possible, and so chose this remote desert road. Stopping occasionally to absorb the event, we savored the cool, crisp evening, the intense stars, and the empty, interesting landscape. Even distant ridges of rock were well defined in that surreal lunar light, with nearer shadows being a warm, soft, total blackness.
Near midnight, we stopped for an injured Great Horned Owl alongside the road. We felt it to be a male, quite large, with a wingspan of about four feet or more. Although he would not allow my son or me to approach too closely, he seemed to welcome the presence of Shawn. She talked with him for several minutes, and then slowly and gently she picked him up. He stretched his huge wings and then tucked them to his sides as he snuggled into her arms and rested against her breast, his talons interlocked with her fingers. As Shawn stood a long time with him, talking quietly, then listening, a deep bonding took place. He continually turned his head to watch us all with his intelligent golden eyes. We discussed attempting to take him to a raptor center near Reno, Nevada, although that was many hours away. The owl let Shawn know that it needed to stay in the desert.

After spending more than an hour with the owl, we all walked far from the road into the desert. Ian and I stopped while Shawn and the owl went on. We watched in the bright moonlight as she stopped and set the owl down in a small circular clearing in the sagebrush. Backing away while watching the owl, Shawn glanced back to check her footing. When she looked back into the clearing, the owl had vanished. And it was not seen to fly away by Ian or me.

We traveled in silence afterward, set up camp, and talked over the events of that special evening for many days and weeks. The owl represented change and transition to us; a merging of the traditional with new energies; a balancing of the masculine and the feminine.
The spirits of the owl and the human had merged and blended, neither being superior to the other, while communication moved to another level.
The idea for the painting "Merging Wisdom" grew from this experience, and the original is now in Shawn's personal collection. The figure is a portrait of Shawn. Since the original is not for sale or to be displayed publicly we do offer this image to the public in the form of prints.
What would you like your art to accomplish? What effect would you like your art to have on people?
I would like my art to have a calming and introspective effect. I would like it to inspire one: to look within their heart and feel blessed to be living on this tiny planet in such a vast universe, to give thanks for the opportunity to look at the stars and the openness of the sky, to know about the earth and the people who hold it sacred and to realize that this is the only place we have to live so we must treat her with love and respect.
Has your art and the creative process been healing for your life? If so, how?
My art certainly was instrumental in calming me down from my early years. I wanted to race sport cars and race motorcycles (from which I still have a slightly bum left knee). I started flying while in college but I gave it up when it came time to solo; I looked around more than I paid attention to the aircraft. I decided it was not for me.
And the meeting of my partner and her guidance has been wonderful in helping with healing the 'crazy'. She helped me to open my focus into the creative and into a more spiritual life.
I love your artwork so much! It has such an uplifting message! I call this kind of art, healing art.
"Healing Art" is a good term for pretty much all of the artwork that I do these days, and I have done variations on it for years and years. In the eighties, I did a lot of images concerning the coming of the 'white man' into the wild; the provenance of the indigenous peoples of this continent but not with any kind of contention or warlike attitude. And then I moved on to learning as much as possible about the native peoples and their lives, their beliefs, and how their 'art' was not art as we know it; to be put on a wall or in a museum but rather a sacred object with deep and often private meanings. The art then moved into the changes brought about by the incoming peoples and how those changes so deeply influenced the once wild nation and the lives of everyone. I am still fascinated by the ruins of not only the first peoples, but also by the ruins of the incoming farmers, road and bridge builder, and towns that sprang up.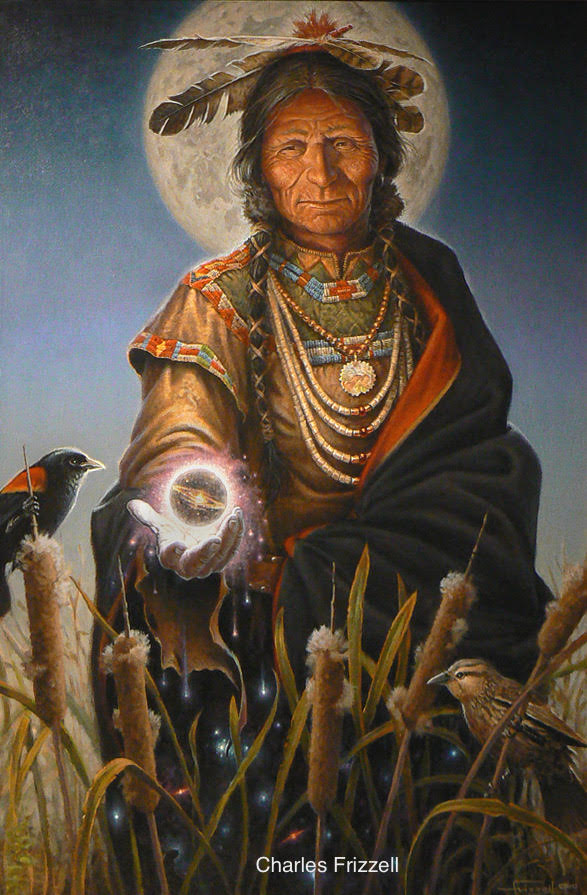 What has been your experience as a professional artist? What have been the highs and lows? And what advice do you give to other artists both to create art and to sell art?
Being a professional Artist is not an easy job, nor in most cases a lucrative job. One has to be very determined to make it work and pay. Either the artist develops a 'look' or a recognizable image of the type of art that they do, or a recognizable skill set/look that can be easily identified. The illustrators of books and magazines from the late 1800's and much of the early 1900's each and all developed a specialized look, and their work that could be identified without even seeing the signed name.
As a professional Artist, I work a lot. Vacations are few, and I sometimes think of my work as 'hills and valleys, with a few gullies now and then'. Getting attention in a good Art Gallery is great for the ego and usually for sales; however, the artist pays a premium for being seen and having works sold there. An opening exhibition is usually a fun and invigorating affair if well attended and sales are made. A bummer if not well attended and sales do not happen. As for sales, I plan to do an online gallery as well as be in at least two high end art galleries.
For emerging artists, learn how to draw, paint, and to compose well. Do not slack on study and experience. Go to museums or in these days look up your favorite artists and study their work on line. We can go to any museum in the world now and study their artists. Do it! And learn how to paint over the image you just spent a few days on, or throw it away if need be. And last but very important; draw! Draw all the time. Draw anything – a half full toothpaste tube, parking meters, your boots, whatever, just draw all the time. It all starts with drawing.
I don't mean to sound like a "downer" when I talk about being an Artist. I do get to go out and sketch whenever I want, and my dog knows the time for a walk, so he let's me know and I do not have to check out of the office to walk our daily couple of miles.
I live in my studio, which I had wanted to do most of my life. Be careful of what you wish for; I cannot get away from my work, and when I am prepping for a show, my place is a mess, but then I clean it up and it is really cool, and then the next empty canvas is just waiting to jump out at me.
I have an awesome ART library with amazing books on amazing artists. I play whatever music I want when I want, or be silent when I want. And I wake up here every morning. Well, except when I go to Victor and stay with Shawn. Now there is a 'home' that is cozy and warm, often with the smell of delicious soups as they cook on her antique wood cook stove. Heaven!
How has your art changed as you have gotten older?
My interest is moving toward the spiritual aspects of many of the early people of Western Europe before the invasion of the Americas. I am interested in their ideas and ideals concerning the earth and the 'gods' of the earth.
Is there anything new or different you would like to accomplish with your art? Any new direction you would like to go into in the future?
I have been painting with Acrylics and Watercolors for the past decade, and I am yearning to get back into some oil painting. Also I am thinking more of visionary imagery in all its aspects.