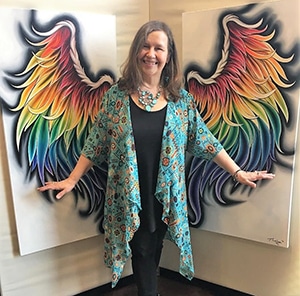 Dorothy Bury Shaw's art focuses on the spiritual journey of the untamed woman. She explores the courageous aspects of self-discovery, awakening, and expanding the heart, achieving a rich, other-worldly quality by using intricate layers of ink, watercolor and colored pencil on rag paper. Every line is purposeful, each element is symbolic. Sometimes she includes sections of collage, mingling bits of paper with ethereal subjects to create another point of connection for the viewer. Dorothy's artistic process also includes writingpoetry inspired by what she is painting and drawing. She initially taught art and freelanced as an editorial illustrator. Now her focus is on creating her own fine art and poetry. Last year she published her first book, Love Without Distance, A Heartscape of Art & Verse.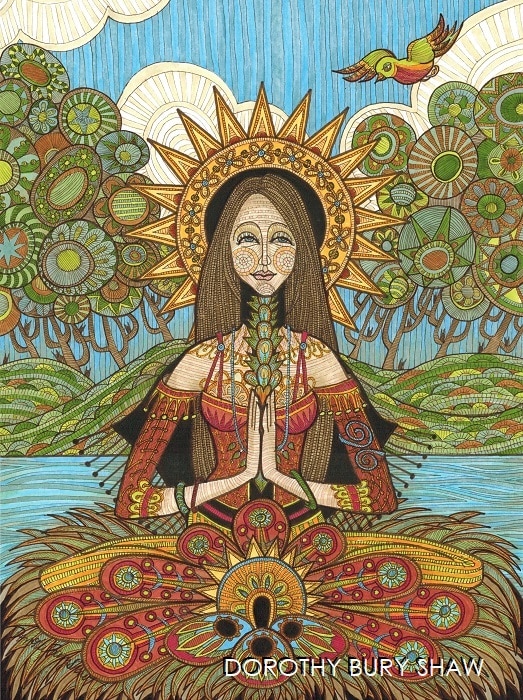 Were you encouraged or influenced in childhood to be creative?
There was one close relative who was quite artistic, a dear aunt. Her beautiful ceramics and works on canvas were always the talk of the family. She unknowingly paved the pathway for me to express an interest in art in such a way that it was accepted. I was encouraged most by my Mother who bought me art books and offered to enroll me in a mail order class. When I expressed a desire to become an artist as a profession and attend the Chicago Academy of Fine Arts, there was resistance from my parents. They agreed to my choice as long as my goal was to become a commercial artist.
What kind of art did you create as a child?
Oh, how I loved to draw! The female figure was my favorite subject, and nature was always the setting for my pictures. (Perhaps some things never changed!)
Did you have a formal art education?
I attended the Chicago Academy of Fine Arts with a major in editorial illustration. This curriculum overlapped many courses in the fine arts curriculum, which was ultimately where I longed to be. It was four years of bliss.
How would you describe the art you create?
My subject matter is most often spiritual and ethereal, infused with symbolism and layers of meaning. I begin with a pencil drawing, which I strengthen in ink. An under-painting is done over the drawing with watercolor. And then I begin to layer colored pencil and then ink line-work across the entire piece, inch by inch.
Much of this process is intuitive. I create intricate patterns and hidden details. It draws the viewer in closer, and invites them to linger awhile.
What influences you to create with such detail?
Once I have decided upon a subject and a composition, I proceed with extraordinary patience. There is no sense of urgency. I know I will see it through and sit back to enjoy the journey as it unfolds … from heart, to mind, to hand, to paper. The intricate line-work is almost like chanting, and it becomes very soothing, repeating and repeating… line after line. If an ink stroke is crooked, or goes beyond the border, it is absolutely fine because my hands are not a machine, and I love that the result is clearly handmade. It takes many, many hours to complete one of my pieces. The larger ones are well over 100 hours of my time invested.
In many ancient cultures, you will find the use of pattern and decorative detail used in mosaics, textiles, rugs, pottery, jewelry, manuscripts and art. During these periods of history, many people did not read. These repetitive and symbolic elements told their stories. Subjects from nature were rich with deeper meaning, as were the colors used.
The use of pattern in my work creates a certain rhythm which brings my art to life. It has a heartbeat that drums line by line the tales our souls know so well.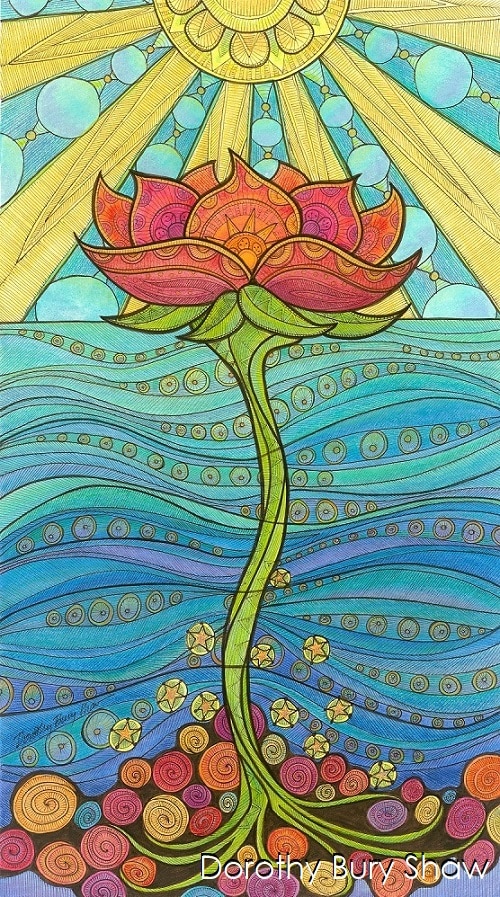 Where do you find your inspiration to paint? Can you explain your creative process?
My experiences, the relationships I've held so dear, and a rich inner life all provide an endless source of inspiration for me. All that is sacred to me longs to find voice through my art. The smallest observation or spoken word can spark an instant of awareness that I want to hold forever. Art and poetry give me a means to honor these moments. A visual comes to mind, and a few sketches later, a composition emerges. I take my time in creating the right arrangement of lines on paper. The art speaks to me, telling me what's right or not right. I feel divine guidance and a wondrous sense of connection as the piece unfolds on my paper. My eyes are walking across the paper, feeling their way along, a little more here, a little less there. My hand follows suit. I am not interested in laying down perfect proportion with my figures, or botanical correctness in my flowers and trees. I am not creating from photos or capturing a place that exists anywhere but in my mind. It's all imaginary, somehow otherworldly, at times ancient and other times futuristic. It exists apart from time. But I do draw heavily from nature, the bounty of the earth and the celestial wonderland that surrounds it.
What is your message to the world through your art and poetry?
We are glorious creatures and we were born to love. If my art can expand the awareness of how love lives and breathes in our lives, sometimes in surprising ways, and touch the heart of another, it is enough.
If a person comes to experience the Divine in a new way, or see the Light within themselves with new eyes, it is enough.
What are you most passionate about sharing when it comes to talking about your art or your poetry or art and poetry in general?
My passion seems to be brimming as I answer all these questions!
Have you ever had a mystical experience while creating your artwork? If so, could you share?
The mystical experience is one of the most precious gifts of an open heart. At the drawing table, I often find myself in another plane of consciousness, where thoughts are hushed and nothing else exists. Yes, without warning and seemingly out of context a phrase will come to me. Words I need to hear. And I jot them down in the margins of my art or on a scrap of paper. Some of these unbidden messages have become some of my best poems.
Other times, I waken from a dream with a concept for a painting or poem fully formed. This is an exhilarating occurrence, and I approach my project with no fear, already knowing it will be good.
How has your art and the creative process been healing for your life?
Since expressing myself through my art and writing, I have lightened the load my heart has carried. I no longer fear what comes from me. It has to be expressed. For awhile, showing my art or reading a poem put me in a terrifying vulnerable position, of being totally exposed. But when I saw how people identified and felt comforted in knowing they were not alone, I saw that art does heal… both the artist and the viewer. My health is better than it was, and I am more open in my relationships. It has been a gift for all.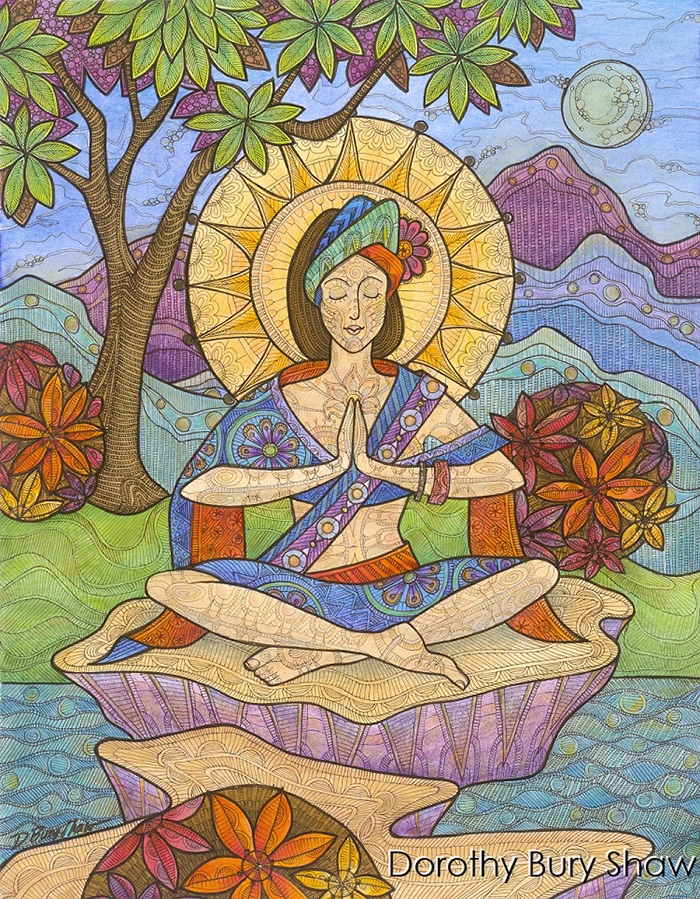 In what ways do you think art can be healing for the observer of the art?
Art can touch the heart on a different level when it resonates with the viewer's own experience. It's comforting just in knowing we are not alone. It's validating to see these innermost experiences be validated and honored in an art piece or poem.
In what ways do you think creative expression and self-love intertwine?
For many artists, myself included, there is a NEED to create. Creative expression fosters a sense of authenticity, as we are being true to ourselves in the moment of creation. It's not easy to set aside the time to create, when daily life places endless demands on us. We are like fish out of water, aching for the sea, starving … when we neglect creative expression in our lives. Once we are back at work in our studios, oh how we shimmer, rehydrated, alive and energized!
Was the inner-critic ever a problem for you? How did you get past the voice of the inner critic?
People have assumed that I am a perfectionist, because my work has such precision. But no, mistakes happen and I simply work them into my composition. My art has never been mainstream, so I did not feel the pressure of meeting academy standards, adhering to formulas or rules where art is concerned.
I usually fall in love with the piece I'm creating, and find it very hard to part with it should a buyer show interest.
I have been cautioned by teachers in the past, to never let my art become too "precious" to me, because I will lose the inner-critic and my work will become stale. I'm willing to take that risk. I do ask myself as I'm working if this choice or that choice will weaken or strengthen the piece. There is some of that. But that's just artistic process, not criticism.
Is there anything new or different you would like to accomplish with your art? Any new direction you would like your work to go in the future?
I might consider exploring some three-dimensional elements in my art. That interests me.
Who are your favorite artists past and present? Were they ever an influence on your art?
Some of my favorite artists are not known by name. Ancient illuminated manuscripts, Persian miniatures, Egyptian carvings, cave drawings, African tribal ritual carvings and crafts … these were created anonymously, collectively, with the work being what mattered, not who did it. I do love Picasso's work, Miquel Basquiat, Chagall, mystic Meinrad Craighead, to name just a few.
Is there anything you would like to add to make the interview complete?
I only wish to add that it has been a pleasure to consider these excellent questions and share responses with you and your readers. Thank you!