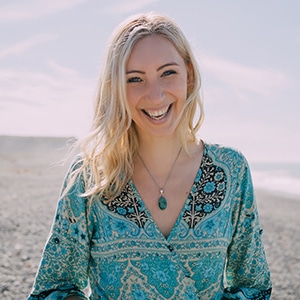 Elspeth McLean creates intricate, celebratory artworks composed entirely of colourful painted dots. Her work is deeply rooted in nature, inspired by the flowers, trees, animals, and landscapes that she knows from her native Australia, her adopted home of Canada, or that she encounters on her many travels. The seasons, the cosmos, sacred geometry, mythology, and the divine feminine are all influences that permeate her creations. She also has a great appreciation for the healing powers of art and colour. Most recently, Elspeth self-published her first book "Jewels of Nature" a photographic journey of her mandala stones through nature. With her artwork, Elspeth hopes to inspire and connect people with their playful inner child while adding vibrancy and joy to their lives.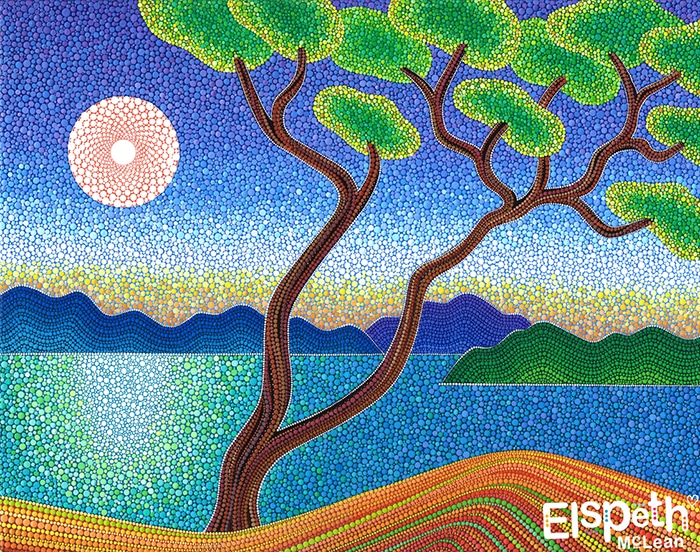 When did you first start creating art?
I've always been creative. As a child I loved to draw and make things. Art class was always my favourite hour of the school week. When I moved across Australia from Perth to Sydney, I used this opportunity to commit to my art practice and became a full time artist in 2006.
Were you encouraged or influenced in childhood to be creative?
My whole family have always been very encouraging. As a child I always had access to art supplies to entertain and express myself. Both my primary and high school had fantastic art programs so I was able to explore many different media. Many of my teachers were always very helpful and encouraging too.
Did you have formal art education?
Apart from art lessons at school, I have no formal art education. These lessons gave me a great foundation as I learned the basic skills and how to plan and execute ideas. We explored many different mediums- from drawing, painting, silversmithing, photography, textiles, and ceramics. As an adult, I have attended a variety of short courses and classes, but I never felt like I wanted to study full time. I did complete my diploma in Transpersonal Art Therapy as I wanted a deeper knowing of the healing benefits of art.
What puts you in the mood to paint?
I'm nearly always in the mood to paint! I love it so much, even talking about it makes me want to run off and get painting! Of course, there are some times when I'm not in the mood which I interpret as a sign that I need to rest, relax, and gather inspiration. I do have a tendency towards burn-out as I get so engrossed in creating that I do not give myself enough down-time. I have come to learn, accept, and respect that rest is just as important as creative time.

In times when I want to get into the creative zone, I like to create an ambient atmosphere by lighting incense, perhaps playing music, drinking tea, or selecting an oracle card from my favourite deck.

When and how did you start painting your famous mandala stones?
The idea blossomed from a day on my favourite beach in New Zealand where I found a few perfectly round stones. It was 2013 and I was in the middle of one of my "mandala painting phases" and so these stones gave me the idea for a new surface to paint on. One day, my friends and I were having a "crafter-noon" and looking to explore my new idea, I painted the very first mandala stones. I never expected or intended for them to be as popular as they have become. It has been so humbling and exciting that so many people all over the world love them. 6 years later, I still have as much fun painting them as I did that very first day.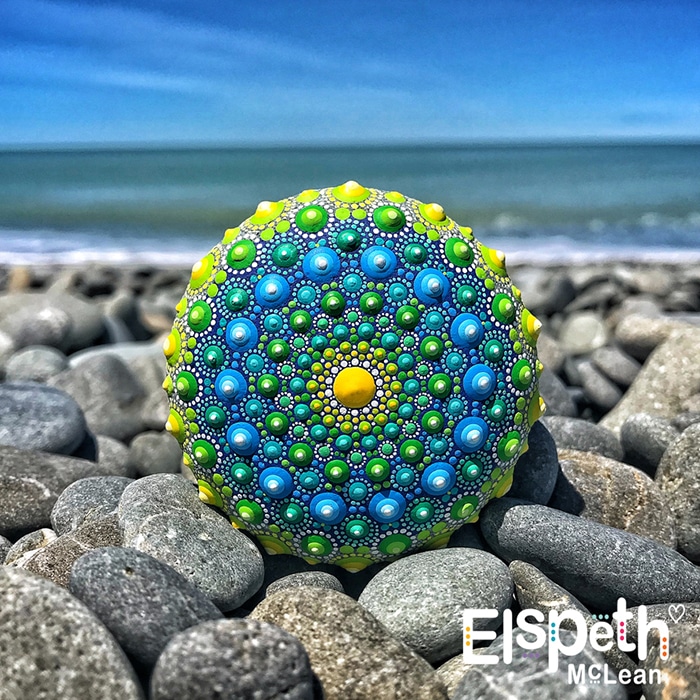 Where does inspiration come from to paint your non-stone paintings?
Nature is my greatest muse! I go through different phases with my paintings but whatever phase I am in, it is definitely inspired by nature in some way. For example, when I moved to Western Canada and lived overlooking the ocean, I went through a long phase of painting seascapes. As I love to travel and am blessed to have had many opportunities to do so, my art is usually a response to the experiences I have.

What would you like your art to accomplish?
I have always hoped that my art can bring some colour and happiness into the lives of others. That is why I created my Facebook page in 2010 because I wanted to be able to reach people on a world-wide scale. We live in challenging and complicated times so I hope that my art can be a reminder of the beautiful things and to give hope.
How has your art and the creative process been healing for your life?
Art is how I maintain my well being. When I haven't painted for awhile I become irritable, more anxious, and sad. I just feel directionless. When I am creating, I am in my happy place. It is a way and time for me to process. I go into a different zone when I'm painting – it is very meditative. Creativity is life-force, and working with colour and pattern is especially satisfying for me.
Would you ever describe creating Art as an act of self-love? If so, why?

Absolutely! I think we are all intrinsically creative in some way. By expressing ourselves we are connecting with our true nature which is absolutely an act of self-love. Creativity is homage to our very existence.
What are you most passionate about when it comes to art?
When it comes to art in general – I am most passionate about seeing people finding their own unique voice. It is so exciting to see how others express themselves. Art makes the world such an interesting place and I am aware of the bravery and risk it takes to put oneself – and their work – out into the world – I find it so fascinating.

In my own work, colour is everything to me. Sometimes I feel like my work is just playing with colour! At the moment that takes the form of dots. Creating pieces that are vibrant and alive gives me so much energy.
How often do paint?
Truthfully- not as often as I'd like to! When my art started picking up online and my business grew, so did the management tasks. From customer care, handling online orders, developing new ideas, updating my website, photographing my work, creating social media posts, and so on, there is a lot that goes on behind the scenes than people may expect. While ideally I would get to paint everyday, I probably paint a few days a week. I am learning to delegate more and to build a team to help me with non-painting tasks so I hope to have more time to paint in the future.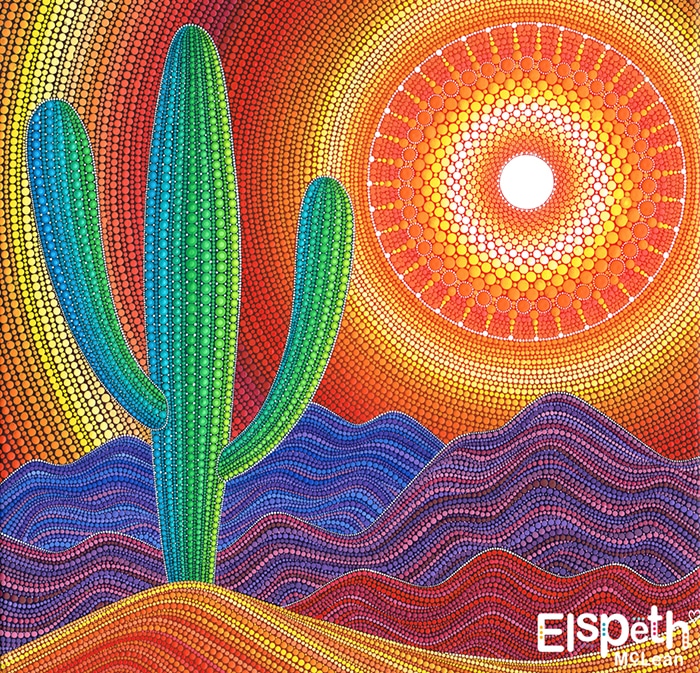 What is your daily routine like on days you are creating art?
I always start my day with a cup of earl grey tea in a pretty mug, sitting somewhere comfortable. I like to do my emails and computer work in the morning so that my mind is free there after. I then sit down for a couple of hours in the morning to paint. After lunch, if I have online orders, I will package those and do a post office run. If I don't, then I might spend time with my husband or friends. After dinner, I find that I have another surge of energy to paint. I love painting at night. Although the lighting isn't ideal, there is something about those quiet late hours that my best ideas flow.

Was the inner critic ever a problem for you? How did you get past the voice of the inner critic?
Most definitely! Just before I embarked on the journey to becoming a full time artist, I read and completed "The Artists Way" by Julia Cameron.
One exercise she encourages is to acknowledge these "blurts" of negativity that is the inner-critic, and rewrite them into a positive statement.
It is a fantastic exercise in rewiring one's thinking and definitely helped me tame my inner-critic. Of course, I do still struggle with it! I take these as opportunities to focus on my well-being as it usually indicates that something else in my life is out of balance.
Do you have any new or different goals for the future concerning the direction you want to go with your art?
Since I have just fulfilled my dream of creating a book entitled, Jewels of Nature – which was a project that took 4 years to complete, I feel that I now have a clear and fresh new start. I have a huge list of things that I dream of creating and want to explore that it is quite overwhelming! I would love to learn more about ceramics as I have always loved working in that medium. I also have several more book ideas! For now, I am enjoying the feeling of accomplishment of my first book, and getting it out there in the world.

Who are your favorite artists past and present?
My favourite artists from the past are: Vincent Van Gogh, Claude Monet, Frida Kahlo, Georgia O'Keeffe, Gustav Klimt, Chagall.
My favourite modern day artists are: Geninne, Laura Berger, Lisa Congdon, Justina Blakeney, Brian Froud, Katie Daisy, Andy Goldsworthy.

Is there anything that you would like to add to complete the interview?
The life of an artist is not one without its challenges – but it is oh so worth it. It requires a lot of dedication, time, and work. It is something that takes time to build and evolve. Intuition, exploration, collaboration and sharing are such important keys to creativity. Answering the call of my creative self has been the honour of a lifetime.