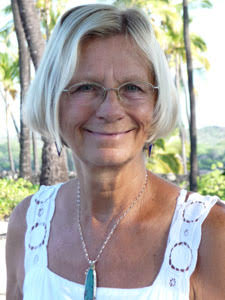 Francene Hart is an internationally recognized Visionary Artist. She utilizes the wisdom and symbolic imagery of Sacred Geometry, reverence for nature and our inter-connectedness to All That Is. Her work acts as a bridge between this reality and dimensions of healing and transformation. She is artist and author of the Sacred Geometry Oracle Deck, Sacred Geometry Cards for the Visionary Path, Sacred Geometry of Nature and the Sacred Geometry Coloring Book. Francene joyously resides on the Big Island of Hawaii.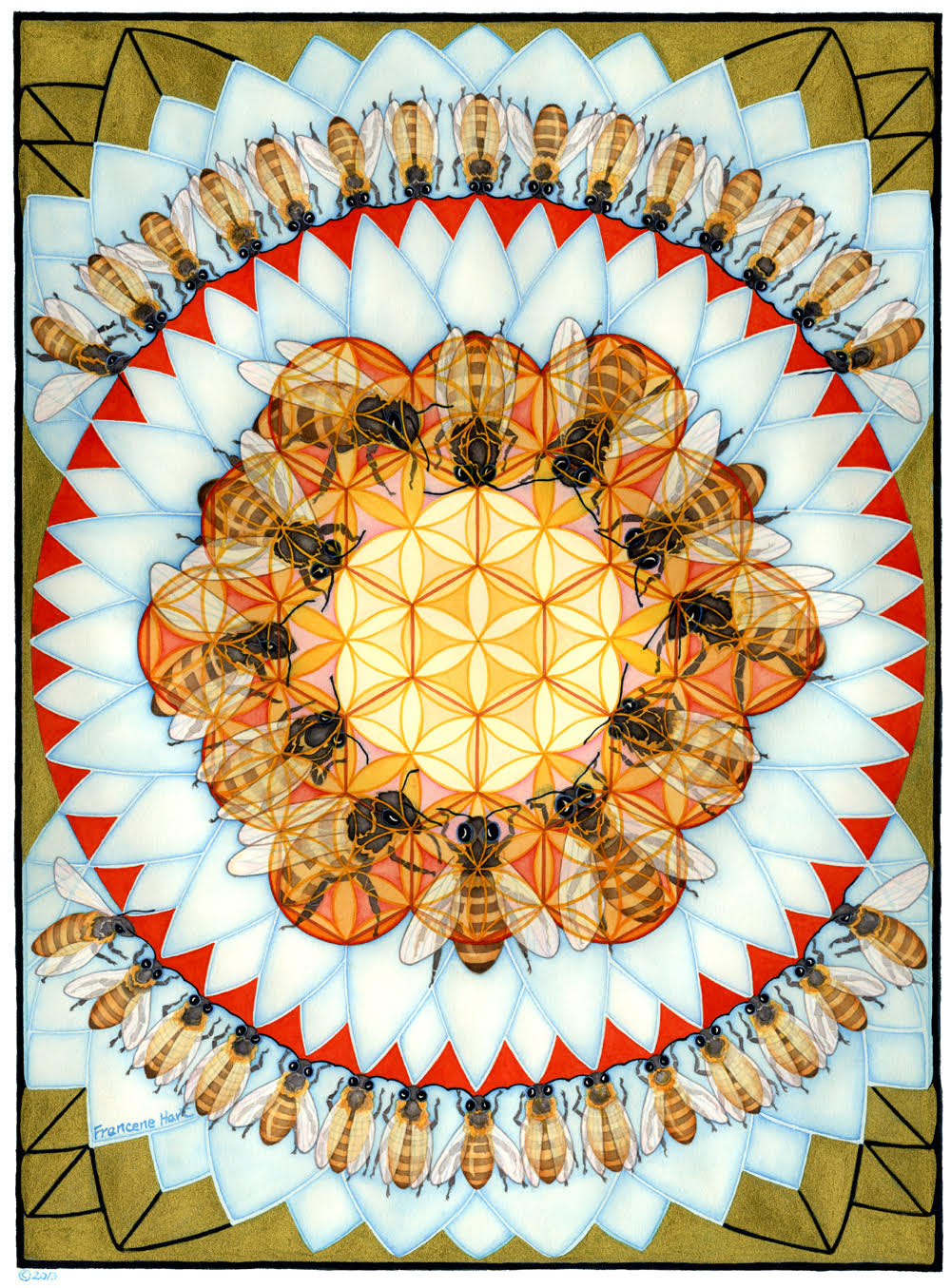 Rita: What influenced you to become an artist?
Francene: It has been my great privilege to have known from earliest memory that I am an artist. No other choice was ever considered. I was occasionally knocked off this path in my earlier years, however, developing skills in painting and the visionary experiences that inspire me has been my guiding force and the glue that holds me together body, mind and spirit.
Rita: When did you begin to incorporate sacred geometry into your artwork?
Francene: My journey into Sacred Geometry began nearly 30 years ago when I was "accidentally" introduced to Mandalas and their healing; revealing attributes of using the circle as a tool for self-exploration and transformation. This most basic of geometric shapes contains within it a doorway to inner realms that has informed and inspired cultures and individuals since the beginnings of humankind.
Then about 20 years ago, I began incorporating geometric configurations into my artwork layering them within the themes of nature and spirit, which had long been my primary motifs.
Rita: By adding sacred geometry to your artwork, how does do it enhance the subject matter? Is it meant to magnify the intensity of your message? Does it allow the message of your artwork to reach a deeper level of consciousness inside the viewer?
Francene: I explored geometry intuitively at first; having learned that intuition is one of my greatest teachers. I soon discovered that various geometric patterns hold within them wisdom and insight far beyond the simple construction of line and arc. I realized that this was not just artist's ego projecting pretty patterns. This was information coming from an infinitely greater universal source. This knowing continues to lead me to deeper and more expansive levels of understanding and inspiration.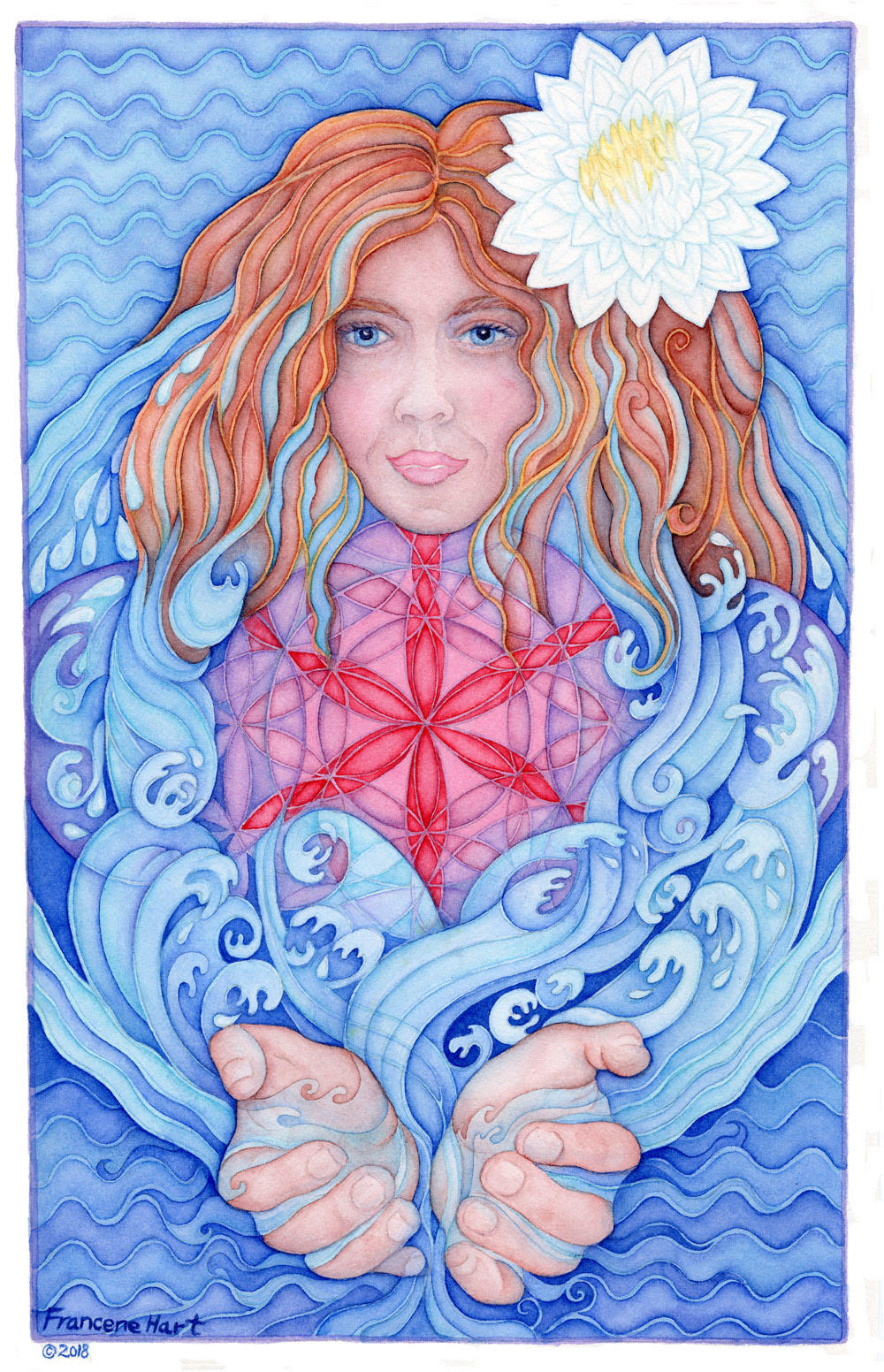 Rita: How has the study of sacred geometry changed your life?
Francene: Sacred Geometry has become a wonderful gateway allowing this "Language of Light" to move though my work and life. It is my great joy and lifelong passion to create paintings that inspire and enlighten. Sacred Geometry has become an intimate part of my perception and an expansive creative muse.
Rita: What inspires you to create your art?
Francene: Inspiration flows from and through everything… nature… travel… reading… shamanic practices… meditation… love… I see inspiration like an endlessly flowing river flowing by. Source is constantly offering vision; it is up to the individual to choose from this vision and bring a painting, song or writing into form. Inspiration resides in all things and is available to every one of us. It is this artist's great privilege to be able to capture a moment or a concept that resonates both as personal truth, and when fortunate, also to touch the lives and hearts of others. Sometimes my images appear to me complete but often they expand and shift as I bring them into material form.
All my paintings are inspired in some manner by the life I have lived and the major changes that are occurring on the planet. The creative process and metaphysical explorations have taken me on many wondrous adventures.
In turn, the art I am fortunate to create has led me in new directions and inspires continued appreciation for this life path. I live in gratitude and am deeply humbled.
Rita: Have you found that your art and creative process are healing to your life? How so?
Francene: Absolutely. I know that art is my glue and sacred medicine. Many times, over the years, it has proven essential to my wellbeing. It is so much a part of my being that it is somewhat difficult to explain except to realize that this sacred path as artist is the most satisfying experience I could imagine.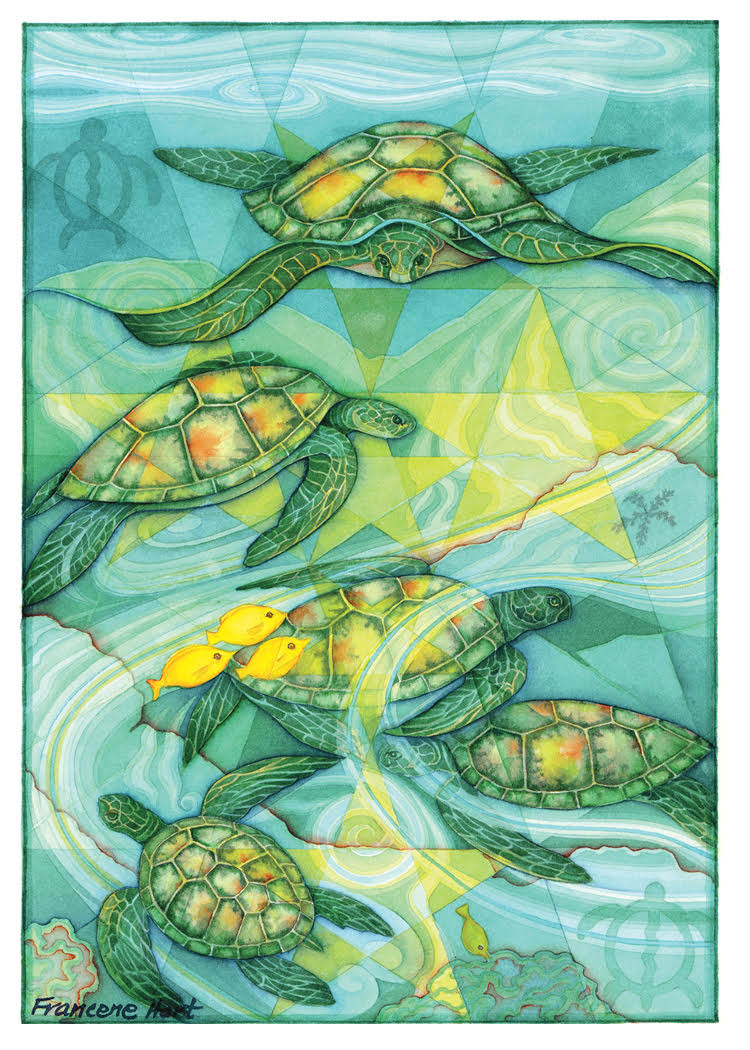 Rita: What do you hope your artwork accomplishes?
Francene: To create images that deeply move people and that enrich and change their lives. It is my joy and lifelong passion to create paintings that inspire and enlighten those who feel in resonance with the images that I continue to create.
Rita: What is the message of your art?
Francene: Love Thy Neighbor. Live Peace. Realize we are one with all of creation.
Rita: Do you consider yourself to be an activist? Is that activism present in your artwork?
Francene: I am aware that art can profoundly touch others and bring beauty and healing to many lives. That realization has furthered my interest in metaphysical thought and offers motivation to continue those studies in conjunction with art and Sacred Geometry. This has become my life path and pilgrimage of sorts, with inspiration and adventure as my companions on the journey.
My "activist "work has been mostly to offer images to organizations and individuals to help promote the path of peace and love.
Rita: What kind of atmosphere do you create for yourself when you are painting one of your masterpieces? Is there music? Is there a view to look out into? Are you sipping on tea?
Francene: When painting, I try to create a peaceful atmosphere with as few interruptions as possible. I set the intention to be fully present and allow vision to occur. Sometimes there is music and sometimes natural sounds are the accompaniment. When deep into a painting, I remind myself to consciously call in my guardians and guides, honoring that process and the connection that arises when we tune into spirit.
Rita: Is there anything new and different you would like to accomplish in your art career?
Francene: As I age, life is feeling quieter. I await the beauty of vision and hope to continue this path of exploration and ever expansive creativity.
Rita: Is there anything you would like to add concerning your art or your life?
Francene: I feel immensely blessed to have made choices and followed opportunities that have allowed me to follow my bliss as a professional artist. I recognize the creative spark within each one of us and encourage all to cultivate and nurture that blessing.