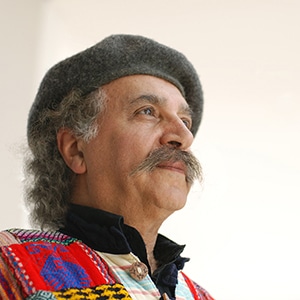 Freydoon Rassouli is a mystic who expresses his inner revelations through painting, writing, sculpting, discoursing and architectural designing. He writes and paints from the currents of love flowing through him, resounding from the beginning of time like taking soundings from the ocean floor and from the depths of beauty. While currently living in Sothern California, he begins his days and ends his nights with the songs from the poetry of hearts, tastes the flow of the rich bodied wine of nature, from the silvery wine of the moon to the golden overflow of the sun and the clarity of pure wine from a source we are not able to name, for it will change as we speak of it and will become something new with every moment of our existence. Rassouli writes about love, joy and drunkenness. His paintings are extraordinary images of love like pearls strung from his soul and created under the guiding hand of the beauty of heaven. He paints, sculpts and writes from the divine mix every time he expresses himself and soars to the skies of the eyes that gaze from beneath the brow of the beloved living the vigil of the surrendered heart. Rassouli was raised in the streaming vibrations of the playfulness of the mystics, listening to the voices of some of the great lovers of the world, and whirling with his beloved Sufi uncle. He was surrounded by the beauty of tapestries, innovative architecture, intricate paintings, and beauty of flowers, classic statues and sculpture, and the dancing of the mystics in sync with the turning world. Rassouli has so far published fourteen books including The Book of Creativity, Rumi Revealed, Fusionart, and Renaissance of divine love to name a few. Wisdom of Madness is his latest book that is a guide for living with joy through the in depth connection with the wisdom of Hafiz.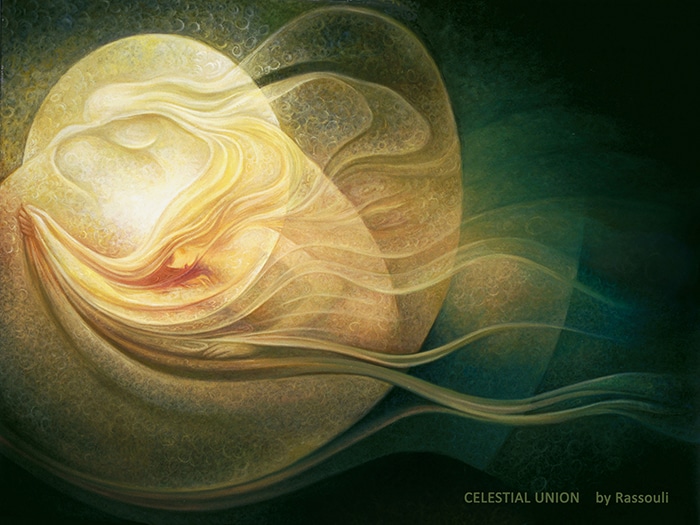 What is Fusion Art?
Art, from the beginning was a verb, not a noun. To art was to connect things together. Later on, it became a product and is now considered a product. But the truth of it is that art is a verb. So what Fusion Art is, takes us back to what the true meaning of art is, which is to bring opposites together. To bring together what normally doesn't go together. Such as soul and body, negative and positive, pain and happiness. Fusion Art is about connecting things together. So that's why I call it Fusion Art.
Are you still doing Art Fusion Retreats for adults?
Yes, I am still doing Art Retreats …
You see, the 20th century was the century for self-realization. Before the 20th century, we were just pawns in the hands of religion or aristocracy. We were all working for either one or the other. We did not have value as individuals. We were only numbers. In the 20th century, we can began to say, ''What about me?'' We developed a whole new approach, which was the avant-garde-ism. We became avant-garde and everybody wanted to express their own feeling; their inner-power. So self-realization became a big thing during the 20th century.
As we moved into the 21st century, we are now in the century of self-creation. Self-realization is finished; we all know our capabilities; we all know what we are able to do. But what we are missing is knowing where to start.
We were born to be creative. If you believe in the bible or any of the holy books, they all talk about how we were created in the image of the Creator. The image of the Creator is creation. Nothing else. God does not create to save; he doesn't have a savings account; he doesn't have a bank account. God just creates. Which means that if we were created to be like God, then we are here to create.
Unfortunately, in the past we were all victimized by the power of the ego of those who wanted to run our lives. Self-creation was not considered anything important. We were not allowed to create ourselves. We were supposed to be whatever we were born in the family to be; we were expected to repeat the same thing that our family was. But now is the time for us to create ourselves; create ourselves the way we want to be.
So that is why I started doing these Art retreats where I discuss and guide participants to create themselves. Painting is the means of doing that; it's the excuse for them to recognize that they have tremendous capabilities for creating themselves. My retreats and seminars are all based on the guidance for living a creative life; living a joyful life; doing what you are suppose to be doing.
There was some research done at the University of Chicago a while back. They had about 25,000 participants and they all were wearing beepers. They were all from different backgrounds, different ages, and different social classes. And when they were beeped, they were supposed to write down what they were doing at the time and how they felt. Those 25,000 people all shared one thing in common, and that one thing was when they were creating they were in their most exuberant state!
I teach my students to let go of judgment and be free to allow the inner-child to do its job. The way I do it is that I tell them, "First of all, I don't want you to paint anything that you know in your memory. What I want you to do is to think about what bothers you. Then using the paint colors and a rag or brush or your fingers or whatever, put that on the canvas as if you are getting rid of this feeling." So they do that. It's not about them painting a subject or showing any sort of technical ability. It's just about getting rid of that negative feeling that is inside of them.
As they get rid of it, slowly they go into the zone, which is the zone of creativity. They become mindless. Images show up and they start playing around with the images and just have fun playing. They are not trying to make a painting. At the end they realize, "Wow! How creative I am!" They never thought that they could create a painting! They always thought that paintings were only for artists to create. I tell them, "Just allow the inner-child to express itself!" That's what my program is all about.
How do you help those who are suffering without taking on the pain of the suffering yourself?
Suffering is a part of life. I don't even like to use the word suffering. I prefer to use the word pain. Pain is good. Pain is not bad. When I have pain in a part of my body, that pain is telling me that something is not working properly. By taking a dose of aspirin or something to get rid of the pain temporarily, I am not solving the problem. I have to realize that this pain is something that I have to attend to. So pain, distress, and all of those things are really signals that something is not working. It's the way of nature telling us to take care of ourselves because this part is not working properly.
So the idea is that when you are dealing with pain, welcome it. Recognize that this pain is telling you something that is important to your life. Don't ignore it. Don't feel distressed over it or blame the world for it. Be happy.
When I recognize that there is something wrong with me, it means that I have to uplift myself; I have to create myself around it. I have to be able to work it out in my creativity.
So pain and suffering are not necessarily bad things. They are good things because they sort of pave the road for our development. Creation comes out of chaos. We have to be in a chaotic state in order to create. Not having something, is the means of being able to create. That's why the great Mystic Rumi says, "Don't look for water, become thirsty."
The organ of perception develops because of necessity. So as we increase our necessity, we develop our perception. And we need to have perception; we need to perceive things in order to create. We need to have a desire to take it beyond just the mind.
It's always good to go through some of these negative things even though we have been taught the opposite. We think that when everything is right for us that it means that our life is good but that's not necessarily the case. The case is that we need to find a balance between the negative and positive things in our life. Life is the union of those two things. And that is what Fusion Art is about; the union of negative and positive. We have to accept the negative and we have to accept the positive. Accepting is difficult though because we have to surrender to it with joy and not surrender to it by force. So acceptance is what we need.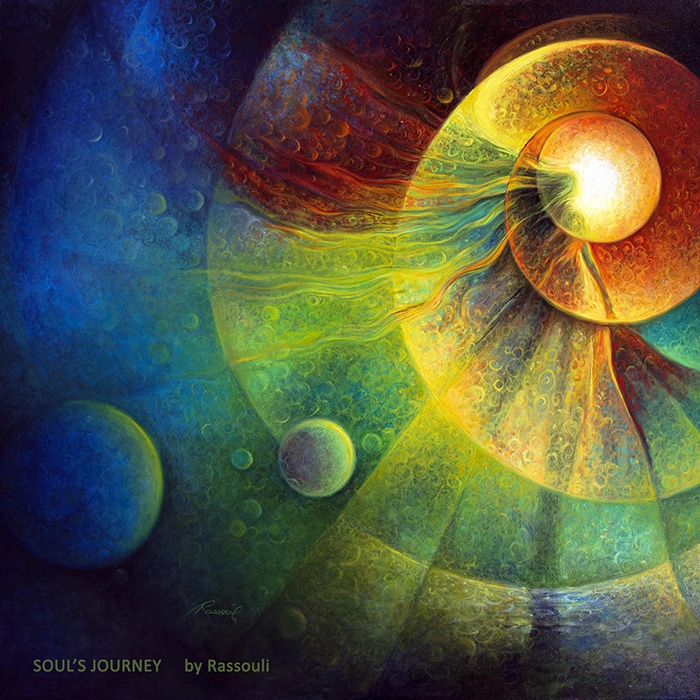 So even when someone is dying and we suffer because we sense their fear we just have to accept that death and suffering and pain is a part of life and make peace with that?
And the way to do that is …Lets say someone close to you is dying or is dead. That means that they are actually closer to you than before because their soul now connects with your soul. When somebody is gone that should actually be the opposite of suffering because, even though we don't see them physically, we feel them within us. We can live their life; feel their life; continue their life within our soul.
Rumi was in love with Shams, and when Shams disappeared Rumi looked for him everywhere. For years Rumi searched for him in every town and all around to find Shams. But he could not find him. Then finally, when he realized that Shams was gone, he BECAME Shams. He began to do things that Shams did. He behaved like him. And he even made his poetry under the name of Shams. Most of the poetry of Rumi ends with the mention of Shams. And that's because Shams was gone but in a way Shams became a part of Rumi.
So when your Mother is gone, yes she is not physically around any more but her spirit is around and you can take that into your life and feel the connection more and more.
My Mother IS gone…
Physically she is gone but her spirit is with you more than it was when she was alive because her spirit was attending to the physical body of her but now her spirit is in you.
It's really all about being able to accept their pain as something that is necessary. Just as joy is a part of life, pain is a part of life as well. When you accept pain, you can utilize it into becoming joy. So that's how we can deal with the negative things in life. By recognizing we need to have the negative in order to have the positive.
The waves of the ocean have to recede in order to come back. Recession of the wave is different from when it is coming to the shore. When it's coming to the shore it moves forward with the positive masculine power. When it recedes it has the feminine power devouring what is there on the shore taking with it into the sea. So the negative and positive are both needed in order to work together.
Imagine a river running across a desert; just running a straight line because there is nothing else along the way. It's just a straight line of water moving in the desert and it's boring as hell. But as it moves forward, suddenly a rock appears along the way and the moving water hits the rock and it screams and spreads around to find a way around the rock. It makes a bend and it makes a shift and where the water was heading, the rock makes the water spread around causing flowers to spring up and trees to grow. Suddenly, that boring river has a bend in it, which makes it so pleasant and so joyful. And it's all because a negative thing got in the way of the path. So imagine what we can do with our own lives!
How has fusion art been healing for your life?
When I first started painting Fusion Art it was 1984. At the time, I was practicing architecture. I did Fusion Art by bringing in the different elements of art, philosophy, and poetry into architecture. I built a showroom on Melrose here in Los Angeles called Expressions In Interior. It took off and there were a lot of reviews in the paper about Fusion Art. I carried that into my architecture but I got so fascinated by it that I slowly shifted into painting, poetry, writing, dancing, and music… these all became a part of my life. So now I do Architecture on paper only. I'm not doing it as a profession any more.
Did you receive healing from doing your Art? Did it give you new direction in your life?
New directions don't happen over night. Direction begins with your search. Your search deals with your inner desire, not what you want to imitate because you think it makes money. It really has to do with your own inner-satisfaction. So the search is about finding things that satisfy us internally. It's about finding clues that take us to the next level. Clues are very important in order for us to find our way.
When I paint, I have no idea what I am painting or what I want to paint. I just start on the canvas and I play. I usually start with a rag, and I take some paint color like blue…and then I put the rag in the blue and put in on the canvas. Then I put that rag aside and get another rag and, let's say, I take some red and I fill in some other blank spots on the canvas. And now there is a play between the blue and the red on the canvas. Sometimes blue gets the help from green or yellow or other color. I am just playing without following any rules or any thought or any ideas. As I play, I get to the point where the canvas is all filled with colors. Then I put the canvas somewhere besides the easel it was resting on, to see it in a different light or in a different location. And then I look at it, in order to define things in it. If I can't find anything, I turn it around in different directions until I do.
The lovemaking begins when the canvas tells me what it wants…not me imposing an idea onto the canvas. The canvas keeps on telling me, "Ok…touch me here…touch me there…remove this from here…add this in there." All of that is like making love with a partner who is guiding you rather than you forcing yourself on them. And that's what develops into a joyful painting.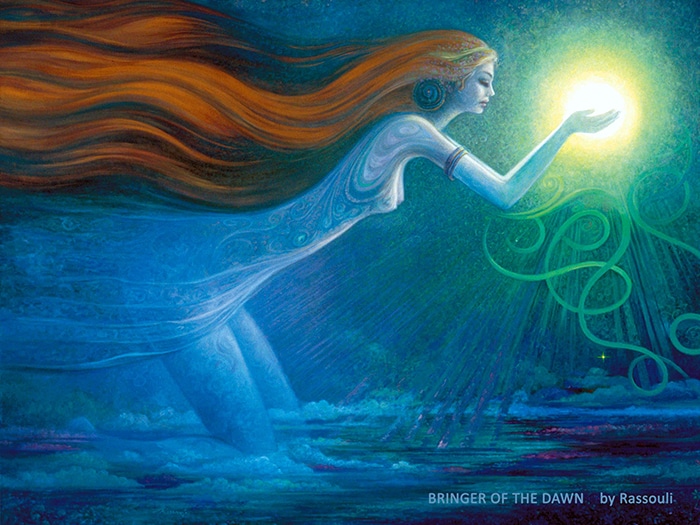 Your art is so light filled and heavenly. Do you ever have mystical experiences when you paint?
I am a Mystic by nature. A Mystic is someone that is sort of like a Libertine. A Mystic is someone who has their own laws, morality, visions, everything. So I am a mystical Libertine. Which means that I create my own rules. I don't follow somebody else's rules.
To create your own rules, you have to connect with your inner-self; with your muse; with what the Greeks call Sophia! The Goddess of wisdom. Or the Indians call Krishna. To connect with our muse is what makes us complete. But most people don't know what a muse is…most people think of it as something hocus-pocus.
The mystical experience is to connect with your inner-child; with your inner-muse. I am constantly connecting with my muse. I am constantly creating in my mind. I am envisioning things; I am perceiving things constantly…rather than thinking about what happened yesterday. Because most thoughts are repetition of yesterday's thoughts. But creativity is of the moment. Our days would be much fuller if we used our imagination more and weren't spending the days repeating the same old thing.
How do we develop our imagination?
All you have to do is put your mind into dreaming. When you put your mind into dreaming, your life becomes joy. That's what makes nature so valuable to us. Art and nature are what puts our minds into dreaming. When I look at a tree, when I look at a flower, when I look at a bird…I fall into a dream. I am not thinking about how much this flower costs or what's going to happen to it when it dies, or anything like that. I am in a dream. When we look at artwork, or listen to music or watch a movie, it's all about putting our mind into dreaming. This is the value of art. This is what is missing from our lives.
People are lost because their minds are not into dreaming. People's minds are filled with thoughts just like a child on Christmas day is surrounded by toys. There are so many thoughts in the mind that there is no room for imagination. So as we develop our imagination, we can truly enjoy lives and find direction for our lives. We can change our lives in this way. So many new doors open to us as we go into dreaming. Because by dreaming, we develop a whole different way of looking at things.
Life is also about enjoying bewilderment. To bewilder around is to see things as if you are in Paris for the first time. You bewilder around and look at everything. You say, "Wow! This is beautiful! That's beautiful!" And you move in this way rather than follow a map. Because when you move in this way, you find clues that guide you to the next thing. You find things that connect with your inner-child. You don't have to follow a map to find your way around. That is what I learned from painting. When I am painting, I am looking for the clues that lead me to the next thing.
What inspires you to paint?
The sunrise inspires me. The sun is Energy and Power. When I sit on the mountain to watch the sunrise it inspires me.
I walk to the mountain and climb in the dark. I don't take a flashlight or anything with me. I go in the darkness because I know that darkness is the mystery. Mystics look for mystery. Mystics look for darkness; they look for things that are not clear. So I love darkness. I welcome darkness. I walk in the dark all of the time. I paint on a black canvas. It's all about the idea that the darkness is filled with possibilities while the light shows only one.
So I sit in the dark on the mountain and I wait until the sky turns cobalt blue…and then it becomes lighter and lighter… and then it turns yellow…from yellow into oranges. At that same time there is always the morning breeze. The morning breeze, it comes against the sun. It touches you in the back…not in the front. The morning breeze is a soft touch. It's the touch that opens the buds into flowers. If it's too much, it blows the petals away. If it's too little, it will not open the buds. It's an awakening call, whether it's summer, winter, spring or fall, when that morning breeze comes. And when that morning breeze comes, it's telling you that the beloved is going to show up soon.
As you are sitting there, there is this silence of being, where the mountains and the birds and the plants and the flowers… EVERYONE becomes ONE. There is a fusion of everything together. We are all waiting for the beloved to show up. And when that golden tip comes…suddenly, like a wild painter, it throws these colors all across the valleys and the mountains. And we all are sitting in a meditative state whether I am a bird or a human being or a plant, it doesn't matter. We are all welcoming that divine energy; that divine power that has given us life…that gives us life every day.
So I sit there. And that is my meditation. That is my prayer. I sit there and I get filled with the light. All I want from the sun is to burn out the darkness inside me. So I sit there with a feeling that the light is healing the darkness inside me. As I get filled with the emptiness that is the light, I feel energy and rush to my studio and I begin to paint. Sometimes I paint for 24 hours continuously without feeling any exhaustion. So, that's my inspiration. The sunrise!
What do you want the world to know when they look at your Art?
I want them to feel the joy that I feel when I create. I want to give joy to people. I am not here because I want to sell paintings, or to say how good I am or any of that nonsense stuff. I am here to share my joy with other people. My paintings are sharing joy. My goddesses are the feeling that is within us to be something special. They are a metaphor.
Is there anything you would like to add to make this interview complete?
I think the most important thing is that we need to accept the darkness and accept the light. There is no difference. We should not judge the darkness as being bad, or the light as being good. We should accept both as being a part of life. Because life is the union of those two things. Life is the fusion of the negative and the positive. Life is the fusion of the female and the male. Life is the fusion of darkness and light.