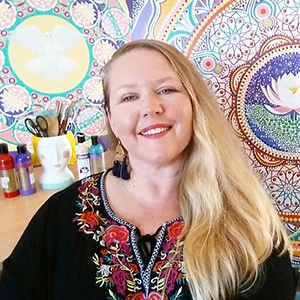 Hayley Mawson Roberts is a visionary artist, angel intuitive, psychic medium and art teacher. She was born in Bunbury, Western Australia in 1976 where she still lives happily today with her family. From a very young age, she has been psychically open, sensitive and an artist. A spiritual path has called her right throughout her life. In her early teens she experienced a time of intense spiritual awakening of her psychic and intuitive abilities. Forever changed by these experiences, she was opened to new pathways of communication and loving guidance from the angelic and spirit realms. In 2016 Hayley manifested her dreams and opened her home based Heart Space Studio & Gallery, where she exhibits her visionary, spiritual artworks and offers a variety of intuitive services and art workshops. It is her passion and calling to gently assist people in gaining guidance, healing and empowering them to activate their own higher potentials and their own unique creative talents.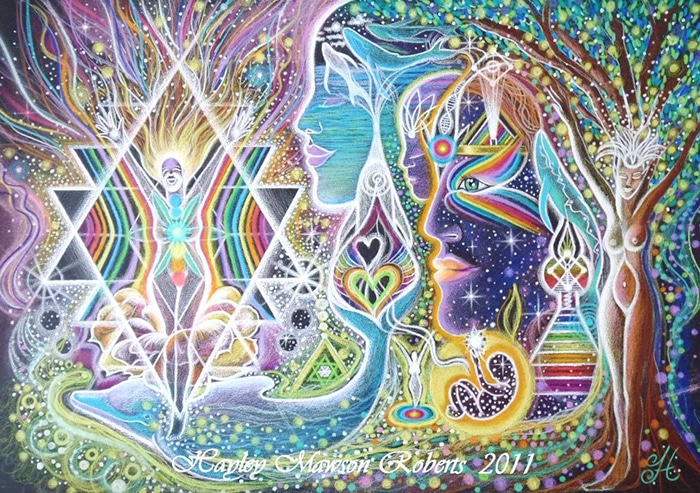 When did you first start creating art?
From the time I could pick up a pencil and paint brush it was go go go. I vividly remember for my second birthday my mum bought me a small chalk board easel and some paints. I would happily draw and paint for hours and hours at that little easel. You could say that I knew from that very young age that being an artist was my calling in life.

Were you encouraged or influenced in childhood to be creative?
Yes, my mum would display my art in our home, covering the walls until there wasn't any space left, which most definitely encouraged me as a budding artist. There was also a children's tv show called Mr Squiggle that I loved watching all through my childhood. Mr Squiggle was a puppet and an artist with a pencil for a nose. He would create a picture out of a few simple squiggle lines. It really showed me how to use your imagination in creative ways.

Did you have formal art education?
Yes, I was accepted into Art College, earlier than the entry age required. My teen years were a tough time. I had left high school early due to being bullied and sadly completely withdrew from life for nearly two years after that, though lucky for me I had my art to see me through. Then one day, I saw the art course advertised in the newspaper and just knew I had to get in. I gathered all the artwork I had created at home in the time since leaving high school and made a very makeshift art portfolio. My mum was very supportive. I was too scared to go into the Art College to submit my folio, so she kindly delivered it for me. I remember the day the acceptance letter came, offering me placement due to the quality of my work. We were so happy and excited. I ended up completing a Certificate in Art & Design, Advanced Diploma of Environmental Art & Design and a Certificate in Fashion and Textiles in that order. I still draw from skills gained from all those years ago and remember the wonderful teachers and creative people I met. It was truly invaluable to me.

You are an interesting mix of psychic medium and artist! How does being a psychic medium enhance your ability as an artist?
This is a really interesting question. It has enhanced my work by teaching me to trust my inner-guidance and follow it whole heartedly and to stay true to myself and connected to that intuitive space that is needed to allow art to flow. It opened a unique path for me into the realms of the visionary and spiritual art world, that I could never have expected. It allowed me to be of service by combining both my psychic and artistic gifts, with art being the perfect vehicle to deliver the guidance and messages to those seeking my services.
Often the words from a psychic reading may be forgotten over time, but a physical artwork can be enjoyed by my clients long into the future. It has been the ultimate blessing to me in so many ways, which I am very grateful for.

Can you explain how you do your soul portraits?
I tune into my client psychically and communicate with their angels, spirit guides and sometimes passed loved ones, to receive guidance that they need to know for their highest good, or the answers they may be seeking about different life topics. Using pastel chalks, I begin to swish down layers of colour onto the paper and draw an intuitive portrait of their higher self and inner essence that is also very recognizable as the person too. Once the portrait is finished, I type out the Soul Reading, which is all the info and messages that comes through whilst creating the portrait and is sent along with the portrait to the client. The portraits act like a mirror reflecting a persons soul energy and beauty in a tangible way. I have found that they are powerful, healing and transformative tool, helping to assist a person in positive ways on their life path.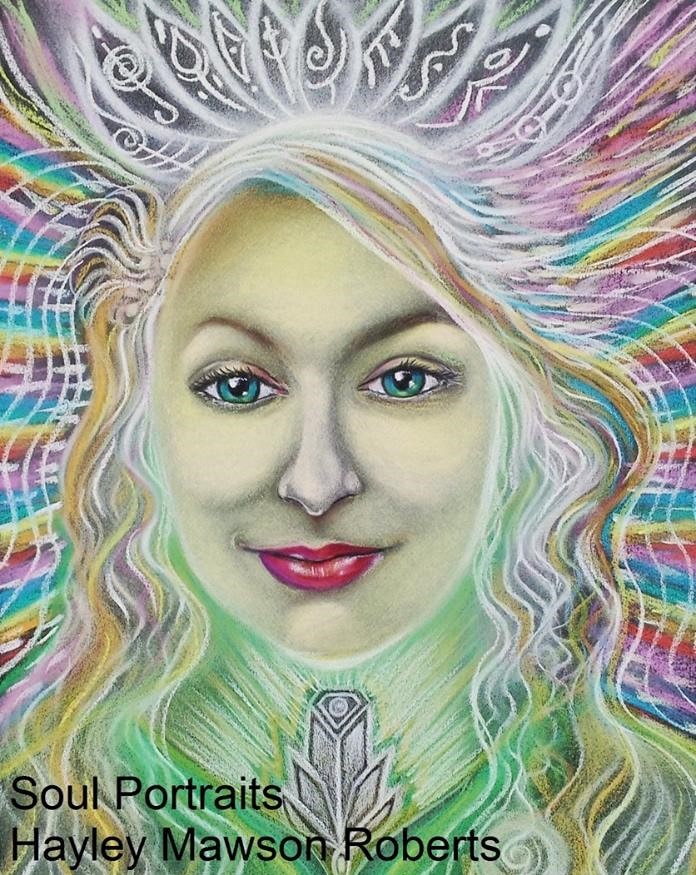 My favorite painting of yours is Goddess Kwan Yin. Can you share how you received inspiration for this painting and what does it depict?
Thank you, Kwan Yin is the Goddess of Compassion, an eastern buddhist bodhisattva and enlightened one. She represents the divine feminine, the compassionate and loving Mother, a protector of the family and home. I love Kwan Yin. She entered my life in my early teens via a series of spiritual experiences I had during that time. My painting of her happened completely spontaneously. I started the painting as I do with all my work as a intuitive process and her form began to quickly appear on the canvas in which I painted her in. It was one of the most peaceful experiences I have had creating that painting and I most definitely felt her presence.
What inspires you to paint? What puts you in the mood to paint a new painting?
Inspiration can strike anytime. It comes from: prayers or peaceful intentions that I am holding in my heart, the light of a sunset colouring the clouds in the sky, from visions that come forth whilst engaged in my practice of meditation and yoga, when I am admiring beautiful art, from dreams, the beauty of the nature, or whispers and guidance from the angelic realms.
Have you ever had a mystical experience while creating your spiritual artwork? If so, could you share what happened?
Yes there have been many. A few times I have been guided to create artworks for people I did not know, whom I later ended up meeting, which I gifted the artwork to them along with passing on the messages from their angels and they would confirm how accurate it was for them. Often when I am creating art, the room fills with the scent of roses out of nowhere, which is a sign that the angels are near. And I always find creating the Soul Portraits a very mystical process, which still leaves me shaking my head and laughing sometimes, as it is still a mystery to me on how it works.
I consider myself just the artistic messenger, with the great divine ultimately being in control of it all.

How has your art and the creative process been healing for your life?

Art is everything to me, all through life's ups and downs, there is my art to comfort and ground me. There have been times when art has naturally fallen into the background of my life, times where there have been lulls in the creative energy, but it is still always there and there are times of accelerated creative flow. I can't stay away from creating too long, I get edgy and feel a physical energy building in me, which I call the "creative jitterbugs" so the very process is always very healing for me.

What are some of the ways people can receive healing by just looking at art created by someone else?

If a piece of art strikes you or grabs your attention, stop and take a moment to truly breathe that in. There's a unseen energy emanating that has registered in your subconscious, your heart, your soul. The energy of an artwork can prompt something within you. It can change your whole perspective in an instant, it can heal and uplift you physically and emotionally. It can literally change the course of your life in a fleeting moment. Art is that powerful!!!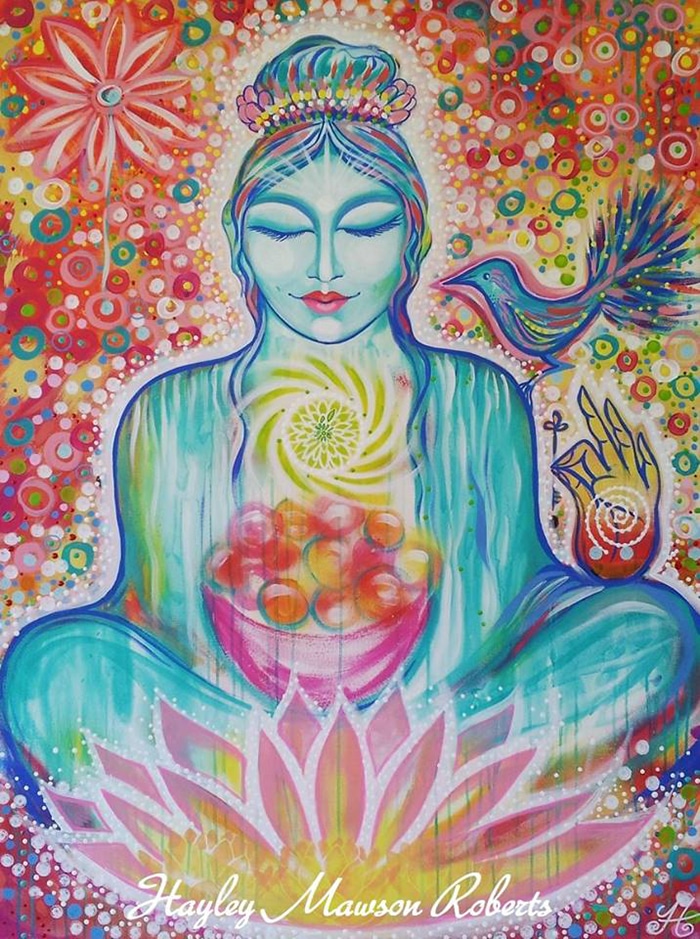 What are some of the ways people can receive healing by creating art themselves?
The very process of being creative can be healing. It literally affects us physically. It calms the nervous system and brings feelings of relaxation and well being. Creating art provides an outlet to express ourselves and emotions we sometimes cannot put into words. It connects us to our community via in the sharing of our work if we choose to share it, or during the creation process when we create in group settings. There are so many positive and healing benefits we can receive when creating art and I encourage everyone to give it a go and see what journey unfolds for them.

Was the inner critic ever a problem for you? How did you get past the voice of the inner critic?
Only when it comes to output. As artists, we are so lucky to reach our audiences worldwide via the internet. To have such technology at our fingertips is amazing, except for the fact that its pace moves at lightening speed. This is where I have experienced the inner-critic creeping in; a voice that says I am not producing enough art or fast enough. So I remind myself that it's impossible to manufacture art at the level that it is constantly consumed via social media platforms. Creating art takes time and energy. It can be hard not to feel the pressure to churn it out like a machine or keep up with a pace that is not realistic, sustainable or kind to ourselves. It's a trap where the inner-critic loves to lurk and it's a trap that I have to be mindful of not falling into.

How do you teach others to silence their inner critic?

I don't think it can be taught completely, but I offer people ways on how to work with it and move beyond it. It's a part of who we are and we have to beware of how much control we give over to it in our lives. I have learned from my own experience and witnessed as a teacher in my intuitive art workshops, that it is often tied to fears of not being good enough, or from emotional hurts experienced along our life path, calling for healing. Listening to it as if it were a small child needing to be heard, can be a powerful way to work with it.
Learning to befriend the inner-critic is something of a life long journey.

Do you have any new or different goals for the future concerning the direction you want to go with your art?

Yes, there is a great creative brewing happening within me right now. I can see and feel a new body of work within my mind's eye; I can feel it building in the ethers. There is so much I have to explore and I would love to experiment again with sculpture and clay. We are also planning to move to a new home, so Heart Space Studio & Gallery will be on the move. I am dreaming of a new creative sanctuary for myself and to share with the public. Dreams take time to gestate before they are born. There is a creative rebirth on the horizon. I look forward to all the work and creative energy it will require to manifest it into reality.
Who are your favorite artists past and present?

Oh so many, in my teens I was struck by the works of Van Gogh, Escher, Seurat, Klimt, Monet and Susan Seddon Boulet. When the internet came along the world opened up and I discovered the works of Rassouli, Josephine Wall, Robert Venosa, Francene Hart, Julia Weaver, Nicole Hardy Mizoguchi, Helena Nelson Reed, Autumn Skye, Sark, your own heart opening work Rita and more.