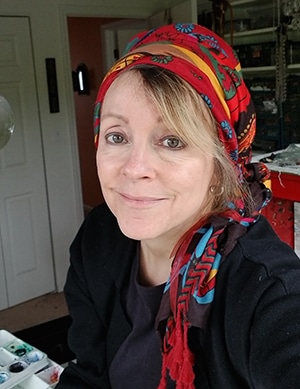 Helena Nelson – Reed is a self representing artist working with visionary, archetypal and spiritual subject matter. Born in Seattle, Washington, she grew up in Marin County and Napa Valley, California, and now resides in Illinois. She attended the American Academy of Art , Chicago, graduating with a graphic arts degree, and returned to university later in life. After sporadic years of weekend and evening classes, summer school and accelerated programs designed for working adults and women returning to the workforce, she earned her degree in psychology, focusing on domestic violence and addictions. While employed in the field for several years before returning to the arts, the experience was empowering for personal reasons. Anyone who has returned to higher education while raising a family knows the self discipline and focus required, and occasional bouts of frustration. During this time Helena continued to paint and draw at a limited pace, exhibiting in the Chicago area and galleries nationwide. After diagnosis in 2014 revealed intestinal cancer, Helena took 2 years off for recovering from surgery and treatments. Today, she's in remission and creating full time. Helena's original and fine art illustration is found in collections of people residing on several continents, and has appeared in books, calendars, magazine covers, the sets of the Desperate Housewives and Veep series, greeting cards and giclee prints. Over the years she's spoken in high school art classes located in the USA and Canada about creating a career as an artist, along developing an authentic technique. Helena has mentored and/or instructed adults and private groups interested in learning or wanting to fine tune their watercolor technique. In the early 2000's Helena taught watercolor classes at Dick Blick, Naperville Illinois location.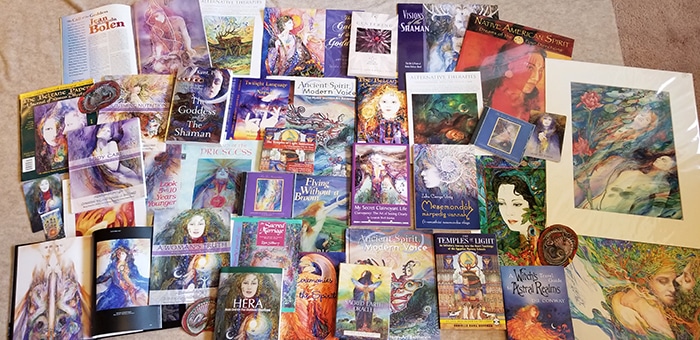 Were you encouraged or influenced in childhood to be creative?
Yes, by both parents. My mother was a talented amateur artist working with pastel, primarily portraits and landscape sketches. She took me along when visiting art museums and shows. She'd give me the stumps of her pastels to draw with. The jumbo size box of Crayola crayons was a favorite gift. She'd give me the clean white outer paper used for wrapping meat back then and brown grocery bags for making masks or turning into drawing paper. There long strips of white paper taken from the family adding machine. Also, sidewalks, driveways and the occasional hallway or bedroom wall was readily available to create on.
What were you most interested in creating as a child?
People, animals, and illustrating fairy tales. In particular, I liked to illustrate people from "around the world." We lived in the San Francisco bay area and both parents were fond of art and cuisine (especially food!) from different cultures. In the early 1960's, the California school system, along with Marin County schools, emphasized cultural diversity with exciting class room and field trip explorations into art and food. These programs, a different culture every year, was crucial in exposing me, to a small degree, to societies other than my own.
One year, when I was in early grade school, Mom gave me a set of large soft cover books about ukiyo-e prints, published by Kodansha Publishing. I traced and attempted to draw those images for years. As an adult, I read the translations of many of the stories those prints illustrated. Then I began focusing on female authors from the Meiji era forward. I visited Japan several times, visiting places my favorite authors and artists had portrayed, retracing their steps.
In pre and early grade school, I would re-illustrate my fairytale books, usually because I didn't like the art that was already in them. Later, around 3rd and 4th grade, I began writing in spiral notebooks; illustrating them in ball point pen.
How did your study in psychology influence your watercolor paintings?
I was introduced to Existentialism and the writing of Carl Jung's theories about dream interpretation, his thoughts about archetypal imagery, symbolism, metaphor in art and literature. I began experimenting with these ideas in my watercolor paintings which were considered illustration rather than fine art.
I remember a program involving a summer stay on Rosebud Reservation in South Dakota. This cultural exchange included students in the social sciences, health care, early childhood training, education, addictions and domestic violence. Students from Sinte Gleska University (back then it was a college), in turn, resided and studied in the Chicago area. I later spent several weeks for 2 additional summers on Sinte Gleska, and visited independently. The landscape of South Dakota was inspirational. Imagine the minimalist expanse of green prairie and low rolling hill beneath deep blue skies, exuberant regalia worn by powwow dancers, all color and flash with stark prairie in the background. People living in hot, arid regions seem to prefer bright, exuberant colors, which are beautiful when framed in those settings but harsh when viewed in other environments. The color pleases the eye, is uplifting and good medicine. There's real power in color, and watercolor can be used in many different applications. The colors can be saturated, rich, luminous. Or serene, soft, calming. Since those years I've been experimenting with this concept – the effects color has on those who see it.
I soon learned that archetypal imagery, symbolism and metaphor vary culture to culture, and Jung's (and many others) theories, were irrelevant with people from different cultures. I wondered if this were true with the way visual art is interpreted as well. I began developing my own visual language of symbolism and archetype to use with watercolor. After all the education, I resolved that psychology wasn't for me, and that creating is my First Love. Life is rich and full when I'm creating on a regular basis. Watercolor allows me to share what I see in my mind's eye
Your artwork is extraordinary! You are a true Master of Painting. One of my favorite paintings is of The Woman and The Spiderweb. What is the meaning of the spider web that the woman seems to be weaving in her hands? What does the red female figure in the center of the web symbolize?
Thank you for the kind words, but I don't feel like a master, maybe because there's so much to learn, experiment with, and create. I feel like a beginner. The painting you refer to is Athena's Web. Helena of Troy was her sister, and Athena valued wisdom and thought. The owl was her avatar, she was praised for her compassion and generosity. At the same time, Athena was highly intelligent, analytical, and a warrior. There's a myth about her turning a gifted weaver named Arachne into a spider after Arachne insulted Athena and the gods. They had a weaving competition and Athena won. The painting shows Athena presenting a spider's web between her hands, as in the hand game of cat's cradle. There's a female symbol / figure at its center. This symbol also represents an hourglass that has some symbolic associations related to the way we process time and space. As with any good tale, there's more to it than the obvious.
A web may be understood as a trap, but it's also a labyrinth, a pattern of connecting lines like the psyche, our earth, the universe and all that occurs at the sub-atomic levels. There's a way of praying in the Lakota (and probably other traditions) stating wherever one is at during the time of prayer is the center of the universe; the center of all that is. Our thoughts and actions radiate outward into the world, connecting with those of others whether we like it or not.
We can't control other people, but we can control our own processing and weave a life that is productive and caring. Like the spider's web, the weaving we create can entrap us in negativity and poor choices, or it can protect and support us. Like Sister Spider, the weaving requires upkeep and mending; constant adjustments.
What inspired you to paint in watercolor?
The way watercolor plumes and bleeds into the white space is beautiful to me. I think this appreciation began when I was in 5th or 6th grade…an uncle bought me a kit: Japanese brush, ink stone and sumi -ink, along with a paperback book about Japanese brush painting using only ink, on rice paper. I loved the way the ink spread into the rice paper, and different papers created different effects. Grinding the ink against the ink stone, with a bit of water, is considered an act of meditation in preparation for the proper state of mind. Once achieved, the artist is ready to address the paper. Watching that dense black plume spread through the water in its white bowl was exciting, a painting creating itself, then devolving into nothingness. Even today, I appreciate bold art created in deep blacks and contrasting shades of white.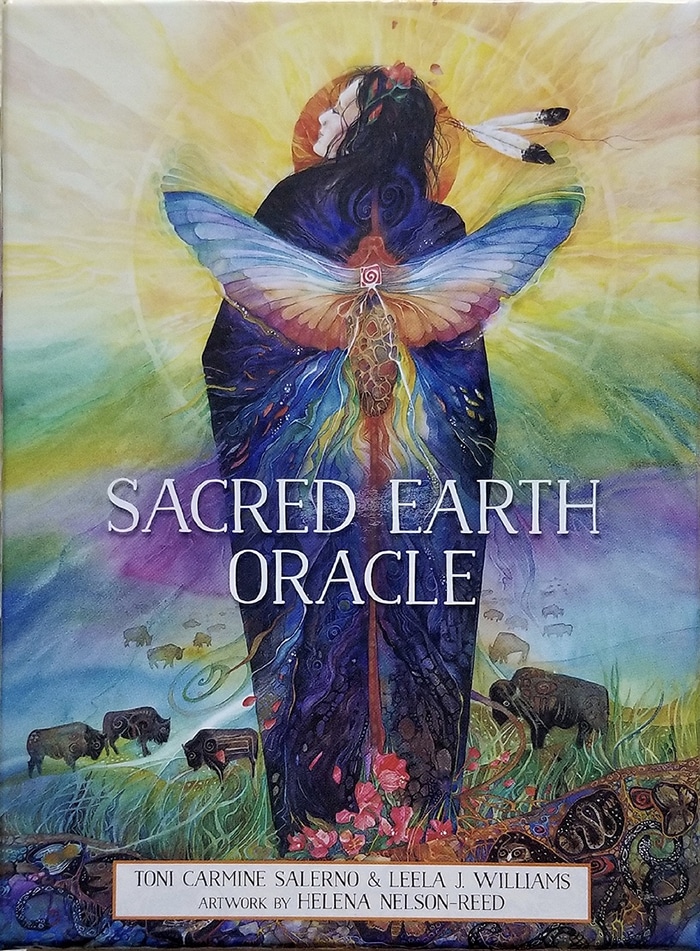 What puts you in the mood to create?
Being surrounded by nature, visiting art museums, listening to certain kinds of music, being around creative thinkers. Also, looking at woven textiles and basketry – I admire weaving so much but in order to do anything well, I need to focus my energies or else I'm spread too thin.
What do you hope your watercolor images accomplish when people look at them?
That they relate, on some level, to the impressions created by color and form. When we look at a painting, we see an aspect of ourselves looking back.
Everyone is a critic, there are some artists who feel better about themselves when tearing others down. Take heed, young artists, and grow a thick skin. I've been accused by a few sister artists of being naïve and shallow; a sheltered middle class, Caucasian child of the suburbs. Part of this is true, but why do they think individuals and families are exactly as they appear?
Today, I sometimes smile at this irony. These were creative, talented women who speak and paint about love, compassion, mutual respect and spirituality. One even has a psych degree, and all have product lines based on these qualities. Yet they think they've the key to another's soul and entire life history simply by looking at her art and a head shot. In a way, this was a taste of how people feel when judged because of their religion, income or education level, skin color, and race.
Appearances are deceiving. When I'd read or hear those prickly comments, my mind would momentarily flash back to memories of long ago. I don't know whether to laugh or cry when people say I haven't known sorrow or pain. My art is a confirmation to both myself and to the world that life goes on, time here on earth is finite, and who knows what tomorrow will bring. Why not try to balance the negative parts of life with respect and compassion, even toward people we don't know or understand? My art says, "Be strong, take the higher road, there's beauty all around us and in many forms…and don't let the bastards get you down." The energy and strength that you sense in my work also runs within you as well and on some levels is probably channeled in much the same way…via your life choices and in your way of being.
Has your art and the creative process been healing in your life?
The creative process is cathartic in different ways, depending on the individual and circumstance. The focus required for deep creativity, whether translating an emotion or sensation into imagery, or the discipline required for design and technical aspects of painting, eliminates the mind's busy chatter. There's often no conscious thought occurring at these times, which can last from a few moments to several hours. As with certain meditation practices, the monkey mind is disengaged and one is totally present in each second as it unfolds.
So maybe, for some individuals, creating IS our meditation. As with meditation, which is cathartic, this too may result in the psyche releasing emotions, memories, sensations long buried or unaddressed. I channel those feelings and memories – sweet, sad, brave, fearful, serene and agitated – into my art. For some reason, doing so helps me to accept what cannot be changed, yet not be apathetic or complacent. Yes, I've created some art with imagery that some find scary or disturbing, but that artwork resonates with those who've walked through fire and emerged tempered, like fine steel, from the flames.
I know painting has caused you physical injury so I assume it's been bitter sweet ?
Yes, there was growing resistance and resentment for many years as my hand gradually lost its ability to paint, and my neck and shoulders deteriorated from being bent over many hours a day. I switched to my left hand but eventually it, too, developed carpel tunnel and arthritis. Then a long time publisher of mine dropped my calendar and greeting card line. They want artists who are quite busy, commercially speaking. You know – juggling various product lines, exhibits, shows, books, magazines, extensive web presence. I'd been with this company since its inception as a tiny publishing house focusing on a niche market and promoting unusual, fine art imagery. When an artist self-promotes, it helps that artist and their business partners to generate even more exposure, and hopefully income.
I was no longer viable. At first I loved this work and company, but my health had been gradually deteriorating over the span of about 15 years. Symptoms indicated cancer but we couldn't find it. I was extremely anemic, which raised concerns about a heart attack and short term memory problems. My hair was falling out. I slept all the time, my stomach was often incredibly painful for days at a time. My abdomen swelled as if 6 months pregnant but scans, and the endoscopy & colonoscopy procedures indicated all was well. I gradually stopped traveling, then stopped painting (I switched to working in graphite instead). I truly didn't care about creating images for greeting cards and calendars. I wanted to sleep.



Once, one of the owners was talking to me and mentioned something about " we have a sizeable stable of artists." A realization struck me: She and her husband (the owners) weren't my friends, nor friendly acquaintances, nor peers. The honeyed words over the years were, to be blunt, patronizing bullshit they told to every artist. Like giving a dog treats and patting its head after it rolls over and sits up. To them, and people like them, artists are no different than race horses or prostitutes in a brothel. Something to be ridden and exploited until no longer profitable, then discarded. They were fair people, pleasant to work with, but they weren't friends. This was a great lesson for me, because it's extremely important to separate work and finances from personal life.
Oddly, I wasn't hurt, I was annoyed with myself, realizing I'd always known, but had chosen to believe otherwise, hoping it wasn't true. This is the nature of business
Businesses are run for profit. Publishers aren't responsible for supporting artists who don't generate enough profit. This is a fact, like it or not. Artists can participate, possibly make a good living, or choose not to. There are both positive and negative sides to consider. The choice will change depending on where one's current life situation. When the company dropped me, my ego was nicked for a day or so, but it was also like a big dark cloud over my head evaporating. Even though increasingly weak and in growing pain, I was ready to move my art into a new direction and be a free woman. I thought my physical problems were stress or emotional in nature because I'd been disenchanted with the calendar gig for years. Or, possibly a sensitivity or auto-immune disorder. Sooner or later we'd nail the cause and all would be well.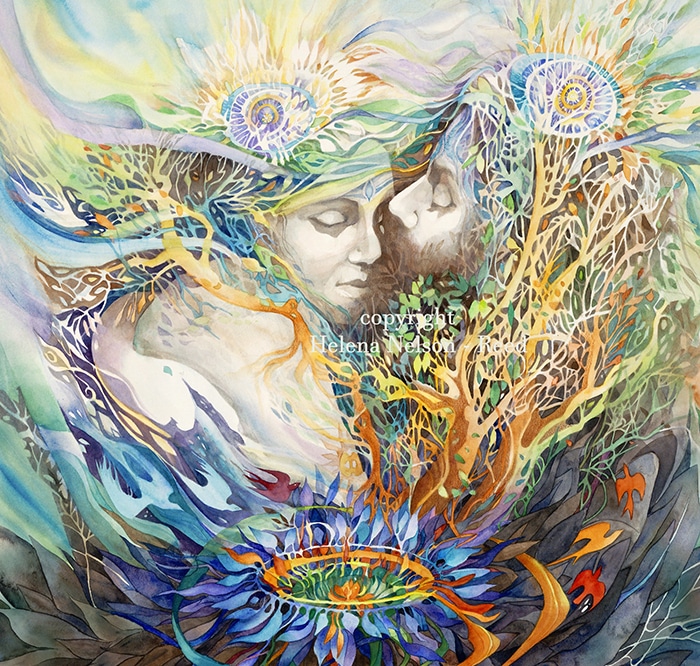 In what ways do you think creative expression and self-love intertwine?
This is an excellent question. The answer varies person to person, and probably even project to project. I've created paintings as technical challenges, as if I were a fine craftsman mastering the skill of carving furniture. Self-expression/ self-love had nothing to do with them – they were exercises for technical development and pushing myself.
Other paintings have risen right up out of the unconscious and unfolded as I painted. Oddly, these are my personal favorite works but they aren't popular with the public. Some of my ideas came from dreams, and I awaken to hurry and sketch them with notes before they're forgotten in the clear light of day.
I'm not sure self-love is involved in my creative process. It's more like a strong, ever present instinctual drive to create. Whether there's an audience or not – although I admit its nice when people relate to my work and say so.
How and when did you start designing jewelry?
My hands, wrists, shoulder and neck were rapidly deteriorating, so I decided to take a long break from painting, hoping that rest would help. The creative drive was still strong, and I'd many beads collected over the years. So I designed a few things to sell. This would reduce my bead collection, which was getting out of control, while generating income and satisfying the creative urge. Designing and constructing jewelry requires a different muscle set than the motor skills used to paint. I was stringing necklaces, using already created beads and other elements, not doing anything involved like forging metal or cutting stones. I enjoy silver and bronze work but soon discovered that work required for working with metals aggravated my problems. My husband and I designed 2 unusually high work tables, enabling me to create necklaces, and use my desktop standing up. Not having to look down any more than lowering my eyes required removed most of the stress from neck and shoulders.
2 years back I had carpel tunnel surgery on my right hand and it's a miracle – I'm painting like crazy! I'll have my left hand done after my leg is completely healed.
What other forms of creative expression do you enjoy?
Cooking, usually hearty peasant foods from many parts of the world. I love shopping for and working with the elements of a stew, salad or soup. Roasting, grinding, slicing…the designs and colors inside fruits and vegetables, the aromas and textures, are beautiful and enticing. I often consider the people who aided in getting these items to my kitchen table. Farmers, pickers, truck drivers, grocery store owners and employees. Many lives interacting just so we could have a simple poblano pepper, package of pasta, or heirloom tomatoes. I worked in a grocery store several years and enjoyed it, and know what is involved behind the scenes. I'm thankful for this abundance, those who helped get it to me, and those who share their recipes. I put on some good music, pour a glass of wine, and have at it. I also enjoy bead embroidery, usually on brain tanned elk or deerskin. The brain tan is soft enough to allow easy needling when stitching the beads on. Beading is relaxing, like knitting or crocheting. There's so much time and effort involved that I don't sell the pieces, I just hang on to them or give them away. Finally, I enjoy refinishing and repairing things, whether old beads or vintage furniture. The process of taking something raw, broken, or discarded then repairing and refinishing it, makes me happy. Don't know why, but it does.
Was the inner-critic ever a problem for you? How did you get past the voice of the inner-critic?
The inner-critic was a problem up to my mid twenties. Until then The Voice wasn't an issue because I'd learned to step back when something was a bit off, and shift into tech mode. Id hold the art before a mirror, study the reflection and consider why it didn't look right. Was it technical, application, design or content issue, or all of the above? Looking at your art in a mirror, or by flipping the image in a smart phone photo editing menu is like seeing the art through somebody else's eyes, and all sorts of subtle details are visible.
This blissful stage lasted a decade or two, but self-assurance was vaporized when The Voice came roaring out of the void. My health and physical impairment issues dove-tailed with a dismissal from the publisher I described above and a string of sad and unpleasant events in the extended family. I was tired of being physically drained, my carpel tunnel/arthritis/neck shoulder issues were crippling, and as a result I'd developed quite a creative block. After several years of trying to move past it, I concluded change is inevitable. If I were to create it would have to be by exploring interests where intensive hand, arm, neck and shoulder use weren't required. Also, I worked on an attitude adjustment and my approach to life – there was a lot material there to work with!
Tibetan Buddhist monks and Navajo healers create intricate, stylized healing art with colored sands, then blow away the finished after completion, scattering the sands to the 7 directions. Learning to do this, and maintaining the appropriate state of mind in which to conduct the ceremony, takes years. Every aspect must be exactly just so. The creators aren't attached to the final art because this is about process, healing energy generated while the imagery is being created, and helping another person to wellness. Once the ceremony is finished, these purposes are served and the art destroyed. In a similar mode, I made the conscientious decision to destroy most of my finished paintings.
Before destroying the my work I considered whether this was a tantrum thrown because life hadn't played out the way I wanted it to. Afterward, the same suggestion was offered by a friend/ former psychologist. Hmmm, back to the sheltered, spoiled, suburban Caucasian female stereotype…would he have said this to a male artist in the same situation?
Some artists document the destruction, circulating or exhibiting the footage as performance art. For me, the act was deeply personal, so marketing and performance art wasn't part of it. This was a private, symbolic way of accepting the present situation and moving forward. My emotional/mental response afterward confirmed that for me, the act of creating and creating well is more rewarding than public recognition, financial reward, and validation from other artists. Once finished I'm detached from the art and moving into a new project.
As artists, we might ask ourselves if a large following and high sales is integral to our creativity, because it has long term impact on the way we'll earn a living. There's no right or wrong, the answer is more about how to proceed. An affirmative answer dictates a course of action including a recognizable style, product lines, marketing, publicizing, merchandizing, and meeting deadlines.
Painting for the pure art of it is a little different. Often we need a source of income and more important, health insurance so painting for a living may not be possible. I was in the commercial art field for many years, and enjoyed making a living this way, but I LOVE painting and have worked in grocery stores and warehouses to generate income and access to health care for myself and family. And yes, it was exhausting, but I learned a lot about how hard many people have to work just to keep that all important health insurance and a modest roof over their heads.
Ultimately I'll always be creating in some way, no matter what.
Life is an act of creation; ever unfolding, ever unfurling, one second into the next, for eternity. I am grateful for the artists who stepped forward and encouraged me to work through it. Some of them I barely knew. One woman emailed a single line, "Welcome to the dark side, Helena! " Why that inspired me, I don't know, but it did. A kindred spirit! I relate to dark humor far more than sweet, soft words. The light of humor balances the darkness. Those who've experienced, or worked with people in trauma and traumatic situations know that dark humor with peers is bonding and important. I initiated the creation of Skull Mother soon after receiving that email. That painting is about Ground Zero, living through and confronting one's deepest fears. Those who've been to the edge and peered into the abyss; watched the earth fall away beneath their feet, and likely possibility of annihilation in the immediate future, then return to talk about it, are like the phoenix rising from the ashes.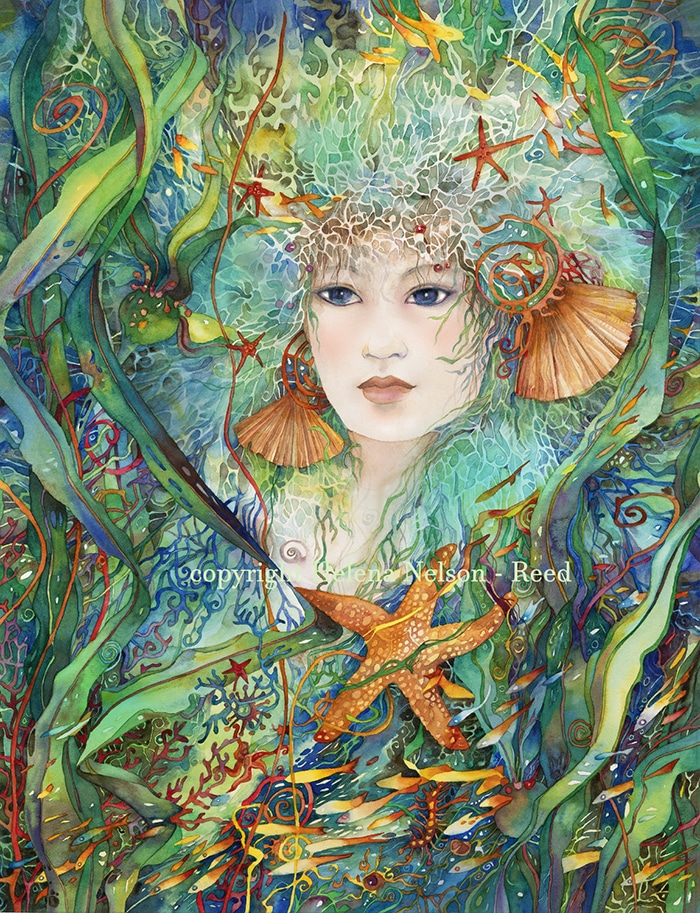 Who are your favorite artists past and present? Were they ever an influence on your art?
Wow, that's a tough question. Japanese artists like Kiyanaga and Utamaro are at the top of my list because I like ukiyo – e prints up to the Decadent phase. The bold design and combinations of color with unexpected pattern combinations (to my western eye) has impressed me since childhood. Tracing those prints over and over, when I was little, gave me an appreciation of line on paper, the way the flowing or sharp angular line can dictate the mood of an image, or offer the merest hint of that which isn't obvious to a casual observer. Viennese artist Gustav Klimt. Klimt's use of symbolism in his work intrigued me, as well as the gentleness and serenity. I read somewhere that he too was influenced by Japanese ukiyo-e, as were many others at the time. I admit to experimenting with many of his ideas – the way he'd indicate/paint a transparent veil flowing past the face of a woman, his use of strong contrast, and the combination of geometric shapes with soft, flowing color. Inuk artist Germain Arnaktauyok. I like the gentleness in her work, which often depicts mothers and children. The art emanates quiet love, affection, without a hint of sentimentality. Large, simple shapes, quiet colors… Arnaktauyok is a lifetime fav of mine . I've experimented with some of her technique but have never shown the final pieces because they seem derivative, to me. Her style is unique, and I admire both the artist and her creations. The early creators of earth art. I hesitate to call them artists because that's probably not how those who made the effigy mounds and earthworks and cave art thought of themselves. Were they Shamans? dreamers? The original makers and purposes are lost in time, but these sites and those like them have enthralled me since becoming aware of their existence in my teen years.
I've created a number of paintings inspired by the way early people used imagery. They looked at the world around them, and thought about the cycle of seasons, fertility, death, animals. Then they created what was familiar and meaningf ul in their world – what meaning or message was contained in these efforts we can only guess at. Following their example, I'm observing the land around me, pondering its past. What secrets does the earth in my immediate area contain? Not so long ago, my local stream had beaver, fox, mink, weasel, badger. Several working farms were settled in the early to mid 1800's. Most of those farms are now housing developments. The good prairie earth, its fertility, and the generations that once flourished here have vanished. I know of a very old graveyard for Indigenous people who once lived nearby. There are no graves. The later generations removed all traces in the late 1800's for fear white people would dig up the skeletons to sell as curiosities and to museums. The last surviving descendent, a caretaker, told me about it. After storms, the earth sometimes eroded and bones, broken pots, arrow heads and tools were exposed. He'd gather and rebury them nearby. In another close location there are graves of civil war prisoners who died en route to camps in the west and upper Midwest – these were dug up and reburied elsewhere after road construction revealed the skeletons. There's more, but you get the gist of what I'm saying. I paint these stories and more using symbols of my own creation, and they look like abstract Modernist art…needless to say, I am the only one who appreciates them! That's fine – I create them because something within me longs to give voice and to witness what is no longer.
So I paint them for me, not the world. In a small way, I honor the land and those who existed here before us.
Here are some of my favorite earth works: The Great Serpent Mound, Ohio. The Nazca Lines, southern Peru. The triple spiral at the New Grange entrance and Uffington Horse, England. The Lascaux cave paintings, southern France. Cueva de las Manos, Argentina. And many more, around the globe.
Is there anything you would like to add to make the interview complete?
Stay true to yourself, but force yourself to be objective: listen and ponder before dismissing criticism. Sometimes it takes awhile to reach this point when the remarks are especially prickly, but you will. Most challenging for me if the critic is an artist, and her words tactless or patronizing ( remember, this person may feel threatened by something in your work, demeanor, success or positive lifestyle). Oddly, this situation hasn't occurred with male artists. Still no matter how offensive, there may be valid points that deserve consideration. Some of my greatest advances in creating as well as technical skills have resulted from asking myself 'is there something to what she's saying?
Talent in the creative sense comes from walking the edges of whatever one's cultural norm happens to be. We push boundaries, sometimes gently, sometimes forcefully. No champion athlete or Nobel Prize winner reached their status because they did what everyone else was doing, or focused on their discipline only when there was nothing else to do. Focus requires solitude, and the conviction of one's dedication is worth it. Creating is one area in our lives where we can do just about whatever we want. Experiment in the spirit of playfulness – what will happen if I do this, or do that? I'm weary of self proclaimed Experts with their knowing comments, marketing jargon, and secrets to successful art. Just get in there and create!