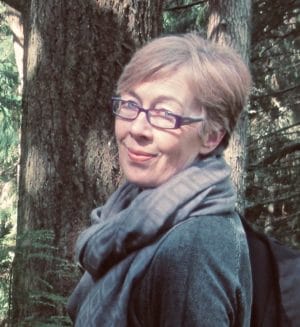 Jane Delaford Taylor is a professional artist and illustrator, well-known for her inspirational and angel paintings which are collected internationally. Her previous career as an illustrator for both children and adults spans over two decades, and her work has appeared in many books and magazines. She also is a trained healer, having studied homeopathy, Reiki and EFT to practitioner level. And believes visual art is an important channel that can be used for healing and change on many levels, since it speaks to our subconscious mind and engages directly with the soul. Jane works from her home studio in the Scottish Highlands, set beside the tranquil waters of the Holy Loch.
When did you first start creating art?
At about 18 months old, or so I'm told. I think that's normal, or should be if children have access to the usual basics for self-expression. We were always well supplied with crayons and encouragement too.
Were you encouraged or influenced in childhood to be creative?
Yes, my father was a doctor but he had a very artistic streak, and very nearly chose art college himself as a young man instead of medicine, so he was always very happy to see us drawing and painting. As my style developed he gave me a lot of very useful advice on human anatomy and muscle structure etc. which helped my figure work tremendously. There were plenty of classical art books at home to browse so I was very familiar with the work of artists like Da Vinci and Raphael – they were my reference points as I taught myself to draw and paint.
Did you have formal art education?
No, I did one year at Art College and dropped out, not because I didn't want to create art, but because I hadn't found the environment there in any way a nurturing one. I've no regrets though since, in the end, I think all artists are 'self-taught', as we're responding to a creative impulse that comes from within, and just gather the tools and skills we need as we go along. That's just law of attraction stuff; I think we all do it without realising. If you really deeply desire to learn something, you'll find the wherewithal to do it! And I did, and the right doors opened for me at the right time.
I know you have been a children's book illustrator for a long time. When and how did you get involved with creating spiritual art?
I've always used art as a way to express the essence of my experience as a spiritual human being, so in that sense I've always created spiritual art.
But I suppose I started using my skills to produce deliberate spiritual art when I first began illustrating, as I very quickly gained a lot of clients in the Christian publishing sector here in the UK. Although I did other work too, educational illustration for the RE market always formed a large part of my work. It wasn't just Christian of course, I've illustrated Celtic and African folk stories, and Islamic and Buddhist material too, and enjoyed it all as you learn so much as you go along (after all you must read the text you are going to illustrate!), and you get to work with some great editors and authors too.
Although I've moved on from mainstream publishing, what I do now is really still basically illustration – I create images to convey a message, or a thought or feeling, that will enhance the life of the viewer in some way. I've become a very good listener (it's called 'taking the brief' if you're an illustrator!), and I think that, plus an ability to empathise, is why I do well with art commissions – I can 'get' what it is that's needed, and produce it for the client. And that's what I do the most nowadays, since the publishing industry has changed, (and so have I to be honest!), I do far more private commissions and find them very rewarding. So I don't mourn the passing of my 'illustrator' years at all! In many ways, that was just training me up for what I'm doing now!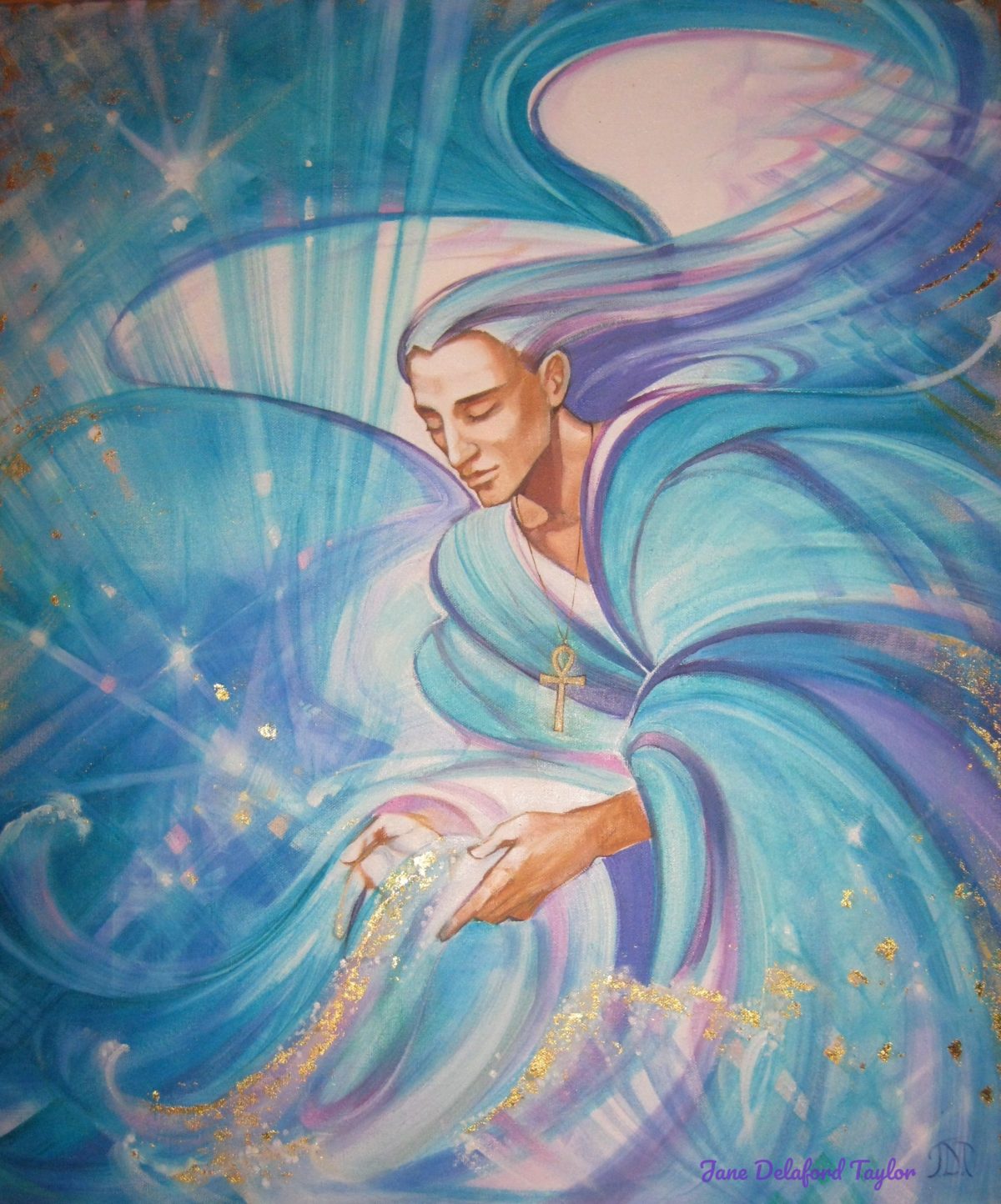 What is your definition of spiritual Art?
First of all, I'd just like to clarify that I believe all art is spiritual, because life itself is – and therefore ALL of its processes are spiritual by definition. There's no boundary line. My own art may seem more overtly 'spiritual' because it's highlighting certain elements of the human mystical experience and my own take on that, but it's no more or less spiritual than a scribble produced in five minutes by a toddler – the main difference is that more people can 'read' what I'm conveying and find the message nurturing. All art conveys some essence of being, and different people are drawn to different styles of art for that reason. Even art which some might find ugly, the cathartic unstructured style of work produced by artists like Emin for example, has its purpose and admirers. Art is all about drawing our focus elsewhere, deeper; it draws us out of the shallows of life and encourages us to swim in new thoughts and colours! And it's your choice which pool you choose to swim in.
My favorite spiritual paintings of yours are, 1. All your angel paintings but especially the pink angel listed last on the angel page, and 2. The woman with the humming bird, on your favorites page. What is the meaning behind these 2 paintings?
Ok, I'm going to come clean with you. Both those paintings were done without any prior planning or meditation, and for no reason other than I was in pink angel mode when I picked up my brushes one day, and then green and turquoise hummingbird mode another time. They weren't commissions, so I was just painting entirely for myself. If I'm working on a commission it has to be more carefully planned, and even those clients who aren't very prescriptive and who give me free rein with an artwork (my favourite people on earth by the way!) will require a certain kind of image and colour scheme that we'll have agreed between us.
But when I'm just painting for myself I just allow the art to happen, and my frontal cortex doesn't get terribly involved, so I'll just answer your question by saying these paintings made me happy – will that do?
The pink angel was later used by Watkins for the cover of 'Kick Ass Angels' by Claire Nahmad, so I obviously struck a chord somewhere with that one, and I'd actually be very interested in why you are drawn to it, and to the hummingbird painting also. Because more and more, I realise that the viewer's experience of an image is usually different to my own, and often much, much deeper. To re-use the pool imagery from my earlier reply, I think any painting can be likened to a magic pool. One person might see only a shallow puddle, or put a toe in the water, and find it too cold etc., so they move on. Another person comes along to the same painting, and dives in and swims for miles in perfect temperatures – they get out feeling thoroughly refreshed and when they tell me about their experience, I am always humbled and delighted at my own little part in this!
What does the hummingbird symbolize in your painting?
I find birds particularly fascinating, and hummingbirds are just so gloriously jewel-like aren't they? To me they represent the soul searching for sweetness, love and joy. And that leads me to wonder at how perfectly designed for that we are, just as the hummingbird is perfectly designed to take nectar from a flower.
Where does inspiration come from to paint your angel paintings?
If it's for a client, I will do some meditation and planning before I start, and usually get a good sense of the colours and the feel of the work before I begin. But if I'm painting for myself I'll usually have picked up my brush before I've worked out where the inspiration has come from, or I'll just have a picture pop into my head and paint that. Inspiration is a bit like unsolicited mail, it just arrives out of the blue and there's never a return address on it either!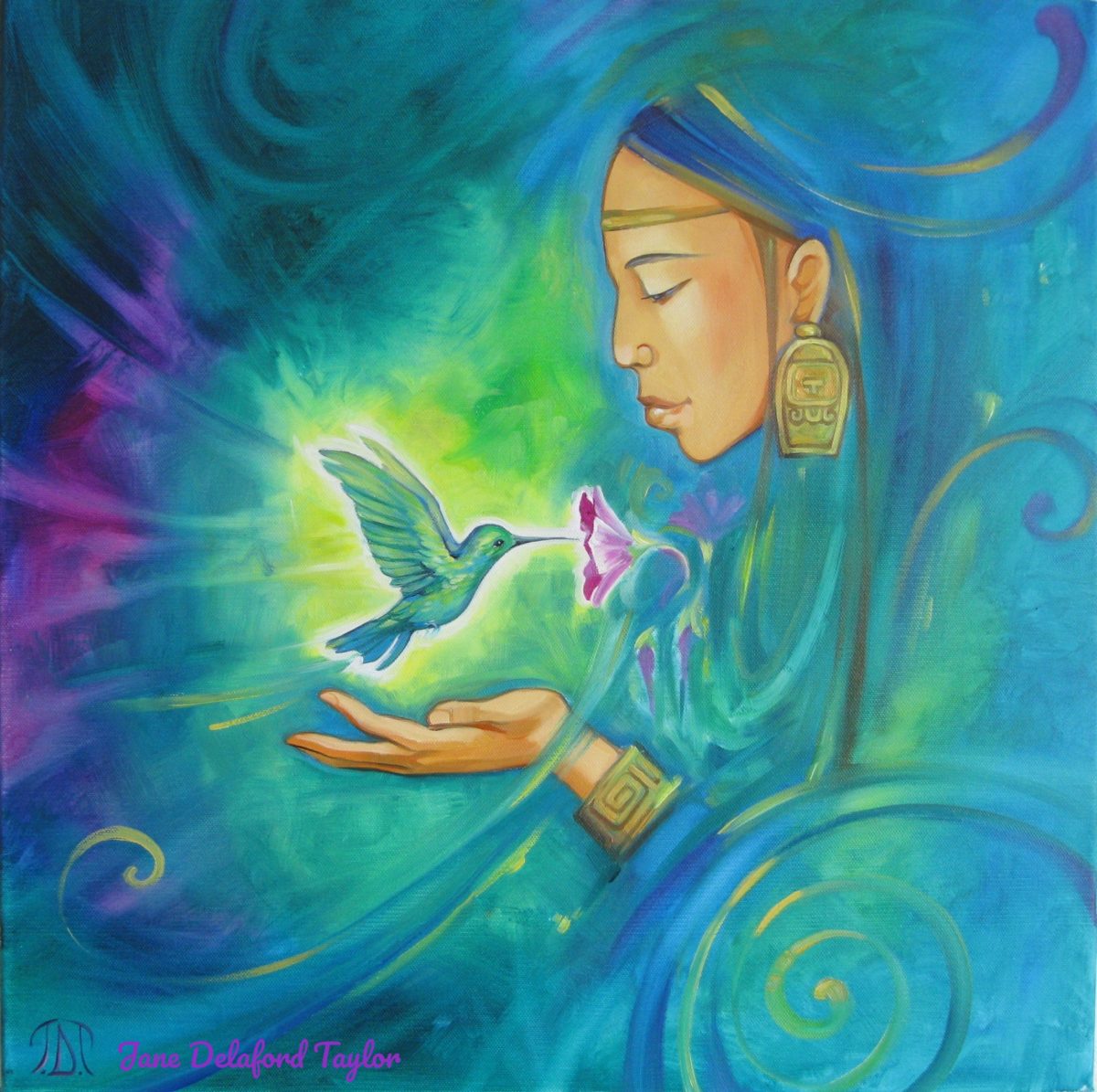 Have you ever had a mystical experience while creating your artwork? If so, could you share an incident?
I've had quite a few mystical experiences, but they usually occur at random unexpected moments and not usually when I'm painting, to be honest. Unless you count the carefree focus of creativity as a mystical experience in itself, which I'd suggest it is, really. On the other hand there have been more than a few interesting moments after the art has been created, which I often hear about second hand, that make me wonder… I've found this particularly with the angel work. I was asked to paint a guardian angel for a child a few years ago, and the client said she'd trust me to intuit what I should paint, so when I got started I was feeling rainbows, and painted one behind the angel – the client was thrilled and asked how I knew their nickname for their son was 'rainbow boy' because he loved rainbows and had them everywhere in his room! I didn't 'know', of course. But neither was it a co-incidence, and I know that because this kind of thing happens too often.
Another memorable incident was when a client of mine, who had collected quite a few of my angel paintings, decided she needed to have a house clearing done on her old cottage, because a previous occupant of the 'deceased but not departed' kind, was being a bit of a nuisance. With the assistance of a talented specialist, this dear old lady was directed to the Light and duly went, but not before commenting on how much she had enjoyed the angel paintings in the house while she was still hanging out there (I don't really like the word 'haunting' very much, it's a bit old fashioned!). So that was a surprise! One doesn't often get accolades from the other side, and since then I appreciate more fully that our creativity here on earth may echo into other dimensions, (so no pressure, as they say!)
How has your art and your creative process been healing for your life?
Firstly, to find your passion and develop it into a honed skill is a gift and a real blessing, and something every human being should have the chance to do. It's good for your self-esteem – not to be confused with the ego – and in addition to providing me with a means to earn an income, my art has also taught me to listen, to focus and to see 'the bigger picture'.
Every single skill you learn as a painter can be transposed into life very successfully; all it takes is a bit of thought. Even the boring bits like the daily discipline of doing the work because you have a deadline to meet – it's all good for the soul.
But the best part has to be the sheer joy of picking up the paint and brushes and moving my focus from any current worries or concerns to the absolute Now of the painting process. It never fails to leave me feeling refreshed, even when I've been at the easel for hours and am physically tired.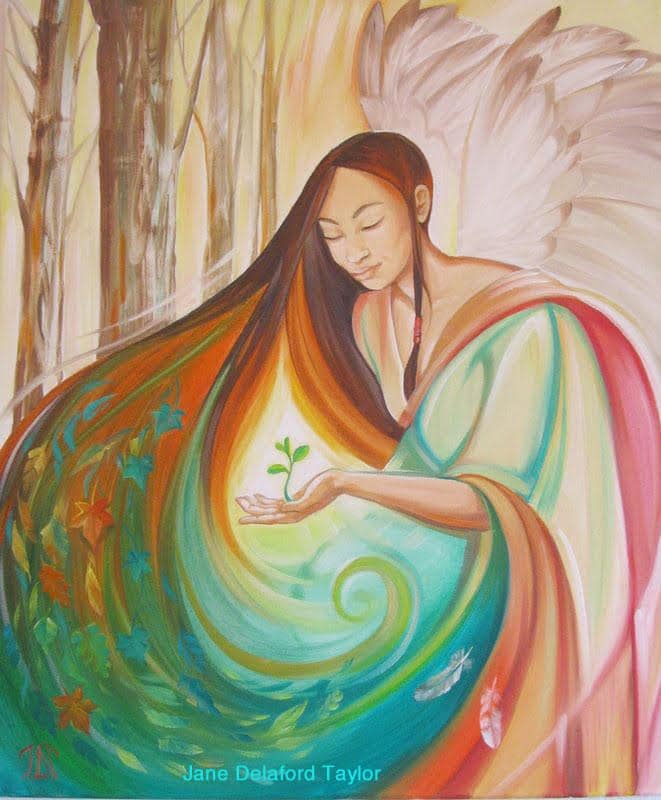 I like what you said on your website about neuroaesthetics. Can you explain what neuroaesthetics is? And how it may explain why viewing certain art affects us so deeply?
Neuroaesthetics is just a word that's been invented to describe the effect of specific visual stimulus (i.e. art!), on the brain, and I'm no expert on this but I think it's great of science to take the time to research it. Art obviously does affect us humans deeply, because we've been filling our lives with it for millennia, and it would be good to understand more about that. It may turn out that it's actually linked to and a key part of our basic survival instincts. The brain relays visual information very fast and a visual threat can trigger the 'fight or flight' hormone cascade via the HPA axis in milliseconds, because the good old 'reptilian' brain is wired to recognise the threat and get the body ready to respond without having to engage the slightly slower, more recently added bits that we use for logical decision making! And I think art goes in at this kind of level too, but in a good way, so the brain will be producing dopamine and oxytocin as a response – just as it does when we fall in love, or see pictures of babies and puppies on social media!
I read on your website that you are a fully qualified homeopath, EFT and Reiki practitioner. Does being a healer cross over into your artwork? If so, how?
I think my artwork crosses over into healing, definitely. Since training in homeopathy and various other healing techniques, I've become much more aware of the role stress plays in our health, or lack of it, and I'm always mindful of the need to create work that soothes and lifts the spirit and emotional body. I think that's why so many healers choose to have my work in their clinics and healing rooms, and hopefully that indicates I am getting something right. I do find certain archetypes, water and light particularly, and certain colours, have a very observable effect on people. I'm watching and learning as I go.
Have you ever painted an image depicting a person receiving reiki healing?
Yes, a few – and healing hands too. I love human hands, they fascinate me. They can represent so much – healing energy, love and creativity, help and connection generally.
Was the inner critic ever a problem for you? How did you get past the voice of the inner critic?
I don't have an inner critic any more. Really, he got sacked. Who needs the angst?
We're all creative, and everyone can be a good and unique artist in their own way. And you have to accept that you are this artist and not wish you were that one. If you have an inner critic, and you box them into a corner and ask them what their motive is, you'll find they're trying to convince you that fame and success is the only thing that will validate you as an artist, and that just isn't true.
Who are your favorite artists past and present?
There are so many, and I discover new ones all the time. But I love the plein air colours and romanticism of Waterhouse, and Turner's wild skies. And I've always really admired the work of Frank Frazetta – he was a very sensual painter, and not all his subject matter is to my taste but his use of colour to create depth and light was amazing. And I love Arthur Rackham's illustrations too, they're just so magical and otherworldly.
Is there anything about your art or yourself that you would like to add?
Just thanks for the opportunity to do this interview really, Rita. It's so much easier to talk about yourself when responding to actual questions!