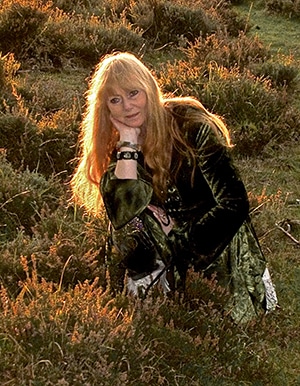 Josephine Wall is a well-known fantasy artist and sculptor. She paints many subjects including fairies, angels, goddesses, mythical figures and magical worlds. Her works have been exhibited at many galleries around the world including the Art Expo in New York and the Mall Gallery in London, and are the subject of several books. Her artwork has been published on many different items such as greeting cards, calendars, posters, 'T' shirts, journals, wall murals, figurines and Jigsaw puzzles. In 2010 Josephine opened her own gallery in Penn Hill, Poole, England where she welcomes visitors from around the world, and loves to spend time talking to them about art.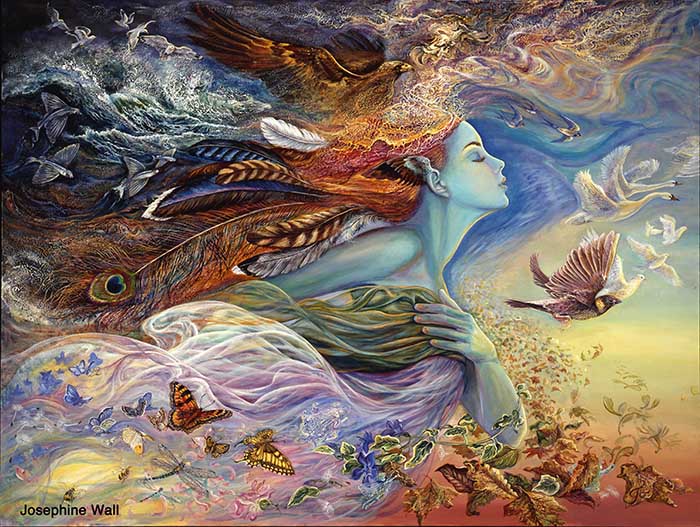 When did you first start creating art?
I became interested in painting because from the age of 3 my Dad would draw images for my amusement. The images would appear as if by magic – entrancing me. I was obsessed, and my course was set for life. I can remember vividly at my first infant school we were all given a box of wax crayons for "drawing time" and even now the smell of wax crayons will bring back the memory of the happiness I felt.
From an early age, I was fascinated with the weird and wonderful, and I loved putting strange unrelated images together in the way the surrealists do.
Fantasy gives me the opportunity to portray the world as I would like it to be.
This must be a deep-seated part of my character as I have always been fascinated also with fantasy books, films and science fiction. I particularly enjoy science films such as "Star Trek the next Generation" and "Voyager" in fact all of this genre, films such as "Legend", "Tenth Kingdom" and "Lord of the Rings". More recently "Avatar" I find particularly fascinating.
Were you encouraged or influenced in childhood to be creative?
I have always been encouraged by many people, for example teachers and family, but especially my Dad who used to do watercolour paintings as a hobby.
Are there favorite artists who influenced your fanciful painting style?
I have always loved the surrealism of Salvador Dali and Magritte, the Art Nouveau of Alphonse Mucha. I also like the romanticism of the Pre-Raphaelites, and the illustrations of Arthur Rackham. I also like some modern-day artists such as Kinuko Y Craft, Fascian and Vladimir Kush.
Did you have formal art education?
I did attend my local College for an art course, but left early to work as a paintress at Poole Pottery. I worked on the colourful "Delphis Ware" which is now very collectable.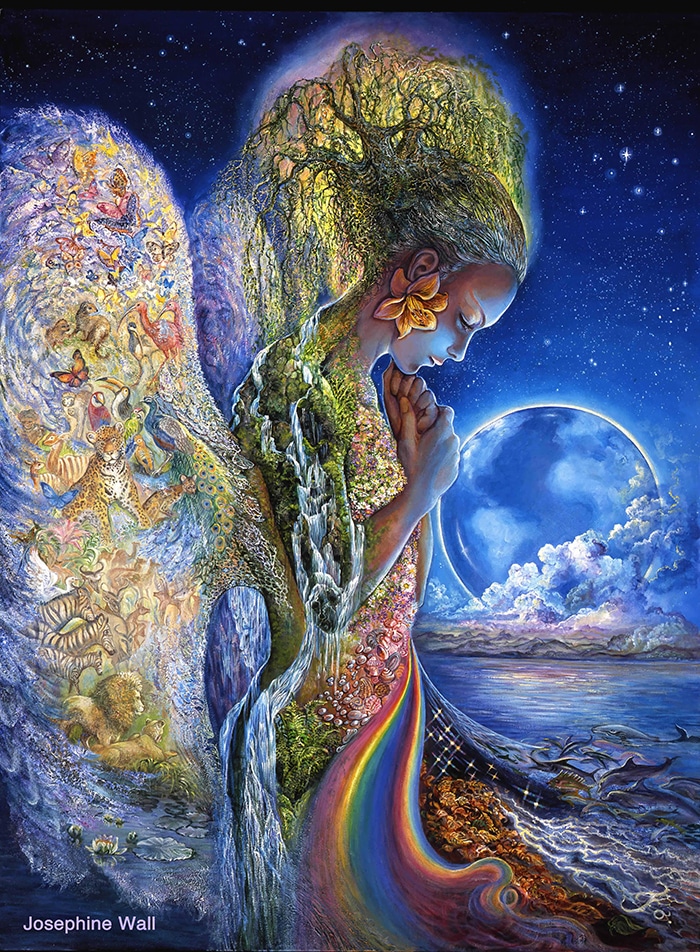 What is your creative process? Where does the inspiration to paint the next painting come from and how does it develop?
I am often inspired by nature, music and books, etc, in fact we are surrounded by inspiration. It usually starts with a basic idea which evolves as it develops. I am often surprised at the finished piece. I generally do a rough sketch, and then I like to get paint on canvas. There would be no point in spending a lot of time on a detailed drawing as my images are constantly changing.
I do research for the paintings, and in fact have drawers full of information, collected over the years as well as numerous books. So, if I was about to start a painting involving Greek mythology, I would read the relevant stories to do with that particular scene before I start. Quite often I will buy a book to give me the background information.
With 5 children and 11 grandchildren there is no shortage of models to use.
I first started using oil paint but found it too slow to dry, and my hands became allergic to the thinners. My preferred paint now is acrylic (Cryla produced by Daler Rowney ) as it dries fast, does not oxidise, yellow or crack, and I can use it to produce thick textured areas or dilute for washes or detail. I use a palette knife to produce a 'veiny' effect for tree bark, leaves and wings etc. For a bit of fun, I also like to add hidden faces or creatures within, for people to find – sometimes years later!
My attic studio is perfect for me as it was purpose built, and has a pyramid shaped wooden ceiling that some people say channels energy. I also have loads of light as I paint next to large French windows decorated by my husband with bevels, and stained glass designs of Wisteria and Iris, which leads to a balcony overlooking our back garden. We are on a hill so we are also blessed with the view of many a gorgeous sunset.
Your work is so full of magic and creativity, does that creativity and magic overflow into the rest of your life? In the way you dress? Decorate your home? Celebrate holidays? Entertain family and friends? It seems like pixie dust and butterflies should follow you wherever you go!
Yes, you are right – I love all forms of creativity such as pottery, sculpting, etc. I decorate my clothes and boots and various things around the home including a woodland scene across the whole wall of our conservatory, and even painted the wallpaper in our hallway – in fact, if it doesn't move I paint it!! We do have plenty of fun at our parties where we play lots of games and treasure hunts, etc. I really enjoy spending time with children and grandchildren encouraging their creativity.
What does your style of art say about your personality?
My style of art is a mixture of surrealism and romanticism so my personality must be a nature-loving romantic with a passion for colour. I am very obsessive about painting – in fact if I'm away from my easel too long (ie. Holidays) I become very anxious.
Time is one of my greatest enemies – there are never enough hours in the day to paint all the images in my head.
When you dream at night, do you ever see any of the magical elements that you paint in your paintings? If so, could you explain?
When I dream at night I often find myself working out my next painting. I used to have a recurring dream where blank canvasses are swirling around me saying, "paint me – paint me".
What have you learned about yourself through your art and creative process?
I was lucky enough to be born with a gift that gives me pleasure every day, and hopefully others also.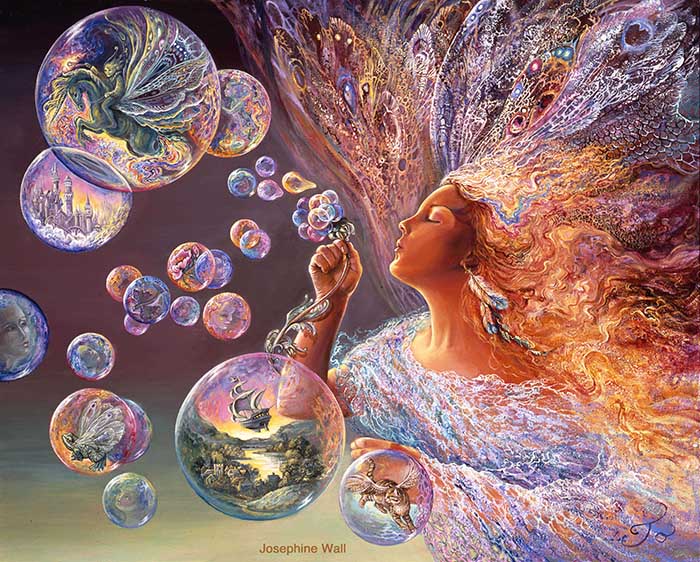 Was the inner critic ever a problem for you? How did you get past the voice of the inner critic? How do you advice others to silence their inner critic?
I have never come across the inner critic in myself, but my advice to any artist I meet is to just enjoy every moment of creativity – be true to yourself and have faith in your own ability, and take no notice of adverse comments.
What do you want your art to accomplish? What do you want your legacy to be?
I would like to think that my work will continue to make people happy and that it will live on.
What projects will you work on this year?
Every year I make a New Years resolution to paint more paintings. I am just in the middle of a commission, and when that's done I have many more ideas to work on.
Do you have future goals for your career?
I feel I have achieved pretty much everything I ever dreamt of and beyond. I have my own gallery, meet lovely people from many countries, and can still paint every day – what more could I want?
Is there anything that you would like to add to the end of this interview?
Artists have been given a fabulous gift, but with it come great responsibilities. We have the chance to change the world by portraying images of how life could be and how it should be.
No message is more powerful or has more impact than an image created by an artist driven by a desire to preserve all that is good in our world, and to vanquish all that is against nature. So another theme dear to my heart is to include a message encouraging conservation, as I wish that mankind would do everything possible to protect our precious and beautiful planet, and heal the damage we have already inflicted.
My main concerns are pollution and de-forestation. I wish that man would no longer be ruled by greed, but just enjoy the simple things in life – most of which are free. We seem to be living in a throwaway world where skill and craftsmanship are undervalued. My "Gaia" paintings attempt to illustrate this feeling. "No More" and "Sadness of Gaia" portray the Earth Goddess protecting and repairing.