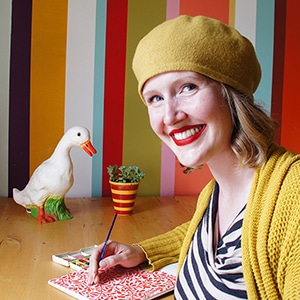 Kirsten Sevig is an illustrator from Minneapolis, Minnesota who loves to paint patterns and whimsical motifs into portable journals using a travel watercolor set. These colorful paintings have become illustrations for books, such as her portable-happy-place of a book, Striped Pears and Polka Dots: The Art of Being Happy. Her painted patterns have also become fabric collections for Windham Fabrics as Striped Pear Studio, her brand, for which she also designs sustainable stationery products that help people spread joy. She relocated to beautiful Vermont this summer with her husband, Chris, and with their Icelandic kitty, Eyja and that is also where she gave birth to their new baby boy named Huckleberry Wilder!
How long have you been an artist and professional illustrator?
I graduated from the Minneapolis College of Art and Design in 2008. I have been an artist for a long time but not always a visual artist. I have also been a performing artist. I was an actress on and off during college, working the local theater scene. I did a lot of musical theater and lot at the Children's Theatre Company here in town and I really enjoyed performing.
I decided after going back and forth between school and acting that I would finish my degree and not have my education take forever. So I buckled down and finished and since then I've been focused more on illustration. That said my career hasn't been just one thing. For a couple years, I had a full-time job as a balloon designer. And for a long time, I did a lot of freelance graphic design work. Which didn't always feel fulfilling but it helped me to make connections and to make ends-meet while I was figuring things out.
I would say that my career as an artist started to really take shape in 2016 when I started focusing on creating my own line of products. I don't take on as many freelance projects now. I work more on creating things that I want to create and that includes my own books, my own line of stationery, and designing fabric collections. Previously my career was about finding people who would pay me to design things for them and my name wouldn't necessarily be attached to it.
What about the puzzle design you just created and posted on facebook? Was that for your own business?
That was a commission I did for a client. I was excited to work with them and I didn't want to turn down that opportunity. A lot of the work I am doing is licensing work and so my name is attached to it. Previously a lot of the things I designed would be for another company without artist credit My identity would be lost in it and so would my copyrights. But I would receive a paycheck for it like a ghostwriter does when writing a book without receiving credit.
This puzzle project is fun because my name will be on it and it was a chance for me to revisit some artwork that I had created a long time ago, back when I was in school. I was asked to propose some ideas for the puzzle and that design is what I came up with for them. This gave me a chance to work on a design that is very different from what I normally work on. It was both a departure and an artistic exploration.
I don't think its right for artwork not to be credited to the artist even if the artist has sold the copyright for that piece of work. It's a shame that it's done that way!
Well, it is but depending on the project, it can also be a relief not to have your name attached to something. Because sometimes when you are hired to design or create something, and you are being paid for your time and effort, it's not always because your client wants what you can do best. Sometimes it's about giving them what they want and what they want is not necessarily what you think is best.
Oh gosh! I didn't think of that!
Sometimes it's a relief to just show up for a job and just think of it as a job. But it's a different mindset when you are working like that. It's not as fulfilling in my experience. But if you need the income and you are doing it for the job then you just think, "Well, I am putting in my time and giving then what they want.'' And then you kind of clock out afterwards. You don't have to be attached to the thing you just made.
Like when you designed the balloons?
No, I really enjoyed making the balloons. I really did. I found a lot of creative freedom in that job and I felt very fortunate to have it. The balloons were very fun for me!
For a while I did a lot of graphic design work and I would design corporate newsletters. And, believe it or not, corporate newsletters are not my thing! I found very little pleasure in laying out newsletters and searching for stock photography of before and after shots of patients. It was not anything that brought me joy but what it did do was give me income when I needed it most.
Sometimes you do what you need to do and that allows you to do what you want to do.
How would you describe your artwork? Would you say it's whimsical?
I feel like the term whimsical certainly speaks to a lot of the things that I do. I think colorful and joyful are also words I would use to describe my work. I would say that I derive a lot of joy in creating my work and generally I have found that joy to translate fairly well, in that, when people see my work they generally can feel the joy that I felt while creating it.
I think whimsical would also be a good word because there is imagination and a kind of loose quality to "whimsical" that I think is also fitting for a lot of the things I create. A lot of my work is rooted in color and shape and free flow. Not everything is planned out so it's kind of improvised and there is whimsy in improvisation. I think my artwork generally is a joyful expression.
Will you keep doing freelance here and there?
I will keep doing freelance here and there and work with clients. I don't take on a lot of new clients and generally I restrict my client work to licensing opportunities at this point.
In general, I am focused on designing some more stationary products and expansion in that area is really the direction I would like to be heading into. It gives me a lot of creative freedom to create products that help other people spread joy, so I feel like it's a good use of my skills and my artwork.
Did you do your licensing through an agent?
No, I don't have an agent. I had once met with an agent because a friend of mine, who is more familiar with the world of licensing, had recommended that I meet with an agent. But I was very turned off when I met with the agency because at that time it was important for me not to put my artwork on anything and everything just to make money. But that was exactly the main objective for the agents I met. And I didn't really want my artwork on a lot of disposable things that would just break or that were made from a lot of plastic; I didn't want my artwork on a bunch of plastic tumblers. I looked at the items that they had on display from the other artists that they represented and I wasn't thrilled with the quality of the products.
I also didn't like the idea of them taking half of everything. That seemed steep to me and I understand why they do that but for me, at the time, I was thinking, ''Well, I am already negotiating with 2 different fabric companies to do licensing with them and if I now were to line up with an agency they would want to take control of those contracts. They would want to share the money from those projects that I had already negotiated for myself." So I decided I would rather keep the control.
There may come a time where I want to hand that control over to someone else, but at this point, I feel like I can handle the handful of contracts that I do have with people. And I have a wonderful lawyer friend who is willing to accept trades of artwork for looking over my contracts and making sure the language is good.
Right now my family's business is doing the distribution for my stationery products. So it's a really wonderful beneficial relationship that we have right now where I create the products and they distribute them. They are getting a lot of new clients because of my products and I am able to sell my products to these stores so I don't have to do that part of the business myself which is really not my strength. I am looking at expanding that part of my business because that makes a lot of sense for me.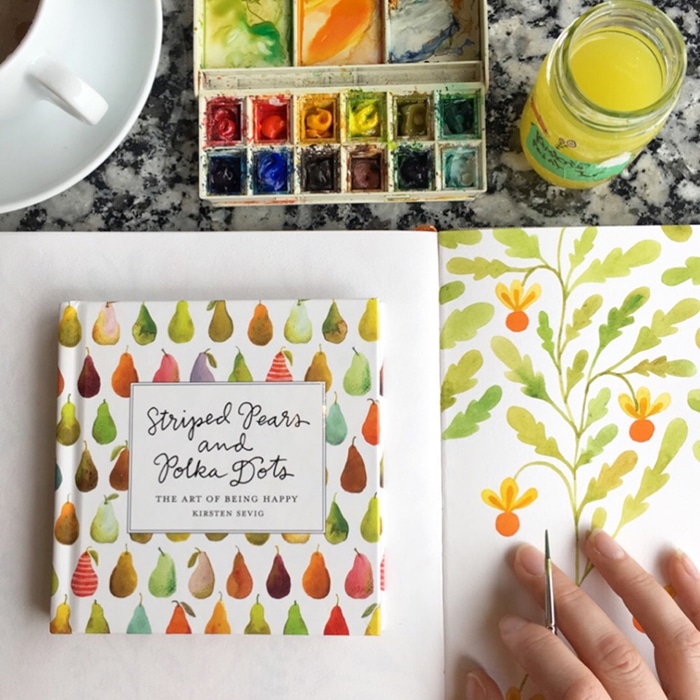 What kinds of things do your family distribute?
They distribute Scandinavian products and popular titles of books and gifts to gift shops.
What inspired you to begin creating your art?
My husband and I moved to Iceland in 2013. At that time I was doing the graphic design work of laying out the corporate newsletters. I was not finding a whole lot of joy in that. It wasn't a steady job either. There were a lot of clients I depended on for steady work. But there were times when they didn't need my work and I would struggle financially. The financial stress was really hard on me. I started to see a therapist named Ólafía who encouraged me to focus on putting in my time, and not thinking about measuring my success by money. Instead, she said to think of other ways I could measure my success.
I was very hung up on failure at that time and what success meant. And she would say, "Well, what if success is just putting in your time… If you want to paint… and if that's what you want to do then how much time can you dedicate to that? Then set a timer and do it. And if you do that, just consider yourself successful for having shown up and for doing what you wanted to do" So that's honestly how I started to really create my art.
I think throughout art school, and previously in my life, I had always looked up to people who had their own art practice and who were compelled to create. I was very jealous of that. They seemed special somehow in that they were driven to create and had this internal motivation…that I felt I lacked.
Once I started my own art practice of putting in my time to create (even if I didn't like what I had made, it didn't matter, I just took the time to do it) it became something I felt that I needed to do after doing it. But it was only in doing it that it became that way.
It could very well be that those people who seemed so compelled to create may not have always felt that way. Their practice could have been something that they started to do and later became accustomed to doing. Once you make something a part of your routine and part of your daily practice it becomes something that you miss if you don't do.
So, it wasn't what they had that I didn't have but it was more what they did that I didn't do.
I had to reframe the way I thought about making art. It was now about focusing on putting in my time and realizing that improvement doesn't happen without putting in time.
I also realized that the people I compared myself to didn't just wake up one day and were able to do everything. It grows from doing it and doing it has to happen first; The showing up, the putting in your time, not necessarily liking what you make first, because you won't; you are not going to initially start creating masterpieces. But that is what inspired me initially was just focusing on putting in my time.
I then started to share my artwork. At first I opened an Instagram account and I had a private account with just a handful of friends. They were my friends from back home in the United States. I would paint something, and then I would take a picture of it and share it with them and they would say, "Oh, this looks really nice!" And then I would feel really good about it. Then I decided to make my account public. I decided to create some artwork just for fun and to share it. And the response and reaction I got from that was extremely positive and I found that even if I didn't like what I was making myself, if I just shared it, someone else would see something in it that I couldn't see. And there was something really powerful in that. It was a teachable moment for me.
So I tried to maintain this positive attitude and create and put things out there and do that regularly. And what developed from that was a really faithful following of people who were inspired to do the same thing from seeing my stuff. So that is what helped launch my present career and it created a lot of amazing opportunities for me that I wouldn't have had otherwise.
What inspires you to create?
I am always inspired by something I see; something I witness out in the world. It can be anywhere or anything. I am inspired by the little things in life. The inspiration that I find in the little things reflects the way that I view the world in that I try to focus on the things that spark joy for me.
Inspiration and motivation are different by the way. Being inspired to create something is different from being motivated to create something. For me, inspiration is limitless. I find inspiration everywhere. So it's not something that I ever feel I lack. Motivation, on the other hand, is not something I always possess.
Motivation is the desire to do it – to make it – to create it. Inspiration, I feel like I have far more ideas than I can create in a lifetime. They are not all good ideas but they are plentiful. I see inspiration everywhere. For motivation, my putting in my time is what helps me with that, because the motivation actually becomes routine. It's the discipline of doing something regularly. It's about scheduling and setting boundaries and deadlines to actually do things.
That is the practical part of being an artist that is not as celebrated. People don't think about it but it has to go along with being successful. Successful people have to figure out how to do things and get things done. Success takes continued motivation when things are hard, when it feels impossible or when you no longer like what you are creating. That's what sets people apart. It sets apart the people who are successful from the people who give up when things are tough. It's the resilience and persistence that is important when you don't have the motivation. Motivation is the part that I struggle with.
I can see that it's the difference between an amateur and a professional artist; it's the difference between having a hobby or having a career.
I think there is a lot of pressure for people to turn their hobbies into careers. It's not for everyone. It really isn't. Just because something brings you joy doesn't mean you need to monetize it, because that takes some of the joy out of it. So it's not always the worthwhile thing to do. Sometimes its great to be completely ok with doing something else to earn your money and letting your creative pursuit be something that is apart from that. For me, I am making it work right now but its definitely not an easy thing to do and I think it can be misunderstood as something that is simple and easy when its actually very hard to make a living with art.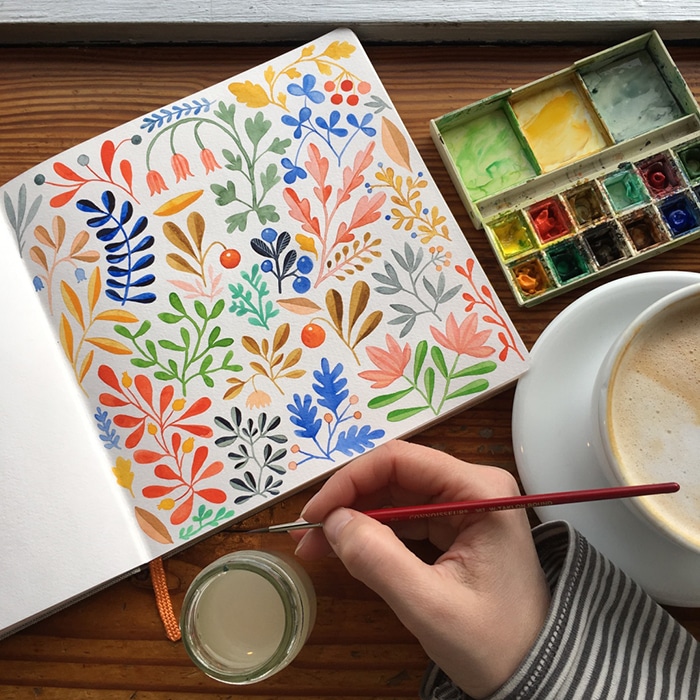 Is your art and creative process healing for your life?
Yes, when I am able to take the time to create for myself. I say that because right now I am in the middle of a paid project and it's stressful. So I am not giving myself the time right now to paint whatever I want to paint. Instead, I am trying to stay on task and finish something. But when I am able to give myself permission to create whatever it is that I feel like creating, I feel like that is a very therapeutic thing for me to do.
When I started to paint in Iceland and do it regularly it was very improvisational. I would start with a blank sheet of paper. I would then make the decision of what color to start with and then I would start to paint something. I wouldn't always know what it was that I was painting. I would let each decision that I made define the rules for myself. I found myself painting a lot of patterns. I would set the rules for myself and then I would settle into a kind of meditative state where I didn't have to think once the rules were set.
That was very helpful to me because my previous process had always involved sketching things very tightly and perfectly…then transferring that sketch as perfectly as possible…and then inking the sketch with a very tight grip on a pen…so that I got an indentation from the pen onto my fingers from holding it so tightly… then I would erase all the pencil marks so no one could tell what the process was…and then I painted it…coloring within the lines…and making it just right.
So having my own visual vocabulary, when I didn't know what I was going to paint or how I wanted to paint something, freed me up to be like a child. I could be less like someone who knows all the answers, and more like someone who is just going to see how it goes; maybe it will turn out or maybe it won't, all the while embracing the uncertainty.
I found it to be an excellent exercise for myself in letting go of expectations and it was a helpful experiment each time. It gave me a great deal of confidence and I found it to be incredibly therapeutic.
Was the inner-critic a problem for you in the beginning and how did you get past it?
I would say that the inner-critic is always a problem. And it's not just a problem in the beginning and it's not something to get past. That was something important for me to realize because saying it's something to get past would imply that its a phase that you don't have to continually work at; as if it's something that you can overcome completely and not have to deal with again. I think that would be unrealistic for me personally and I think it's unrealistic for probably a lot of people.
I think it's like living with anxiety; you are not going to overcome it. What you do is you learn how to live with it. And just like fear, you don't suddenly not have fear anymore. You will always have some fear. But it's how you change your relationship to it.
So your inner-critic is something you can learn to maybe befriend…you can learn to quiet it in a way…you can hear it but not give it as much weight… you can try to not listen to it as much or take it as seriously.
The inner-critic is something you have to disprove. Just like you have to prove to your anxiety that it's wrong. Anxiety will always try to convince you the worst thing will happen when really it won't…at least, most the time it won't. I think the inner-critic is something that will always happen to me. There is always a little voice when I finish something nice that says, "Well, that's the last nice thing you will ever make. This is the best thing you will ever make and you won't make something like this again." It seems that with any accomplishment it can find a way to sour it by saying, "Well, you did a great job this time but you'll never be able to do it again." Or when starting something new, it will say, "Well, this is not going to work out." That's the voice of uncertainty and of anxiety. The inner-critic is like creating with anxiety on your shoulder telling you all the things that you are afraid could happen.
So I don't think I have gotten past my-inner critic by any means but I think I have learned that it's all a part of the process. There will always be a part of the creative process where I don't like what I am making and I don't think it will turn out. But then there is also another voice inside me that says, "But this always happens…you always think this…you always make it work…you have to work through this and ignore the inner-critic because it's not real."
Is there anything in your art career you are most proud of?
I am proud of my little book, Striped Pears and Polka Dots. I put a lot of myself into it.
I am also proud of being able to continue to create my work. I am proud of putting in my time. I am proud that I am still doing it.
Do you have any new projects coming up?
The next book project, after the gnome book that I am currently wrapping up, will be more in line with the Striped Pears and Polka Dots book but with the theme of nature. It's going to be really fun. I am going to talk about the different lenses in which you can view things. Like when you take a walk and what you can look for when you are walking. If you change what you are looking for, it can change the experience you have while you are walking even if it's walking the same place you have walked before. It will focus on the little things in nature and the curiosities and wonder. And there will be a part of the book that talks about experiences in nature where YOU are the little thing.
How does creativity, art and self-love intertwine for you?
I would say that self-love is being able to accept one's self…accepting one's limitations and shortcomings… and caring for oneself. Self-love is expressed through self-care, in my experience. And I would say that my art and creativity are a big part of my self-care because they feed each other. It is my desire to care for myself that keeps me returning to my paints because painting makes me feel most like myself. I want to make time for myself so part of self-care for me is creating and making art. And I don't want to let anything get in the way of that. So they are completely intertwined…they are like a braid! I don't know one without the other.