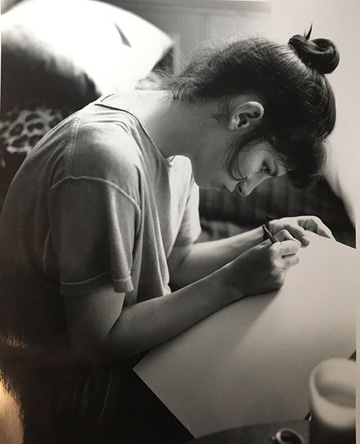 Kristina Swarner created her first illustrated story "Alice," using crayon on manila paper, at the age of 5, and have been drawing ever since. Often described as intimate and atmospheric, her work draws much of its imagery and inspiration from dreams, memories, and emotions.
Since graduating from the Rhode Island School of Design, Kristina has exhibited work in numerous shows and has illustrated award-winning books, greeting cards, magazines, wine labels, CD covers, and theatre posters. She lives in Chicago.
Were you encouraged or influenced in childhood to be creative?
I was a fairly free-range kid, but my parents had a small pile of art books I liked to look at, and my supply of Crayolas and markers and watercolor sets at home was always kept full. Some of my teachers were awful and would publicly shame me for drawing in class, but I had several sympathetic teachers who understood that I needed to draw. I remember doodling during a test and then looking up in horror as my teacher stood staring down at my paper. Then he slowly crouched down beside my desk and whispered, "Draw me a rabbit."
If so, what kind of art did you create as a child?
I drew very tiny, detailed scenes, like circuses and zoos and cities and the bottom of the ocean. I also had a thing about drawing horses, but it was hard to get the legs right.
Did you have formal art education?
I have a BFA in Illustration from the Rhode Island School of Design.
What influences your painting style and what you paint?
I get a lot of ideas from: the books I read, things I see while I'm out walking, music, and the pictures that appear in my head when I'm not quite asleep.
How would you describe your creative process?
It usually starts with a long time staring out the window thinking about nothing, followed by a long time staring at a blank piece of paper. Whether I have an idea or not at that point, I then draw very lightly with pencil until something starts to take shape.
If I don't like where it's going, I'll put it away, go for a walk, and try again later. If I do like it, I'll get sucked in and work on it for hours until my cats remind me that I forgot to feed them.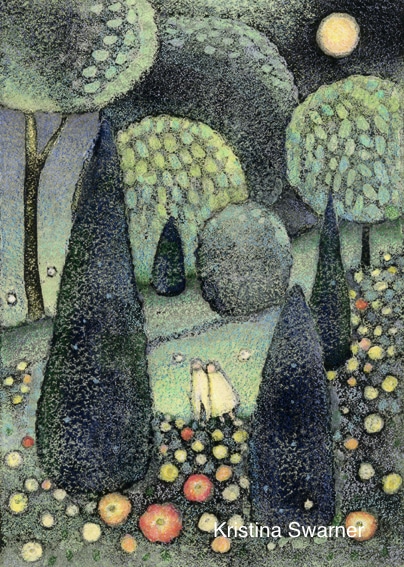 How has your art and the creative process been healing for your life?
I was very shy as a child, and not too happy in school. Art was both a means of expression and an escape. I outgrew being shy, but art still has a way of putting thoughts into words that I didn't even know I was thinking. And I still get lost in it.
Does your philosophy of life influence what you paint?
I tend to feel compassion for things, even to the point of excess, like I will feel sorry for my blue socks if I choose the grey socks instead. I rescue drowning bugs and wilting plants and birds that hit windows.
Sometimes I'll stop still in wonder at something like a tree full of starlings or a violet growing out of a brick wall. It's a strong emotion, but I guess it comes through in my work as kind of a gentle quality.
In what ways do you think creative expression and self-love intertwine?
Since art has always been a language of self-expression for me, I get irritable if I don't draw for a few days. Even doodling helps me feel better, but when a painting comes out better than I'd hoped, it's the best feeling– I sometimes get a physical sensation of floating.
Was the inner critic ever a problem for you? How did you get past the voice of the inner-critic?
The inner critic is still a problem for me, and I'm never 100% happy with a painting. It helps to just keep working and stay as strong in my ideas as possible. It also helps if I imagine my inner critic as some kind of blob-like cartoon character with a dorky voice.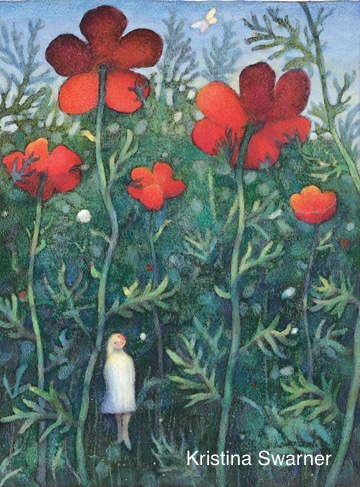 What art projects are you working on this year?
So far I just finished illustrating a poem for Cricket Magazine, and I'm working on some greeting cards, some big paintings, and a collaboration with a jewelry designer. I'm also illustrating a story I wrote for myself, since I'm between book projects.
Is there anything new or different you would like to accomplish with your art? Any new direction you would like to go into in the future?
Not so much new as a continuation. I'm inspired by artists with a certain childlike quality to their work—like it's coming from a very pure place and doesn't rely so much on the technique.
I'm always trying to connect with that place, that core of, I don't know what—innocence? openness? I'm trying more to create work that comes directly from that place and not worry so much about things like, "There's a streak in my watercolor wash."
Who are your favorite artists past and present?
That's so hard to answer, like asking my favorite color! I used to go stare at the Joseph Cornell boxes at the Art Institute of Chicago for hours. They put most of them high on a wall now, which is a shame since they are such intimate objects. Off the top of my head, I also love Jean Dubuffet, Shiko Munakata, Jean Miro, Keith Haring, Edward Gorey, and Lynda Barry.
Is there anything you would like to add to complete this interview?
I hope more people will support arts education, support artists, support children who like to draw, and do their own art or creative practice. Art is so undervalued and so important.