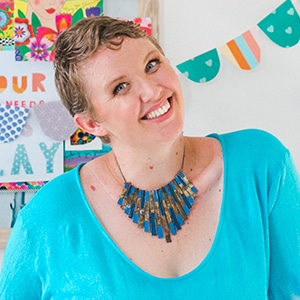 Leonie Dawson is an internationally best-selling author and illustrator of the 2019 My Shining Year goals workbooks, used by over 350,000 people worldwide. Mostly though, she just likes making stuff and sharing it with the world.
Were you encouraged or influenced in childhood to be creative?
Yes! I'm very grateful that I had a mother who encouraged creativity. I love that we had a big art cupboard and plenty of free-range time to read, write, draw, and make music. I also had some wonderful teachers in primary school and high school who encouraged me to journal, make art and music, and write as expressively as I could.
I'm sure there were probably some experiences that weren't positive – for example, I remember a few teachers who thought I was TOO expressive in my writing. I ignored them though – I knew that if what I was creating delighted me, I was on the right track.
I've since written to all the teachers who encouraged me to thank them. I really recommend doing that – it's a heart-opening experience for everyone involved.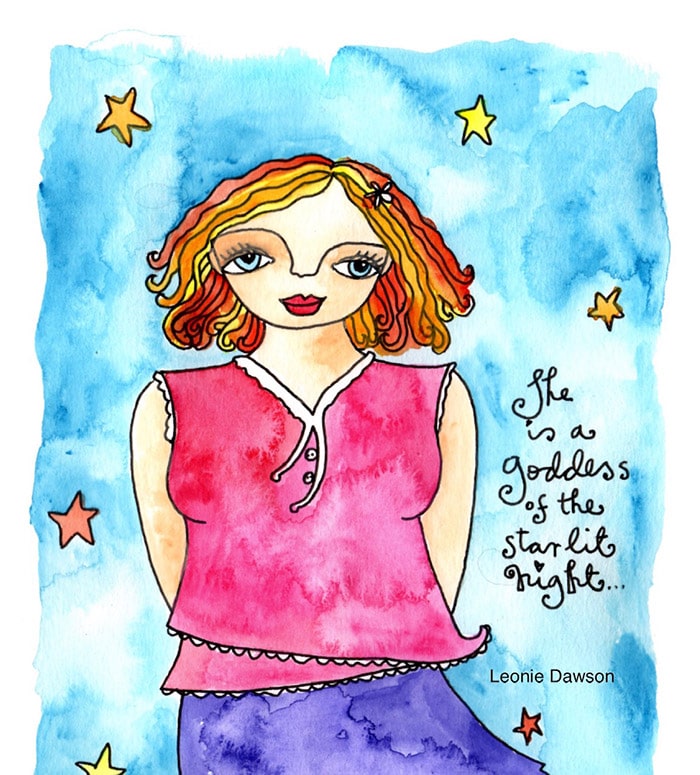 What kind of art did you create as a child?
Anything that was going! I wrote a lot, made journals, wrote and illustrated books, did photography, watercolour, acrylic and oils. I vividly remember writing and illustrating a book when I was 5. It was about Cyclone Charlie, which had caused widespread flooding around our farm, and everything I observed and felt about it.
Not much has changed for me creatively since I was a kid – I still love working in all mediums, and combining words and art together. And most of all, I love sharing the stories of my life.
Did you have formal art education?
No. I just dove straight into creating, and sharing those creations… and serendipitously building a business with them.
How would you describe the art you create?
Almost always a combination of words and art… they seem inseparable to me. They are rainbow and vivid and lush and wet. And I like the way they make me feel.
Where does inspiration come from to create your art?
There's so much beauty in the world begging to be witnessed and celebrated… so much magic inside me wanting to be born… and my job is to show up and let it come out in whatever form it wants to.
Can you explain your creative process?
I find that there's so much sheer stimulus in the world: all the things I see and stories I hear and feelings I have… that if I don't let it out in some way, I start feeling overwhelmed and it's like I have spiritual indigestion. The input must have some kind of creative output, whether that's private or public.
My art journal is probably a core component of my creative process. I've been using the same style of blank A4 art journals since I was a teenager, and I collect images and words in it like an inspiration bower bird. I write and draw and paint and take notes and all the good things. Every Sunday afternoon, my husband and kids know that I'll be having a solo retreat in bed with my art journal. It's like having a "room of one's own" to disappear into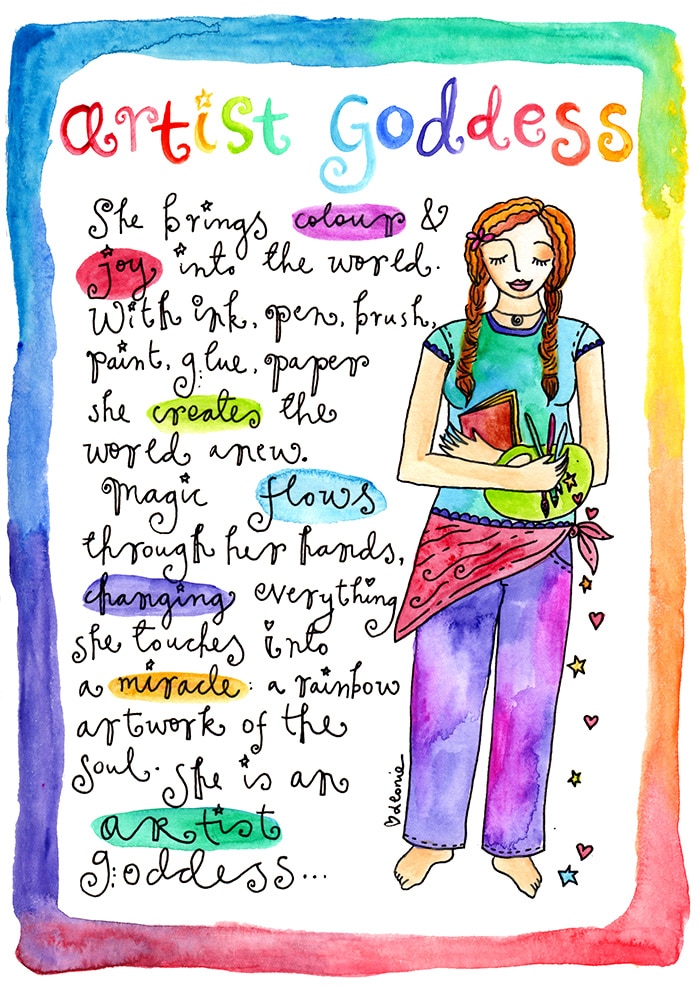 How does your philosophy of life influence what you create?
At my heart, I'm irrepressibly Pollyanna-ish, and I think my creations show that. As I've gotten older, my writing has started encompassing more of the difficult stuff too out of sheer necessity. Yes, I adore life + all its beauty… AND I also need to talk about my life adventures in grief, loss, mental health and ill health.
In what ways do you think creative expression and self-love intertwine?
To me, creative expression is completely organic. It comes, and it flows through me, and it lights me up, and it's a joy to do it.
And the only times I've seen where that's not the case is where self-love has been damaged somewhere along the way. Not having self-love is like being cut off from the divine. Because we ARE the divine you know? We are its creations. Why wouldn't we love that, and love the divine?
We can trust that we were born to be exactly who we are, to experience all of this as the flawed and magnificent beings we are. And we can trust that whatever creations that want to flow through us need to be here too. And they will be flawed and magnificent in their own way too.
How has your art and the creative process been healing for your life?
I make sense of the world through art. Creativity helps me weave all the threads of my story together until it's a tapestry of understanding.
Whenever I go through something big – I need to write or journal or make art about it. It helps me see the forest for the trees; the light in the dark; the lessons in the muck.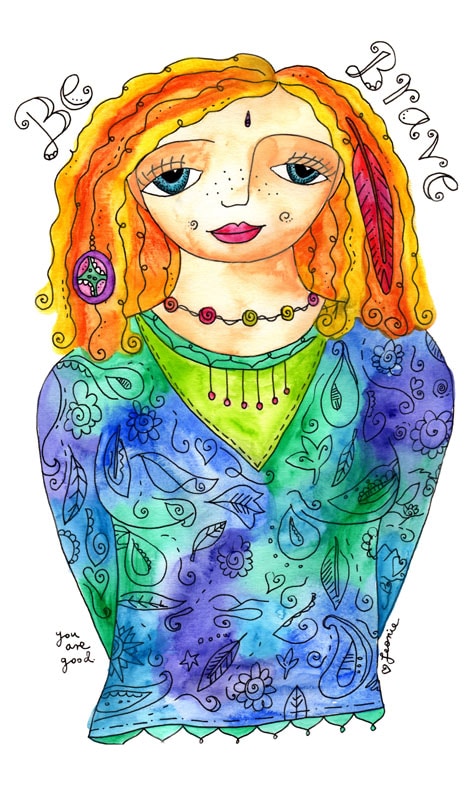 Was the inner-critic ever a problem for you? How did you get past the voice of the inner-critic?
I try to look at life logically. I was born just as I am, so therefore I am exactly who I need to be. I don't need to look any different, or have a different personality, or have different gifts from what I have. I can just enjoy exactly what I have. And that's a much more enjoyable way to live life. The same is true for creating.
I believe our creations come through us, and that they are just what they need to be. So I can celebrate and adore them just as they are. That feels like a lovely way to create.
I did think I'd try out having an inner-critic just to see what all the fanfare was all about. And guess what? It sucks. 0/10 would not recommend. It just seemed like an unproductive and unfun way to live my life, so I just don't do it at all. What would be the point, when there's all this fun that could be had doing it the other way?
Are you spending much time drawing? Or are you more focused on writing and teaching now?
A bit of everything, really. My art journal is still my home. My businesses are so interwoven with my creativity that it's an integral part of my life. My two books are produced yearly and need illustrating and rewriting.
Sometimes I'm writing more, sometimes I'm teaching more, sometimes I'm down the rabbit hole of art. I just finished up 31 custom art commissions in the last month. I'm wanting to I don't compartmentalise them however – for me it's all about just letting out the magic inside me in whatever format it wants to be.
Is there anything new or different you would like to accomplish? Any new direction you would like to go into in the future?
Mostly, I just like to show up and let whatever wants to come through me do just that. I'm excited to see what turns up next.
Is there anything you would like to add to make this interview complete?
Mostly that, I deeply and dearly believe that each of us has inside of us the seeds of dreams that will heal this world. Your art will heal this world. Your writing will heal this world. Your ideas will heal this world. Please just let them out, and let them touch us and transform us. They will transform you too in the process.