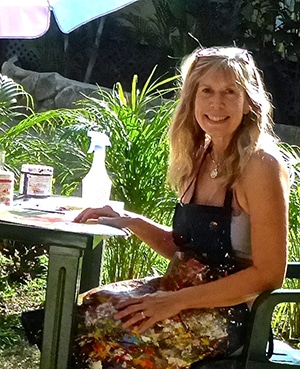 Lindy Gaskill, Washington State artist, creates imaginary worlds in her acrylic paintings. Her artwork is filled with personal marks & images using vibrant colors to radiate positivity, transforming mental images into graphic form which produce an aesthetic beauty, as well as her own spiritual exploration. Besides freely applied abstract shapes and lines, she uses dream-like figurative forms, often with a whimsical, playful feeling.
Lindy was born in Seattle, Washington and attended Washington State University, receiving a Bachelors degree, specializing in Fine Art and Graphic Design. Besides Washington, she has lived in New York City; Portland, Oregon; Bend, Oregon and Prescott, Arizona. She currently resides back in Washington State with her husband, Greg and also spends time in her Baja art studio in Todos Santos, Mexico. When Lindy isn't in the studio painting, she loves spending time on the yoga mat, riding mountain bike trails and exploring new territory with her husband Greg and their border collie, Belle. They love to travel and often can be found planning their next adventure.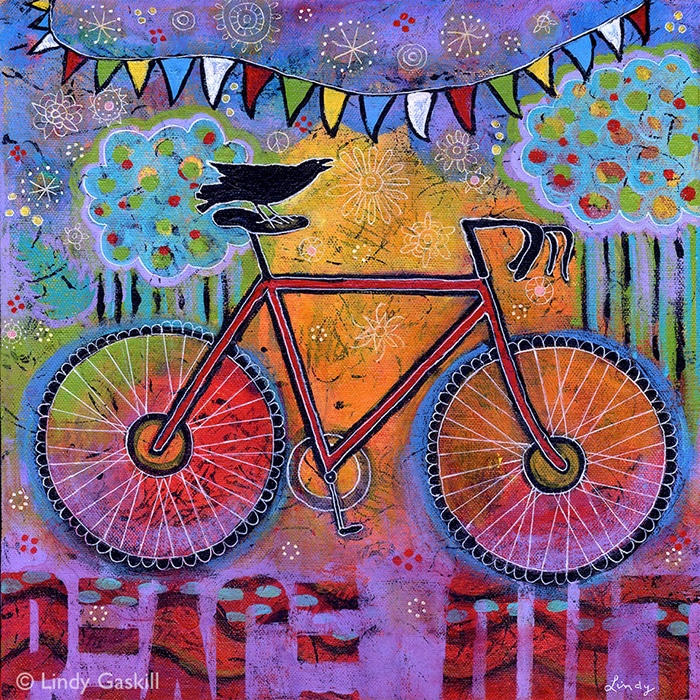 Were you encouraged or influenced in childhood to be creative?
Oh, yes! I was always encouraged to be creative. I loved to make things and my parents and family were very supportive. There have been other artists in my family that were successful so that has helped. Both my parents were creative. They enjoyed the arts and loved abstract expressionism. They collected art and there was a lot of art on the walls in our Seattle home. They also enjoyed taking us kids to art museums and events on family vacations so I was exposed to a lot of art and music.
What kind of art did you create as a kid?
I made all kinds of things with my hands. From sewing dolls to using clay to building things with styrofoam. I loved drawing and sketching and often used pen and ink. As a kid, I used to close my bedroom door and stay in there for hours making things and then come out and present the finished item with a "See what I made!"
Did you have formal art education?
Yes, I always thought I would study art in College. I studied Fine Art and have a degree from Washington State University. My background is in graphic design and I've had a dual career over the past 35 years with much of that time doing freelance computer graphics and showing my art in galleries. Now I show and sell my art online. I think the formal education helped me explore what type of art I enjoyed. But I think what I learned after college with real life experience has been the most helpful. It always comes down to, what I put into it is what I get out of it. Do the work and I will be rewarded. I've had to learn the business side of art making on my own and I can't stress that enough for people who want to make their living this way. Do learn the business side of making art!
How would you describe the art you create?
My paintings are made to uplift the spirit! There is a lot of vivid color and whimsical imagery which can be fun and playful or soothing and spiritual. It is for people who love color and positive energy.
Where do you find inspiration to paint?
I get my inspiration from birds and butterflies and all flying things! From dreams and the imagination. From forests to mountains and the natural world. From song lyrics and poetry writing. I keep a handy notebook for mark making and sketches. I record symbols that attract me and this is all inspiration for painting.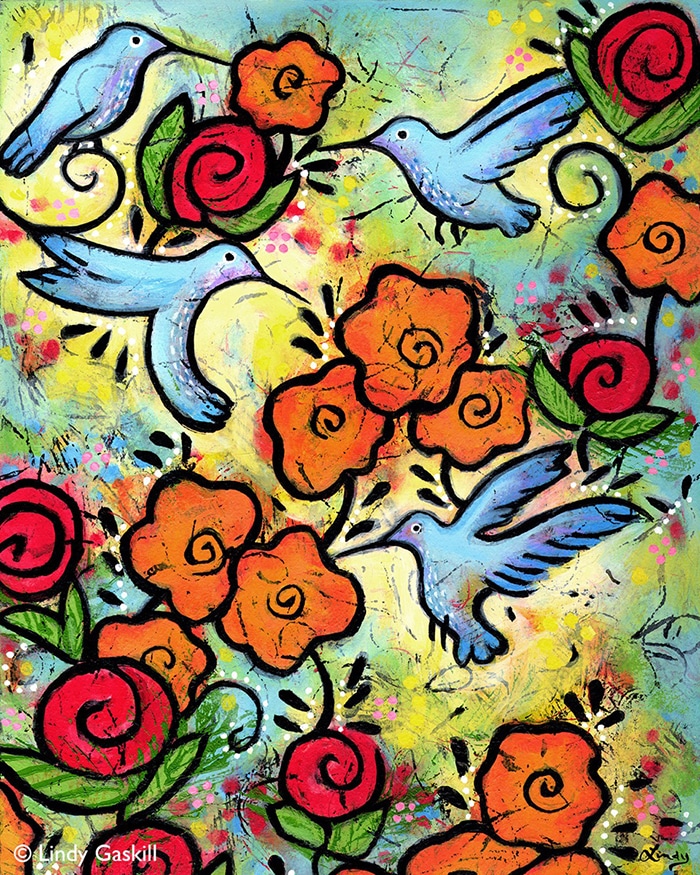 Can you explain your creative process?
My creative process has come from a lot of experimentation and being in the studio. I like to build up layers of acrylic paint on wood panel or canvas. I love the look of old patinas so often I scratch into the layers or wash parts off with water to reveal the under coat. And then I add more layers on top of that! I use different tools like string for mark making or wax paper for texture from a stamping technique. I use my fingers to move paint around. I get pretty messy! I do detail work with a fine brush or a white pen. My style was fine tuned when I moved to New York City for a couple years and I really concentrated on it.
What are you most passionate about sharing when it comes to talking about art?
Art is healing. It can inspire emotion. It can send a message.
I love that art and color creates a mood about a place. It is amazing to me how putting art on the walls can make a room happy or calm or enlivened. I love symbolism in art and that imagery can be a visual language.

In what ways do you think creative expression and self-love intertwine?
To me, the act of creating is self-love. I think allowing oneself to be expressive, artistic and creative IS self-love in action so I think they are very much intertwined. It helps to not judge one's creativity but just let it flow. One of the most rewarding things about painting and sharing my art with others has been when someone will email me their story about how my art has helped with their healing process or creative expression.
How has your art and the creative process been healing for your life?
Art has been a life saver for me Like a lot of people, I've experienced certain things that have happened which were pretty tough. For example, I had a close friend commit suicide and my first husband died of colon cancer after a 16 month struggle. Being able to express my emotions with my painting helped me cope and help heal. I was in an Art Therapy Masters program at Marylhurst University for a time when I lived in Portland, Oregon so having those studies and knowledge has helped me as well.
Does your philosophy of life influence what you paint?
Yes. I am a spiritual person. Some of my themes and imagery come from that. I've studied psychology and Carl Jung's work and my fascination with symbolism and archetypes have played a role in what I paint.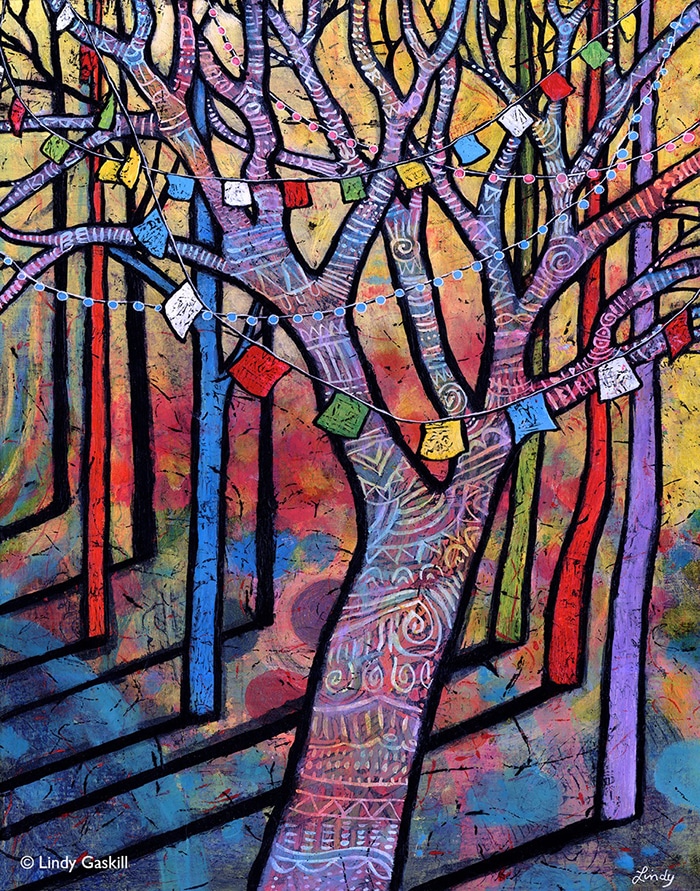 Was the inner critic ever a problem for you? How did you get past the voice of the inner critic?
The inner critic can take me by surprise but it has rarely been a problem. It usually comes as a form of self-doubt and I remind myself that it is not about pleasing others or the end result. It is more about the act of doing. The act of creating is what is so rewarding for me. It helps when I let go of any preconceived notions and let myself be spontaneous with mark making and painting and just enjoy the process.
How do you teach others to silence their inner critic?
I think not comparing oneself to others helps tone down the inner critic.
I've done a small amount of teaching others to paint and I stress letting oneself play with the paint and not thinking about the end result.
I say have fun and play!
What art projects are you working on this year?
I am doing a lot of traveling this year so I haven't done very much painting. We are in Mexico, Italy and Portugal. There has been so many things to see and experience. I am taking a lot of photos for inspiration for when I get back in the studio.
Is there anything new or different you would like to accomplish with your art? Any new direction you would like to go into in the future?
I am working on creating more art using digital means in combination with my traditional painting. I love to combine the two. I think that has to do with my graphic design background. I am working on putting my art on more products that I will have for sale.
Is there anything you would like to add to make this interview complete?
I would like to thank you again for the opportunity to talk about my art and life! I think Artists helping Artists is a great thing. Learning and sharing with others about healing and art is an enriching experience.