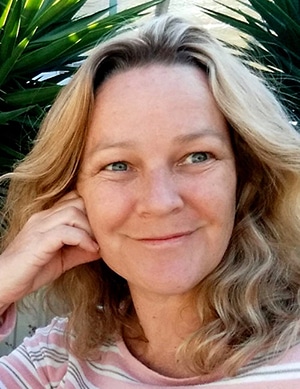 Lindy Longhurst is an artist/illustrator based in NSW, Australia. She has been creating her artwork since 1999. Lindy draws her inspiration from a strong connection to the earth, from the natural elements, and from exploration into the conscious and subconscious worlds via dreams and meditation. Her whimsical and magical art can be found in private collections all over the world. Her work is collected by those in the healing profession, by children, and by the young at heart. She has exhibited in Europe and Australia and has been published in magazines within Australia and the USA. She has illustrated two children's books and recently she created 44 illustrations to be included in an oracle deck written by Alana Fairchild and published by Blue Angel.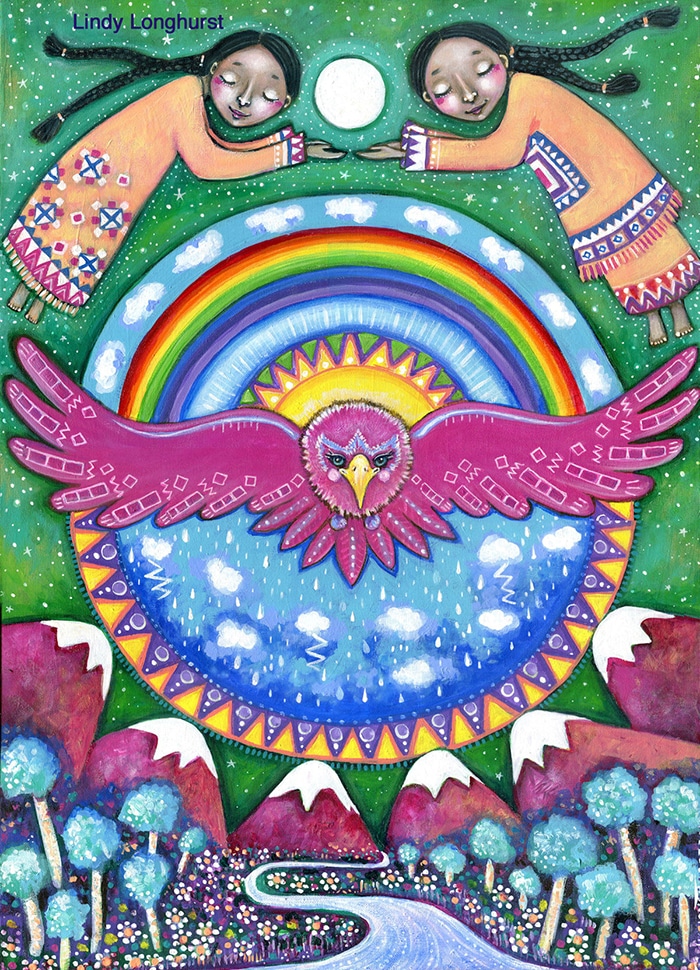 Did you create art as a child? If so, what kind of art and how often did you create?
I always had an innate urge to create and I did so across many areas including painting, drawing, sculpture, dance, music and drama. I was a bit of a dabbler and it was only when I was older that I became focused and obsessed with creating art.
Did you have a formal art education?
I did art all through school and took a couple of electives at the University when I studied for my degree. I studied landscape architecture at the University thinking it would give me more stability in a design related field. After the University, however, I felt uncertain of my direction and it took me a long time to work out what it was that I really wanted to do. In the end, after a lot of travelling and moving around, I discovered that I had a lot to give through art. Once I realised this, everything fell into place and I went into a creative frenzy making up for lost time.
How has travel, meditation and dreaming influenced your art?
Travel gave me great humility. It opened my mind to other worlds and ways of living and it also made me appreciate my own country and lifestyle.
Exposure to different landscapes and cultures around the world was a great inspiration and I felt I was collecting valuable experiences to pour into my artwork.
Meditation centered me and made me feel connected to spirit. Spirituality is a major theme in my work and the exploration into it is at the basis of all that I do. I hope that by being connected, I can offer a peaceful, balanced and loving energy to what I create.
Dreaming was just another level of spiritual connection. I became interested in conscious dreaming after reading about it from Robert Moss years ago. It was like a whole new infinite world opened up. I felt alive and inspired and that anything was possible. Magic became real again. A lot of my images from that time were inspired by images that I saw intuitively or in dreams and I still work from that magical landscape today.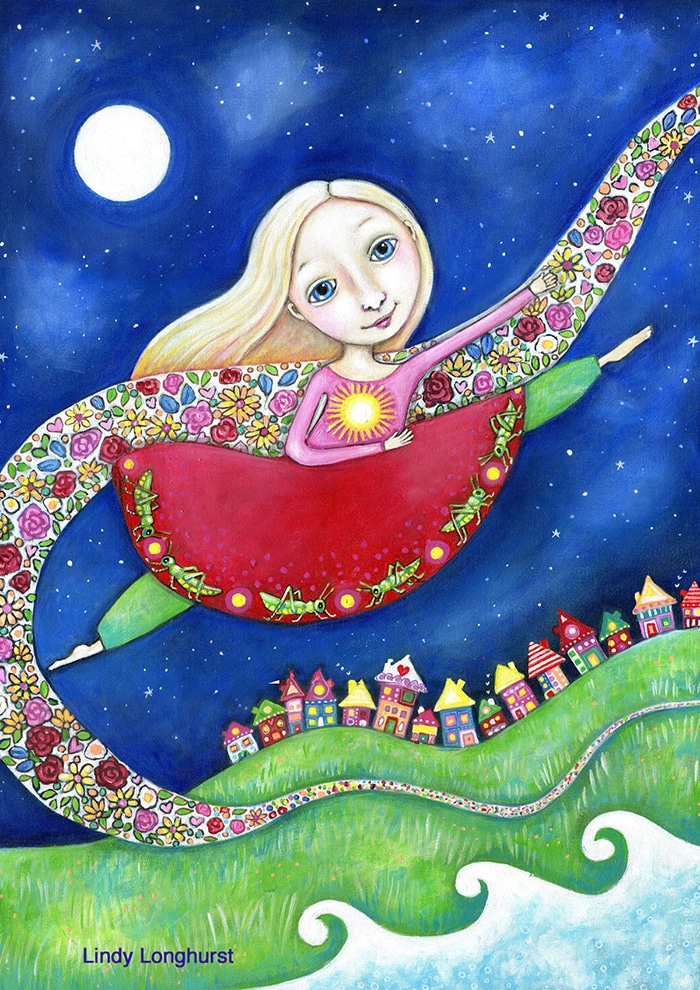 How would you describe the creative process when you create a custom mandala for a customer?
Initially I ask for some information from the person, like colours, shapes, animals, mythical creatures and landscape elements that they connect with as well as their general aims and aspirations in life. From this information an idea usually comes to me.This image often then becomes the center of the mandala. From there all the other details flow in. I make up a very rough sketch, discuss it with the customer and then work on the original. Colour and smaller details come to me in this final process.
What inspired you to create your first mandala painting that had personal healing elements?
At the time I was living temporarily in Europe. Back then I was trying to come up with a business idea to funnel my art into. I started making personal mandalas for friends and family and then realised it may be something I could do for other people too. My first customer was a lady in Switzerland. Not long after that I returned to Australia and started promoting and selling my custom mandalas at weekly markets and online.That was 20 years ago now.
What inspires you to paint when you are not painting a commission?
I am inspired by nature and the elements and by the spirit that flows through everything connecting us all together. I like magic and fairy tales and anything other-worldy.
I love the feeling that anything is possible when you tap into the flow of your creativity.
How has your art and the creative process been healing for your life?
Art gave me a purpose early on when I felt at a loss to what I was meant to contribute to the world. It opened my heart and gave me an avenue to pour out feelings that I may have otherwise kept to myself. It helped me to rebuild damaged self-esteem that came from a lack of direction and motivation. It was a bridge that connected me to another world which I sensed but couldn't always reach. It got me in touch with my own spirit and a higher consciousness which I craved.
Was the inner-critic ever a problem for you? How did you get past the voice of the inner-critic?
I've always struggled with the inner-critic but then I have always had the urge to create so I was able to push through and find a balance. When I'm really inspired to create something, it tends to far outweigh the other.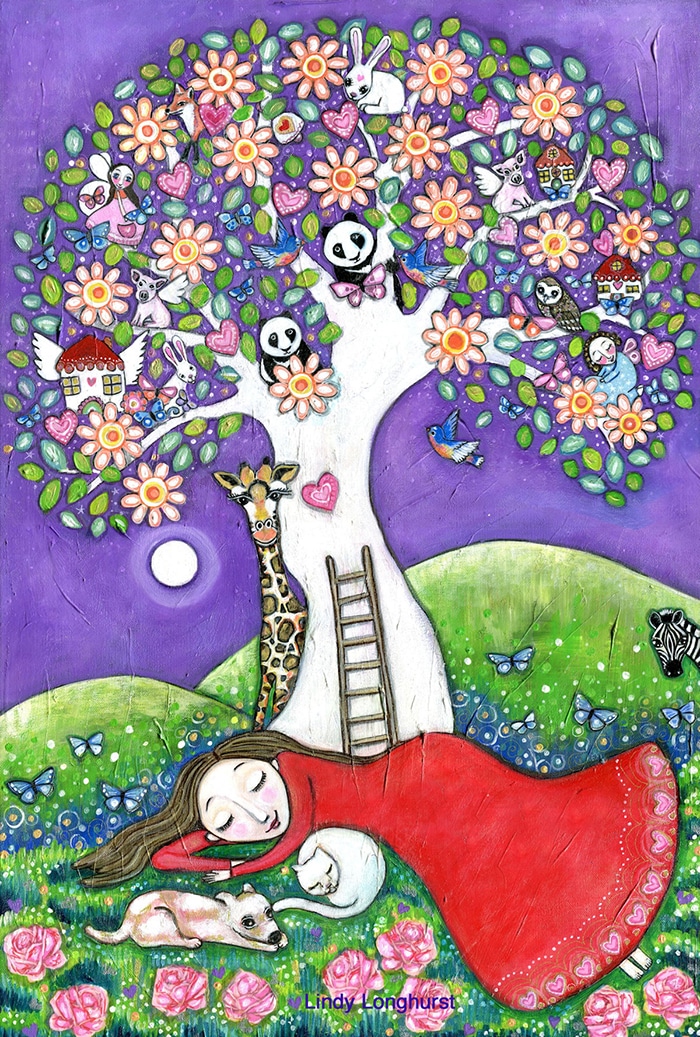 Do you have any special projects you are working on this year? I bought your recently new card deck. I love it!
Thank you!! Alana Fairchild did a beautiful job and I felt so honored to be asked to do the illustrations for the cards. This year there will be another deck in the making from her. Also the book I illustrated last year, written by Celeste Cannell, dealing with children and anxiety, should be out.
Personal projects for me this year include continuing the Tarot Deck which I began last year, and pursuing more book illustrations. I'm also currently learning about ceramics and I have a little collection of creations that I will put out in the world soon.
Is there a different direction you would like your art to go in some day?
Sculpture interests me and I would like to explore that more. I am also interested in landscape paintings and I have a sketch book full of magical dreamy scenes that I will paint out eventually.
Who are your favorite artists past and present?
From the past – anything to do with fairytale. I like the illustrations of Edmund Dulac, Kay Nielson and John Bauer.
I've always been interested in colour and pattern so I love the sculpture and architecture of Antoni Gaudi and the paintings of Hundertwasser. Other artists I like are Gaughin, Chagall and Picasso.
From recent times, I admire many children's book illustrators. In particular Jane Ray, Lisa Evans and Australian artist Lisa Kennedy. Other artists that I like, whether it be for technique, use of colour, or for their magical and soulful work, are Pierre Mornet, Cecile Veilhan, Madeiline Winch, Norma Bessouet, Gail Potocki, Andrea Kowch and Duy Huynh.
Artists that I love for their whimsy and connection to the Australia landscape are John Olsen and Nellie Zimmerman.
Is there anything you would like to add to make the interview complete?
I am forever grateful that I discovered art as a way to express my creativity and I hope that I can continue to express that by keeping inspired and connected.
Thank you for the opportunity to do this interview and to put words on things that are sometimes hidden in the artist's process.