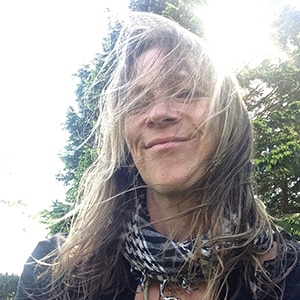 Lucy Campbell is a self taught painter, with an academic background in social sciences and research. She started out as a full time artist in 2004, after a couple of years combining work and painting, and having had a couple of successful solo exhibitions in Barcelona. While based in Spain for four years, Lucy exhibited art in Barcelona as well as sending work back to the UK for exhibitions and art fairs in London and Glasgow. She moved back to her native Scotland to bring up her son close to family, at the end of 2006, and has since exhibited regularly in several art galleries in Scotland, as well as in London, Bath and Los Angeles. Lucy's work is in collections all around the world, and now reaches a wide audience thanks to the wonders of the internet.
When did you first start creating art?
I don't remember a time when I didn't draw or paint. I remember sitting under the table where my Mother was working at her easel, playing with stubs of her pastels on pages from her sketchbooks or offcuts of the board she used.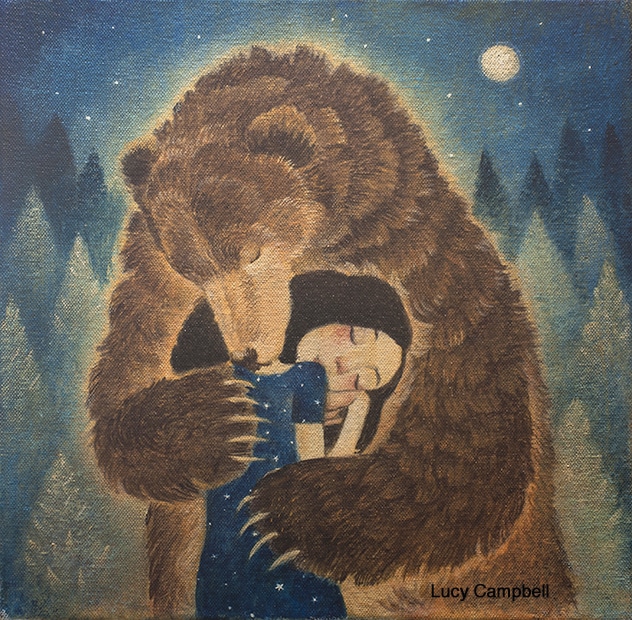 Were you encouraged or influenced in childhood to be creative?
I was influenced by my mum who is an artist. My three older sisters were also all very creative so I was surrounded from the moment I was born. I was lucky to grow up in a time when arts were very much part of education, we were encouraged to create as often as possible, we seemed (or at least I did) to be able to do something with paints or crayons every day at school. I had secondary teachers also who tolerated and even encouraged my incessant doodling in class.
Did you have a formal art education?
No, I have a degree in Sociology. (*see below)
What category do you place your artwork in?
I find it very hard to 'categorize' my work, but over the years I have learned that it falls into any or a combination of these categories: surrealism, magical realism, figurative, narrative, mythical.
You have such beautiful symbolism in your art. What is represented in your art?
Thank you. All sorts. The realm of the subconscious, for example, often represented with forests, or bodies of water, or night sky. Themes that recur are healing, journeying, turning inward, the expression of our wild nature, letting go and finding faith, finding solace/peace in nature, being 'transported', making pilgrimage.
What do your animals represent? What does the origami represent? What do the children represent?
Different animals represent different things, but all the animals I paint can be said to represent both nature, and our innate 'animalness'. Also they represent energies within us, guiding forces, intuition, trusting in our instincts. The origami because I love origami; I love the delicacy and attention it requires. Paper is a symbolic thing, for me it is a form of communication, a medium for creativity, a wish, a love letter, a secret message – and things made out of folded paper contain these concepts also.
I think children feature so prominently because my career as an artist has really coincided with my becoming a Mother, and so, I suppose, I have been processing all my emotions about childhood and parenting. In all honesty, I rarely think of the symbolism before I start a painting – it develops as I go, it's like a conversation between my mind and my subconscious that plays out on a canvas.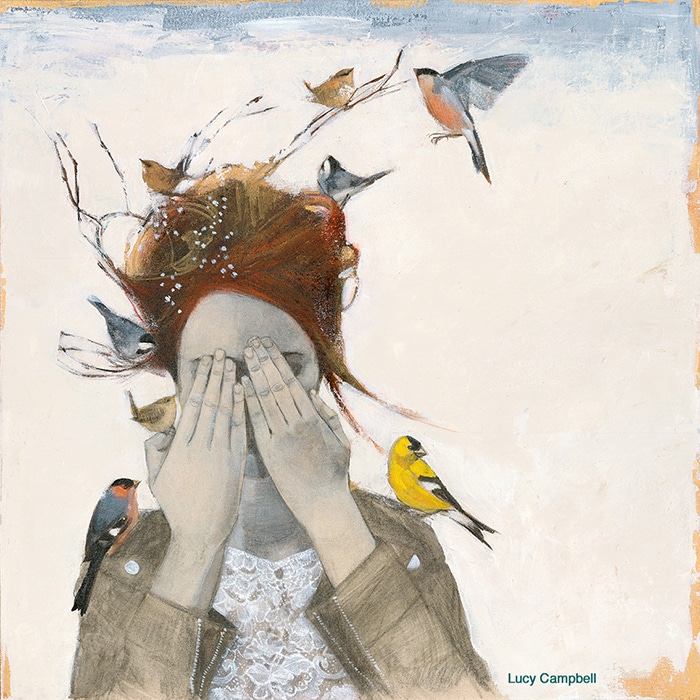 I love how, in your paintings, we can feel the comfort and love from the animals to the humans. My very favorite is Tuesday's Bear; the image of a girl being embraced by a big loving brown bear. Can you share how you received inspiration for that painting? And what is the meaning of that image?
Tuesday's Bear was one of a series of 6 paintings I did over the course of a week, every day of the week except Saturday, in a time when I was feeling low about my work.
I needed something to soothe my worrying mind and bring my focus back to the joy of painting.
So I set myself the challenge of painting a bear a day, because painting bears always comforts me. And so they all basically express either the feeling of being comforted and protected, or a sense of wonder at the world, or being at peace.
Another favorite of mine is Night Beckons. The image of a woman, owl, door, key, and moon. What does that image symbolize? And what was your inspiration to create it?
Again, another series of paintings made during an emotionally charged time. It was a time when I needed to reach deep inside myself for strength and wisdom – "The Journey" is also part of this series. There was a lot of sadness in my life then, and emotional pain, which is why there were a lot of paintings of 'hollow chests' – almost like a craving to be able to open up my chest and release the pain into the world, and be healed by nature. The key represents having the key, the ability within one's self to allow that openness to happen, to release grief. The owl often represents wisdom, but it is also a night-seer, and a keen hunter. The night beckons because it is restorative, to immerse oneself in darkness, and not avoid it. The woman's hair in that painting was like the pelt of an animal – a wolf maybe – also pointing to her wildness and her belonging to nature.
Your paintings carry such intensity. What is your creative process like?
Intense 😉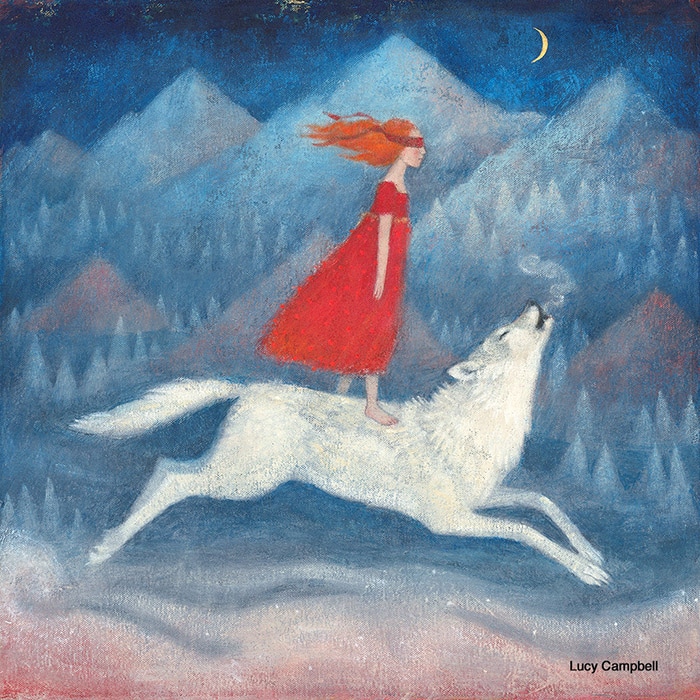 How has your art and the creative process been healing for your life?
I become unwell, very anxious and bad-tempered, and low, if I don't paint or draw for long. But I have been an artist now for most of my adult life, so I don't know how much that is because there is a real anxiety about where the rent will come from if I don't paint!
I know that as soon as I am 'in the flow' I am a much better person to be around, and my mood lifts, and I feel 'myself' again.
It allows me to express and explore my emotions. And it also gives me something indescribable, to feel that it reaches people and touches their lives, and has brought healing and peace to others – to feel a connection with people through my painting is really special.
Was the inner critic ever a problem for you? How did you get past the voice of the inner critic?
Always, always, the inner critic is a problem (though I do remember that there was a time when this wasn't the case – as a child). Of course, the inner critic is very loud when making work for the purpose of selling it. I have studied a lot of neurological and psychological texts about the nature and purpose of anxiety, and essentially I have learned that the inner critic's purpose is to protect me from danger, the perceived danger of 'exposing myself' by putting my creations out there to be 'judged' by the world, and valued or not, or sold or not. So it's a natural thing that is always a part of creating (if someone tells you otherwise they are lying or not human!) – the key is how to manage that anxiety and what you can do to 'trick' your mind into enjoying the process rather than worrying about it criticizing it.
Who are your favorite artists past and present?
Ooh… just one – impossible! Past: Gustav Klimt, Frida Kahlo, Remedios Varo, Egon Schiele… present: Andy Kehoe, Cendrine Rovini.
Is there anything about your art or your creative process you would like to add to the end of this interview?
*I came to being an artist through a very messy journey. I don't want to sound pretentious or over dramatize it – I simply found in my early twenties that I was trying to be someone I was not, having promised my father that I would do anything other than art as a career. I was desperate for his approval, but reached a point when I realized that nothing I was trying was achieving that anyway, so I should just do the thing that made me most happy. During that time, I made choices with my life that could have had much worse outcomes than they did, and I spent a time estranged from my parents, and I probably did a fair bit of damage to my body, my mental health and any future employment opportunities. I eventually left everything behind to 'seek my fortune' as an artist when I moved to Barcelona. I recognized that the life I was living was going nowhere healthy for me, and I saw, following my dream to become an artist, as my only way out. It often felt like I had burnt all my bridges and I had to make my art work as I had no other options available to me. Having children added a new focus to my life to make that happen even more. It has been very haphazard and I have often experienced 'impostor syndrome' (where you think someone will one day discover you're not a 'real artist'), so I am very flattered that today I am asked to do interviews about my work!