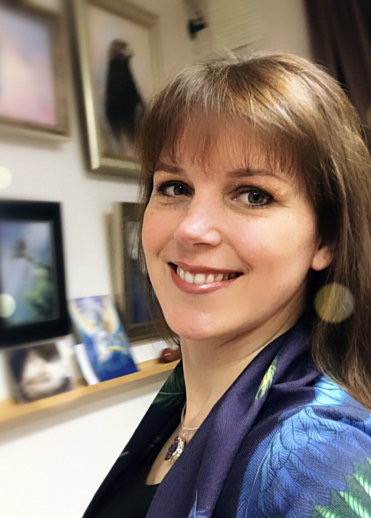 Marjolein Kruijt is an artist whose work is inspired by the beauty of nature. Animals have always been her core inspiration, capturing their essence and special messages, also in commissioned pet portraiture. Using all techniques, she favours oil paint, combined with symbols, natural elements and animals. She aims to paint the seen and unseen with the help of her guides and the angels. Bringing in the light with her artwork to help people to the Golden Age and opening their hearts for animals. Marjolein was born in the Netherlands and works full time as an artist for over 23 years. She has two degrees in arts and has written several books. Exhibiting and publishing worldwide.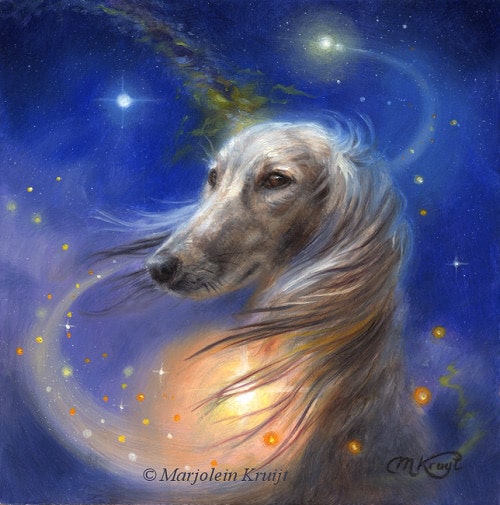 Were you encouraged or influenced in childhood to be creative?
All my life I've been creative and musical in many ways, loving nature and animals. I can't remember not drawing. There a quite some artists in my familytree; artists, illustrators, sculptors, musicians (celtic music). Though I always follow my own path, I do find a lot of inspiration in Dartmoor (UK). My family there are all amazing artists. There is something magical in Dartmoor, the veil is thin there. Faery art and living in close connection to nature seem the norm there. I love that!
What kind of art did you create as a child?
Drawing animals mostly. Even at the age of six I did commissions for friends. Animals and tv-cartoon figurines. Lots of animals.
Did you have a formal art education?
Yes. I was very young finishing highschool (15 turning 16) That I needed an 'in between' education to ground myself first before heading to the royal art academy. First I studied to become an art teacher to learn the profession, art history and discover art materials in a playful way. Teaching goes easily for me, also other skills I learned there still help me being an independent artist. Like: how to 'present' myself before a group of people, talk about art in a non-critical but educational way, how to write constructional lessons, how to search for inspiration. And most importantly to have FUN in being creative. All that helped me writing step-by-step articles and art books. After that I went to the Royal Art academy in search to go deeper into my inspiration. It was a very harsh time where many people's 'creative light' were dimmed. After graduation it took me 5 years to get rid of the teachers harsh comments.
Looking back this experience helped me to become a good coach and teacher for others, by guiding them instead of criticizing. Recognizing creative blocks and helping others unblock themselves. Embracing their own divine creativity.
When and how did you get involved in creating spiritual animal Art?
Once I discovered celtic music, a sense of belonging opened up. I started combining the 'celtic way' with 'nature'in my arts. Painting celtic power symbols underneath my landscapes and animal paintings. In time, I developed my spirituality due to a long period of physical challenges. Searching for answers that doctors couldn't give me, I dove deep into healthy living, meditation, taking intuitive classes, communication with animals, crystals, and travelling the world. After a tv appearence on painting animals live, my carreer exploded receiving 3 years of commissions in pet portraiture. I wrote articles about my techniques for 15 years for international magazines, and two books. Series of 'spritual animals' I kept more for myself at first, to give it space to develop. Now everything comes together when I was commissioned to illustrate the Archangel Animal oracle cards (Diana Cooper, Hayhouse). They gave me full space and confindence in the project. I felt artistically so free, it helped me to work very swift and confident: 'attune – design – adjust (listen to the 'click')– finish'. My aim is to contribute to help people open up their higher heart to treat animals better, mother Earth and themselves. We need to remember that Love is all there is. I hope my art does that for many.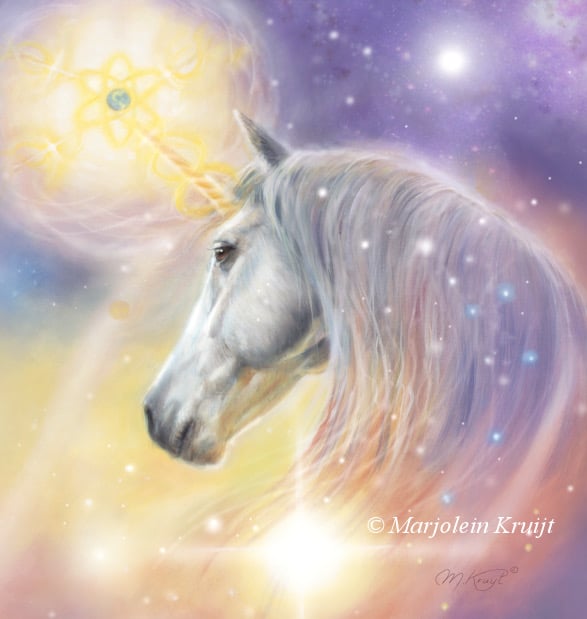 How has your personal interest in animal communication and intuitive development influenced your art and what you choose to paint?
Painting pets (free and in commission) has been my absolute training to learn how to capture the soul energy of animals. Attuning to the (over)soul of an animal is where I get the most information, which also happens during painting. Intuition also helps to coach the pet owner in the grief process (their pets are often deceased) by guiding them through memories and choosing the best posture where the character of their pet comes through. It is capturing their pet's energy on canvas. I feel that painting animals is spiritual service, for customers but also for other people. The divine light shines through, even when it's not labelled as 'spiritual art', the energy is there. In my free artwork I feel completely free, designing fully from intuition.
How would you describe your creative process?
Focussed, attuned and open to receive. When I start, I need to get myself in a no-nonsense state: sit, attune, and start. I love combining symbols and spiritual theme's. When I choose a subject, things start to present themselves. My subject seems everywhere all of a sudden! Answers about my designs can easily pop-up while doing groceries. Though I find painting spiritual themes do ask for responsibilty. You can't let 'anything' appear on canvas. Learning first to attune is a very important step in this and obvious energy protection. I do want the energy to be clear. Meditating, sketching, working with crystals and beautiful music to attune.
Once I start, I work very quickly. I'm a sprinter, but afterwards I need selfcare to recover.
What are you most passionate about sharing when it comes to talking about your art?
I'm not so talkative about my art at all. Talking about techniques is not a passion of mine, that is teaching. But…I love the very tender moment when people see my art for the first time. Something is happening there. I'm not talking, the painting does. All human shields fall off. Some people do shut down, others open up fully. It's amazing to see that process. It is quite intimate really, sometimes I like to leave on the spot. Especially when I see someone struggle to let love in, I feel so compassionate then. But if that fear does falls off, the tears or laughter is irreplaceable.
Do you ever have mystical experiences while creating your artwork? If so, could you describe it to us?
Yes, I always see little flashy lights around my hands. Less often larger orbs flashing in the corner of my eye. When I'm working on portraits I often sense the soul of the pet around. Working on larger spiritual paintings I sense (arch)angels, guiding my hands and what colors to pick. They can be specific! I'm a bit cheeky though: sometimes I like to use my old camera after a painting session to flash them on camera. It always works. Colors or white orbs at the painting easel and fairy shaped figures around my crystals.
How has your art and the creative process been healing for your life?
It's very healing to paint. It hightens my energy always. Paintings are a reflection of who I am and my connection to the divine. Sometimes I'm not getting tired at all when painting spiritually. It works both ways though, especially when working on oracle card art. Imagine what life throws in your lap when you work on a theme like 'stand in your power' or 'caring community'. I'm working with unicorn energy this year. That feels more loving and subtle, though not always easy. My art helps me grow spiritually.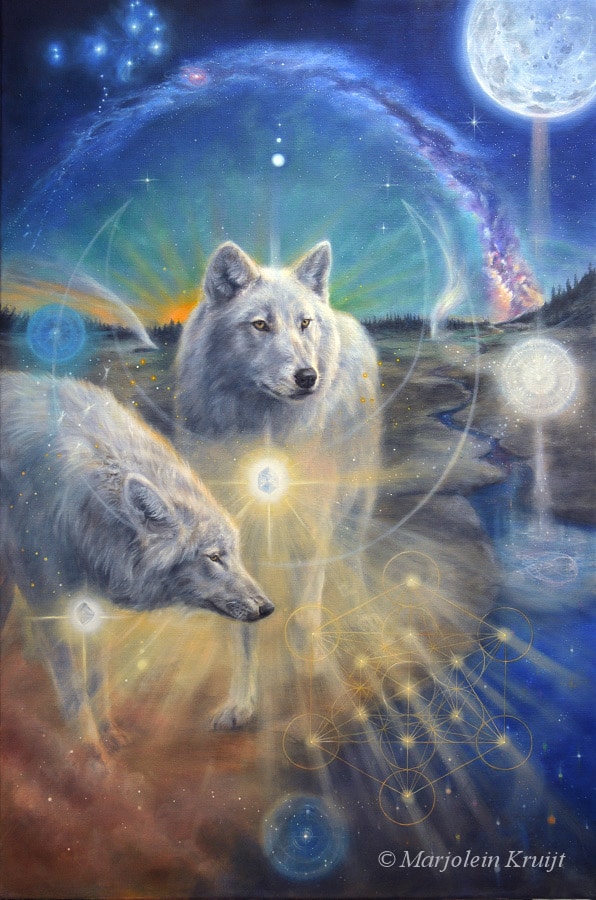 Does your philosophy of life influence what you paint?
Yes, everything I paint is part of that.
Was the inner-critic ever a problem for you? How did you get past the voice of the inner-critic?
Not really, I feel like a never-ending student of art. I always like to state to my students that criticism isn't real. It implies that you ' judge' something as finished. You can't criticise a painting in progress. I like the allegory of a hair dresser: you never yell at him/her halfway in dispair 'this is awful! You can't do it, can you?'. You wait in confidence of their skills that your hair is finished when it's done. Just keep on going until it feels done.
Art is an attempt to capture something larger and higher than myself.
A painting is always 'lesser' than the original energy which is shapeless in sense. That is something to accept. It guides you to the next decision too: how else could you 'know' that blue colour shouldn't be 'there' but on the right side of the painting? That's because the painting already exists! Attuning to that helps to navigate all options the process gives. Personally I'm finished when I feel satisfied in my heart (not so much head). In time, any dissatisfaction on previous work is a celebration that I've grown since then. I value any sketch or artwork I ever did. It got me to where I am now.
What art projects are you working on this year?
Unicorns, lots of unicorns! And pet portraits in commission. I hope to start my next large painting in my spiritual series 'Illumined' soon. It feels like I never paint enough!
Is there anything new or different you would like to accomplish with your art? Any new direction you would like to go into in the future?
It's an ongoing process. It wouldn't surprise me if I'd paint energy more abstract in the future to find a way to 'release the shapes' of the physical world. Though the physical world has so much beauty, it will remain a mixture of both I think. You can't beat the bad haircut of a marabu, that's just too funny. That should be painted realistic! In the near future I'd love to paint more elementals like fairies, dragons, deva's in their natural element. And do spiritual childrenbooks, illustrations and working on larger free pieces.
Is there anything you would like to add to make this interviewcomplete?
Reverence for the natural environment, and experiencing the interconnectedness between all things has long guided me to create watercolor paintings of beauty and spirit. Life's continuing adventure has led me into an exciting exploration into the wisdom and symbolic imagery of Sacred Geometry. These paintings act as a bridge between this reality and a metaphorical world of healing, continuity, and transformation. I use multiple transparent watercolor glazes coupled with image overlapping techniques, and sacred geometry to produce visions of a multi-dimensional reality. It is my intention to create art that embodies the vibration of Universal Love and expresses the joy and gratitude I feel for the honor of being part of this earth walk. Each of the images in the gallery is available in beautiful Color Prints. Many as Artcards. Also available, the Sacred Geometry Oracle Deck and the Sacred Geometry Cards for the Visionary Path.