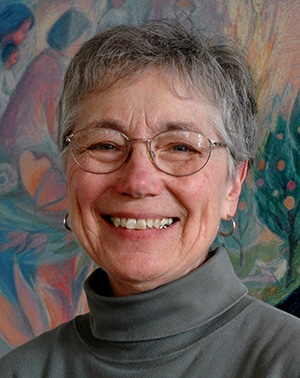 Mary Southard, a Sister of St. Joseph, is a professional artist whose fascination is the wonder and ongoing creativity of the Universe, most especially of our beautiful home, planet Earth. Her paintings and sculptures explore and give expression to our soul journey within this intimate, interconnected evolutionary existence, with all its beauty and pain, its passion and mystery. Through her yearly Art/Reflection Calendar, begun in 1979, Mary has been bringing to consciousness our Identity as Earthlings within the Oneness of All Creation, and of the importance of all our actions and choices as either enhancing or diminishing the health of our Earth. She was co-founder of the Ecological Spirituality Center in La Grange Park, IL in the late 1980's (now The Well); was Co-Founder of SpiritEarth with John Surette SJ in 1990; and in 1994 was a cofounder of Sisters of Earth. Mary is an experienced educator, retreat director, and group facilitator. Her delight is to be with others as they awaken to their creativity as members of the Universe. She lives, has her studio and tends her congregation's vegetable garden in La Grange Park, Illinois.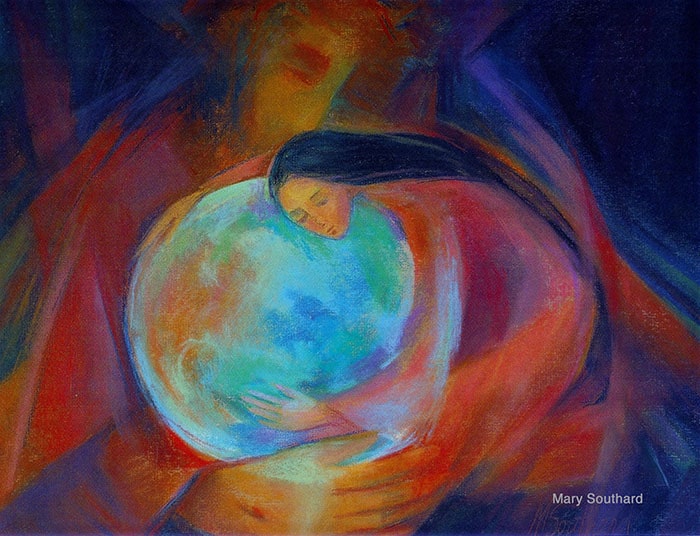 When did you first start creating art?
My earliest memory of doing art was in my childhood. While all the boys were trading baseball cards, my sister Barbara and I traded horse cards which we had made. We would each pretend to be ranch owners, each with our herd of horses. We loved our horses and got to know each horse really well: their name, size, capabilities, markings, color, temperament. And that was all in the crayon drawings we made with the cards; pieces of clean paper we cut into card shapes drawn with crayons. Then we would trade the cards reshaping our separate herds. That was my first memory of (doing art) drawing.
The first time I used paints was in eighth grade and it was with poster paint – tempera. In school we were learning how to use the compass and protractor, and our teacher had us create mandalas with them. She also taught us about warm colors and cool colors. We were then encouraged to paint our mandalas choosing either a warm or cool colors scheme. I chose yellow greens and blues for my first painting.
Also, when I was in 8th grade, there was a library at the end of the wide second floor hallway. The Sister who ran the library asked me if I would like to make a painting for Christmas for the library bulletin board. This was my first large painting. it was the size of a poster board on which I painted the Three Kings. After Christmas holidays when I asked if I could take it home and show my parents, I learned that it had been thrown away. I think that affected my ability to value my work.
Were you encouraged or influenced in childhood to be creative by your family?
I must have been. We must have been. My sister ended up being an artist too. Once I was given an auto-harp, which I tried teaching myself. Then my parents got us a player piano! I got the Dave Minor Method Book, and learned to play by ear. And the piano was for all of us, and so we had piano rolls which we could all play. We also sang a lot at home, along with the radio. And my Dad listened to the opera on Saturdays.
We made up so many of the games we played, we and the kids in the neighborhood. We all had to manage and take care of ourselves as well as our younger siblings, so we were always creating. We would add a new twist, or new rules to the common games. We played school, we played church, had talent shows, and we wrote and performed plays. We did those kinds of things. I remember having a show (almost always in our basement) with a curtain to create the stage. We advertised and sold tickets around the neighborhood, charging 5 cents for admission.
Did you have formal art education?
I took four years of art in High School. And then I entered the convent to become a Sister of Saint Joseph. I was sent to major in Art at Dominican University (then Rosary College) for 1 ½ years, after having taken many of the standard required courses on Saturdays while teaching. At Rosary College, I took all my art courses, including ceramics and ceramic sculpture.I had an excellent teacher from whom I learned so much. This is when I learned that I had a "gift". I graduated in 1960 with a BA in Art.
During the years that I was teaching 8th grade and Art, I spent four summers studying Art for my MA at Notre Dame University. Again, I enjoyed two ceramics and ceramic sculpture courses, printmaking and one painting class, I took all the requirements. But in my final summer, I took a course where I learned plaster casting. Our teacher was a sculptor from Germany who didn't speak English, but somehow he challenged me to go beyond what I thought were my limits to create in clay, and cast figures in relationship to one another. I also learned by observing advanced students sculpting directly in plaster. That was my favorite class at Notre Dame. I loved doing sculpture and still do. It has been my favorite Art form. I've been blessed with commissions to do wonderful large indoor and outdoor sculptures in the Chicago area and elsewhere. Some I have done in direct plaster. Most of them were created in clay, and the originals were molded and cast in fiberglass. My most recent sculpture is "Lady Mercy" which stands at the far end of the new lobby. She was completed in December 2017 for Mercy Hospital in Chicago.
My favorite painting of yours is Women Singing Earth. Can you share how you received inspiration for this painting? And what is its meaning?
This painting comes from my heart-felt awareness of how we humans are causing so much suffering to our sacred and living planet Earth and to all of her species currently and into the future generations. Our human lack of awareness of our deep interconnection with Earth allows governments and large corporations to destroy her, our very Source Of Life, for the sake of "profit"!
This painting is an expression of hope for Earth calling on Women's Wisdom and sensitivity. It is urging all women to be responsive to what is happening, and what needs to be done right now. We can and we must do this together.
This painting comes out of my sense of what a group of women can accomplish. The feminine consciousness is so important to our world today, so my inspiration partly comes out of that. And the realization that when we work together, we can do just about anything. So it symbolizes that the hope for the Earth is in the strength of women and in the sensitivity of women to know what is going on and to take action.
The gesture of the singing and dancing with the arms raised is saying, "We shall overcome." It's the feeling of, "We can and we must do this together. We must continue to be hopeful.'' So it's lifting the Earth and holding the Earth as sacred. It's recognizing what the astronauts recognized when they were in space looking back on planet Earth and realizing what a precious planet we have. They could see how fragile it is. And how it's our only home. So all of that is expressed in the painting.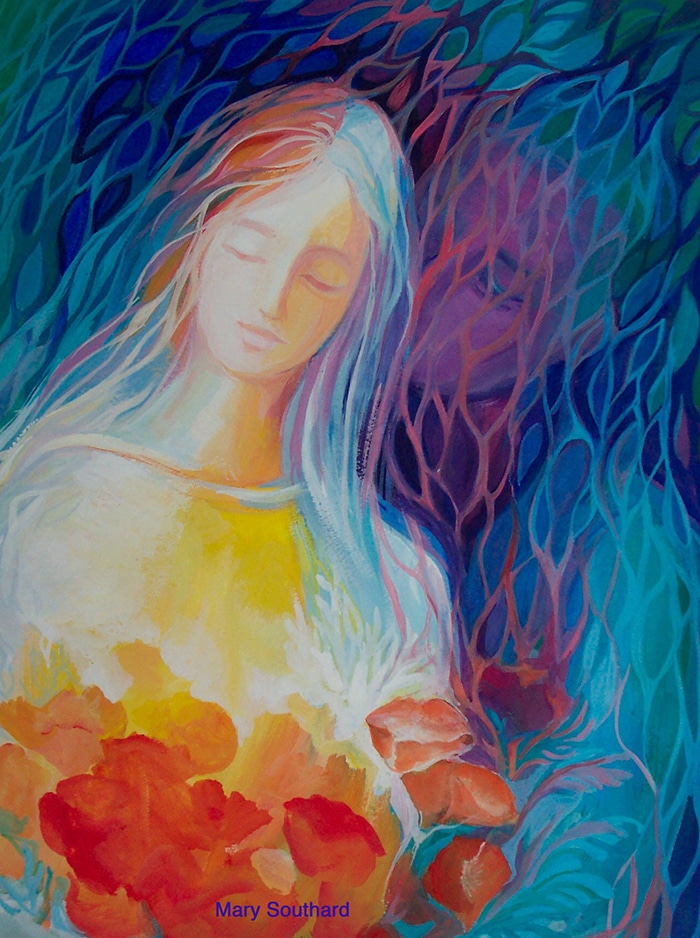 I also wanted to ask you about the painting entitled, Piercing the Veil. It looks like a male figure is on the other side. What is the meaning of that?
That was painted while I was living a few months in beautiful Santa Rosa, California one winter. It was easy there to remember and to sense that the presence of God is in all Creation. I spend time each day out of doors in the natural world where I always have a greater sense of God's presence and the sacredness of creation. Easy to do in California!
There are moments when this Holy Presence becomes palpable, and this painting is about one of those moments. I sensed God powerfully present, yet "hidden" –in the beauty of the garden, behind the veil of hanging moss. "Piercing the Veil" gives expression to this moment when the pervasive Presence loving me became palpable. It harkens to the lines from the Song of Songs in the Bible, "My beloved is like a roe or a young hart:. . . he stands behind our wall, he looks forth. . . showing himself through the lattices" (Song of Solomon 2.9")
I also love your painting entitled, Weaving Energies of Love. It looks like the woman is sending healing to the Earth.
Exactly! What will heal the earth is love. The woman is bent and tenderly blessing the world with her love and care and healing energies. The green hands at the bottom symbolizes the energy of healing reaching toward and holding our planet. I remember being told that green is the color for compassion or healing. And the threads which weave a kind of net is the weaving of love. The energies of love are coming from below, and also from above, and from the woman and from the Earth. The Energy of Love is what poured out of creation into existence and what holds everything together.
When and how did you get involved in creating Spiritual Art?
My spiritual art began In the 1970's while I was in my 40's. My spiritual director encouraged me to put aside my workaholic ways long enough to paint something over Easter. I was teaching, and at the same time I was running a Spirituality Center that I had started. I started out with the colors Alizarin crimson, a blackish color made from Prussian blue, deep green, and a dense living black – a fecund nothingness. Then out of that depth of darkness came light..and emerged a sphere of white and yellow-orange. As I painted that painting, I felt hope and a release from depression and terror that I didn't know I had. There's more, I thought. This was the first time I experienced strongly and knew the healing power of art in my soul.
Some days later, learning we had to do a final paper for a course I was taking in Spirituality, I revved up the courage to ask if I could do my final paper in paintings. To my surprise the professor said yes. So I painted a whole series, 7 paintings, of what it was like to come from a place of darkness into an experience of light and wholeness. I hung the series in our community room with a brief poem/prayer with each painting. Those who contemplated the paintings shared with me how it resonated with them and also they shared their own stories of what they had gone through.
Before a year passed, I crashed—a classic midlife crisis. I was emotionally paralyzed. Another sister artist invited me to come and paint in her studio and I began to paint my terror. When it scared me I would stop. But I kept going back each day, and in the evenings I sketched from "within me" in pencil.
When I was doing art, my anxieties were quieted. By summer, I was growing stronger, and I was able to join the team on a new program, doing art as a form of reflection with the group.
This experience prompted me to ask my congregation if I could study the relationship of art and spirituality which I had experienced so profoundly. A few years later, in September of 1980, I began my study at the Jesuit School of Theology in Berkeley. I arranged to work with a "coach" from January to May who had me paint all of the images from my mid-life upheaval period, freely with no research, until all the paintings came "out" of my system, with no more images left inside. This provided me with a great exercise of trust in the images that were coming forth. Afterwards, the research and reflection proved very helpful in sorting out my life and gaining deep insights into my Self which strengthened that trust even more. I had a little exhibit at the end of the semester, and fellow students found themselves resonating with what I had done and were inspired to pursue their own personal images!
How do you receive inspiration to create the majority of your artwork?
In the process of making art, I allow myself to feel, express, explore and celebrate all the beauty and terror, and the wonder and chaos of our challenging times. My inspiration comes from listening without and within, from my interactions with Life and with my relationship with the natural world. I tend to contemplate on: life and metaphors of our human predicament, the need to find meaning, make meaning, and to be present with illness and grief.
It has been written that IMAGE is the language of the soul, and I find that to be true. Images help orient me in times like ours, and have the power to inspire and heal and help me re-imagine the situation long before words will come. Painting opens my heart and empower my spirit to new ways of seeing and of co-creating the new all-inclusive and compassionate world which is trying to emerge.
Some of the paintings I do are commissions. If someone asks me to do a commission, I usually meet with them, ask questions, have them talk about what they are looking for and that contributes a lot to the feeling and inspiration from which I can proceed.
This is what I want to say about inspiration:"May what I do flow from me like a river, no forcing and no holding back; the way it is with children.Then in these swelling and ebbing currents,these deepening tides moving out, returning,I will sing You as no one ever has, streaming through widening channels into the open sea."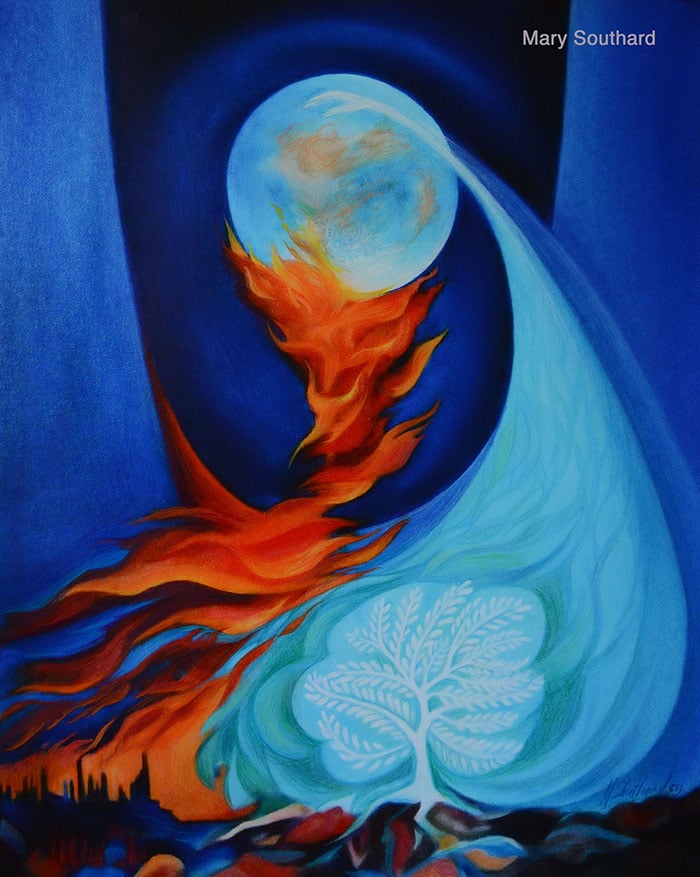 Who are your favorite artists past and present?
In my student years Modigliani, Van Gogh, Turner, The German Expressionists, the sculptures of Ernst Barlach, Arp and Giacometti. Also I am drawn by the paintings of El Greco, Rembrandt, Bonnard, Arthur Dove, Gauguin, Marc Chagall, and Georgia O'Keefe. I resonate with Van Gogh, and if I were a landscape artist I would probably paint like he does because he could see and paint the energy in nature that I also feel.
As an art teacher, how do you teach others to silence their inner-critic?
I actually do not teach art. I do a retreat with people called, Come and Paint. We "step into the flow" before the painting period begins; the flow that is the Creative energy of the Universe flowing freely since the fireball. And then we "let go" of whatever would block that energy or cause doubt in our creativity. We open our minds, our hearts and our souls…and surrender!—to what flows from and through us.
I ask people to stand or sit upright, face to face with their canvas which is affixed to a wall or on an upright easel. Painting then can become a real conversation with the soul. It's a "listening" process rather than a controlling process, and the 'process' is much more important than the finished "product".
The big obstacle in this process is the "thinking mind" and the inner "critic". I often stop the group a few minutes after we start their first painting and ask if anyone is receiving any messages from their inner-critic. Those messages would say, "You don't know what you are doing….You're not as good as the rest of these people…. What made you think you could do this anyway? Why did you sign up for this retreat?" The group would share the whole gambit of inner-critic rantings.
I teach that the inner-critic's voice comes from our ego and it's just trying to do his job of keeping us safe. It's trying to let us know we're in unfamiliar "dangerous" territory, which painting almost always feels like. So in turn, we can try to "bust" him, or try to reassure him in order to quiet him. "There, there, now I know you are just watching out for me, I know you feel threatened, but we are really safe here, and we're at the edge of something really wonderful and exciting and good! I really want to do this! So sit here quietly on my shoulder and watch the adventure." It helps to recognize the voice of the inner-critic for what it is. Sometimes I have people keep a record of inner-critic messages as they come – noting them in their painting journal, or on a post-it note stuck to the corner of their easel. Once they get familiar with the voice of the inner-critic, the messages lessen in power. And this concept probably also speaks to the blocks we receive in other areas of our everyday lives as well.
What do you hope to accomplish through your art?
I would love people to see the beauty and sacredness of themselves and of creation; the sacred and intimate relationships we have at the heart of life. I want people to awaken to our evolutionary Universe and let their awareness evolve. I'd like people to see the beauty, grace and love that makes life such a gift.
Back in the 70's when I asked about doing Art as my Ministry, I started designing and producing a calendar to sell every year. So for some 30 years I have made these calendars, first by myself, and gradually involving other artists. Each month featured a piece of seasonal Art, as well as daily reflections and invitations to enter into greater relationship with the Self, the Holy, and with Earth.
Each year's calendar had a theme or a focus. One of the earliest calendars was for a Year of Peace. The Calendar Ministry continues to this day, now administered by the Ministry of Arts and features several artists each year. Our Ministry of the Arts also accepts donation$ so they can provide calendars to prisons for the inmates to have something beautiful and good in their lives each day.
Do you have any new goals for the future concerning the direction you want to go in with your art?
Making Art is one way I love to participate in this Great Work of our time. I am so grateful to be a member of the Congregation of St. Joseph which encourages the Arts as a way of being in service to the world. I want to participate in adding a little more beauty to this world before I die. I want to create ever more free and full of love:"In the end, it is beauty that will save the world," wrote Dostoyevsky, "Love all creation, the whole and every grain of sand in it. Love every leaf and every ray of light. Love the plants. Love the animals. Love everything. If you love everything, you will perceive the Divine Mystery in all things. Once you perceive it, you will comprehend it better every day. And you will come, at last, to love the whole world with an all-embracing love."