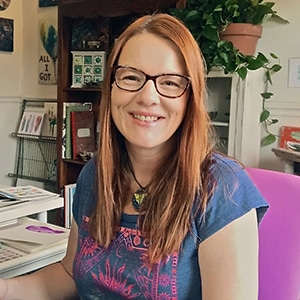 Melanie April is a self taught watercolor artist. In 2015, she refurbished and opened an art studio in her hometown of Sarasota, Florida. Having the space gave her the wings to not only create but share the gift of creating with others. She began teaching and found much joy in helping others express their own unique art. She also began posting her art on Instagram, and found a wonderful community of kind and inspiring individuals. She now enjoys teaching online and reaching a wide audience through her social media presence. Melanie's greatest hope is to inspire others to enjoy the small wonders of life, see the beauty all around and create from that space of inspiration.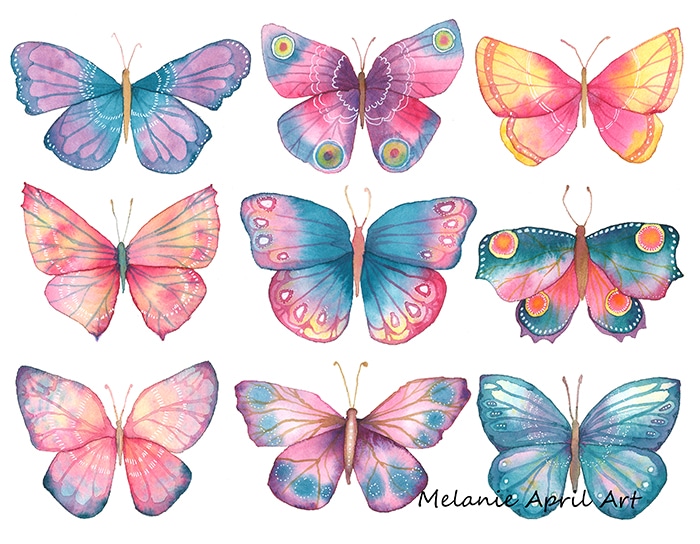 When did you first start creating art?
So the story goes, that when I was little, you could stick me in a high chair with a crayon and I would sit there for hours drawing circles. I guess as long as I have been able to hold a mark-making tool I have been creating art.
I have been back and forth throughout my whole life creating and not creating art but in my youth I was constantly making something.
Did you ever draw on the walls as a kid?
Oh yes. Often. Actually when I got a little older, I was allowed to paint on the walls of my bedroom. I did a couple of murals. I also had a friend who worked at a printing company and she use to give me these giant rolls of paper. And I created a border with that paper for my entire room, just one continuous border at the top. So yes, my room was a hot mess but it was beautiful! There was art everywhere in between all the posters of the 80's pop stars.
Were you encouraged or influenced in childhood to be creative?

There was always encouragement. Around the age of 8-10, I stayed with my Grandmother a lot and she had Currier and Ives books. I would draw pictures from those books. She would just go nuts over them! So she was a huge encouragement for me in the very beginning stages of becoming an artist, giving me that reassurance of, "This is a good!" and, "You need to keep doing it!" Then I moved on from Currier and Ives to start drawing my own things. I use to draw faces a lot. Just random faces and my Grandmother would always be so supportive and surprised.
Did you have formal art education?
I did not. I took art as an elective in high school but I am not sure that it could really be considered art education..I was in class with a bunch of other people who loved to make art but it was more crafty things that we did. It was fun.

Then just a couple of years ago, I took a watercolor class with one of my favorite artists, Carol Carter. Those are really the only art educational things I have ever done.
What has been journey. You said you have come back and forth with art.
I think for me, looking back through the cycles of my life, I know that when I am not creating I am destroying, I know that sounds harsh, but creating art is something that I have to do.
And in those phases of my life where creating was not in my routine or a priority those were probably the down spirals of my life. So I feel creating is just part of who I am. It's how I process, it makes me feel good, its just something that I have to do. I don't know how else to explain it. It just has to come out.

About two years ago is when I had the opportunity to not have to make an income from my art. I don't know how that shifted for me in my brain but all of a sudden without that pressure I started to create an income from my art. I opened up a studio locally and started teaching watercolor and painting and other creative things. That really helped me because I wasn't sure if I could teach. I knew I could create but I wasn't sure about my teaching abilities. But doing that really gave me the confidence and inspiration to keep doing it and then to do it online

I have stopped teaching in person. I don't have that studio anymore. I have a studio in my home but I do all my teaching online now. I don't think I would have ever taught on line though if I didn't first know how to teach in person. The whole thing was a process leading me to where I am now.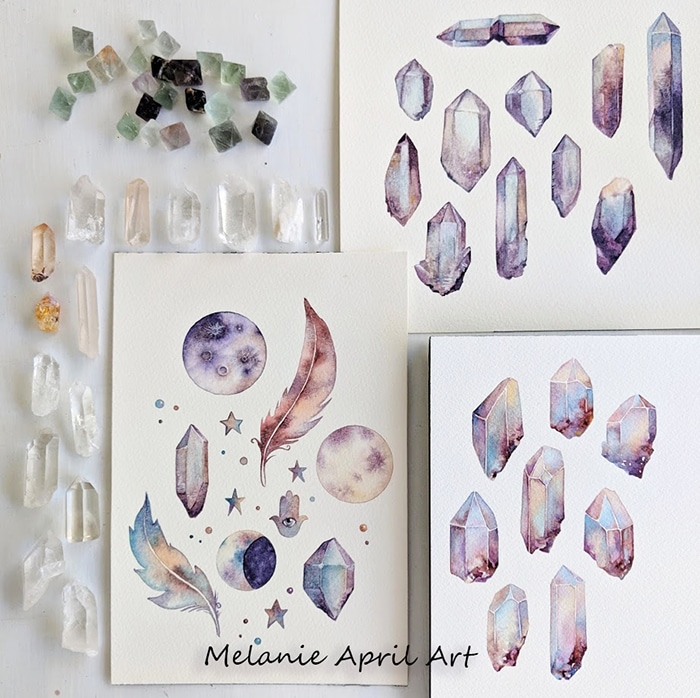 Have you ever been a freelance book illustrator or graphic designer?
No. I have done little jobs here and there but I like my freedom. I guess I am just now to the point where I am open to whatever comes my way but I am also a lot more picky or precise about what I create and how it feels for me.

I have had a few opportunities, like right now I am a paint ambassador for prima watercolor. And I am so appreciate of the opportunities that they have given me. At the same time they allow me freedom. They don't have stringent rules. There's a lot of freedom involved in it so it works for me. Because the most important thing to me is my freedom. And any constraint I feel in my artwork creates resentment really. If I ever feel I HAVE to do something a certain way it just doesn't work.

Can you explain what you do as a Prima Watercolor Ambassador?

As a paint ambassador I create art using their products and post them on social media. I sometimes create art for their packaging and just recently they've asked me to represent them at a trade show as an 'honored artist'. I'll be demonstrating 'live' using their paints.
What do you hope to accomplish through your art?
My belief is that we are all connected. And I believe that the energy, the joy, the inspiration for me to create, translates into my work and translates into the world. My goal with anything is to bring joy, bring inspiration, and to bring beauty.
What inspires you. Where do you get your ideas?
My art is very nature inspired. I think my emotions inspire me too. Although it may not always be obvious, like when you look at a painting I did of a butterfly, you may not immediately feel or know that I painted it because of what I was feeling. But that butterfly is what translated out of my emotions. There was a lot of emotion behind it.
I love the video you made of you painting a crystal!
Ya! that actually started as a meditation practice.
I use to go to a local place here and paint nude live models. I found that when I was doing that, I wouldn't draw with my pencil. I would only use my paint. By doing it this way there was this lock in moment. Like this deep flow of just seeing what is in front of me and translating it onto the paper with only my brush. And I think I learned more doing that then anything I have ever done. But they stopped offering those models and I missed doing it.

So one day I picked up a crystal, held it in my hand, and did the same thing as I did with the nude paintings. It's the same process because I don't draw them first. I am only using the brush and paper and looking at the crystal in front of me. Painting a two inch crystal takes me about 30 minutes to do in this way but it's totally worth it. It gets me into that same flow again.
How has your art and the creative process been healing for your life?

I think I touched on it before. It's something I just have to do. Its part of my healing. It brings such joy to my life. Without it, I am a hot mess.
You also said that it helps you to process emotions, right?
Yes, it does. There is a lot of stuff that I do that I don't really show. I have journals and little drawings and just words that I don't show the world; there is a lot of private stuff. And I also do a lot of collage. I have a big mixed media book and I tear and paste images, and colors and just things that I see that I love. I do a lot of collaging and that helps with processing. I tell myself, this is for you. It's not something that the world has to see. So it doesn't matter how it ends up and I think that's really powerful.

I also rearrange a lot. Which I think is an art form in and of itself. And that is also very processing for me. So, if I am having a problem sorting out what I am trying to create or if an art project is not going right…if I rearrange my room, I can usually figure it out.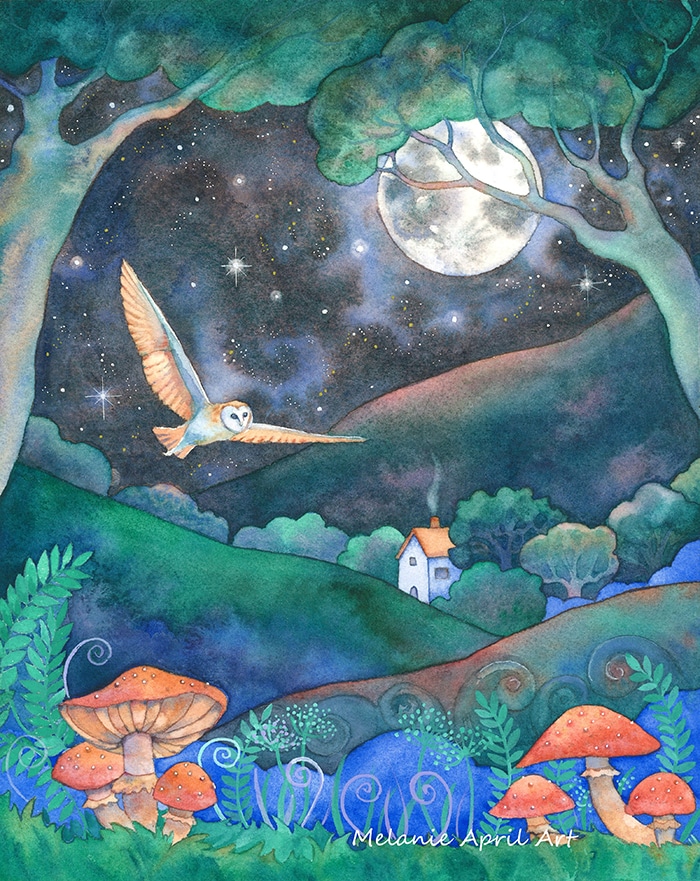 How often do you paint?
Pretty much every day except Sunday. I try to do something every day. It might not be huge but I put brush to paper six days a week.
For how many years have you been doing that?
It's been just for the last couple of years a daily practice.
What is your daily routine like on days you are creating art?
It kind of cycles. Some times I get up early and sometimes I stay up late. But the routine is typically about 3-4 hours of painting. I take a lot of breaks though, I get up, I move, I do the laundry, I wash the dishes, I look out the window. But I am painting or creating or drawing or doing something of that sort for 3-4 hours a day.
That's very disciplined of you.
I am not a very disciplined person so it took a while to get there.
Was the inner critic ever a problem for you? How did you get past the voice of the inner critic?
Yes, and probably still is. For me, I had to get to a place where I make friends with it. So, When you hear that voice (and that voice is basically telling you you're not good enough…I mean that is pretty much the basis of all of it) instead of hearing or feeling it and taking it as the gospel of truth, just kind of have a conversation with it. Like you can say, "Ok, maybe this is terrible and so what. Its not the end of the world."

I also had to get to the point where I was willing to make bad art in order to be able to make good art because, like, nobody plays the piano right the first time. It all takes practice. I think that doing something consistently, even though you may not be that great at it at first, will show you the improvement, which is so encouraging.

So I made friends with it but I think its a struggle for all of us forever. I don't think that it ever truly goes away. It's just a thing you make friends with. And you learn how to deal with. It's like being around a difficult relative.

I also tell people who are just starting to learn, you don't have to make a finished piece. You can make a square or a circle, fill it with water, put some color in it and then allow yourself to have joy in that circle or square. And go from there. You don't have to make something that's identifiable. Just start small.
Who are your favorite artists past and present?
I have always appreciated Vincent van Gogh. And then after reading the book by Irving Stone called, Lust for Life, that sent me on doing more research about him. His whole life story just really had a huge impact on me. So definitely him. I would say he is number one. But I was also influenced early on by all the pre-raphaelite painters like Dante Gabriel Rossetti and William Morris Hunt. I was influenced by their use of color and the women that they painted and the mythology.

A current artist I love is Carol Carter. Her work just gets to me. And since finding her 5-6 years ago I have also gotten to know her. She is very inspiring to me. She has been an artist for 30 years and she ''shows up'' every day. And I find that so inspiring.