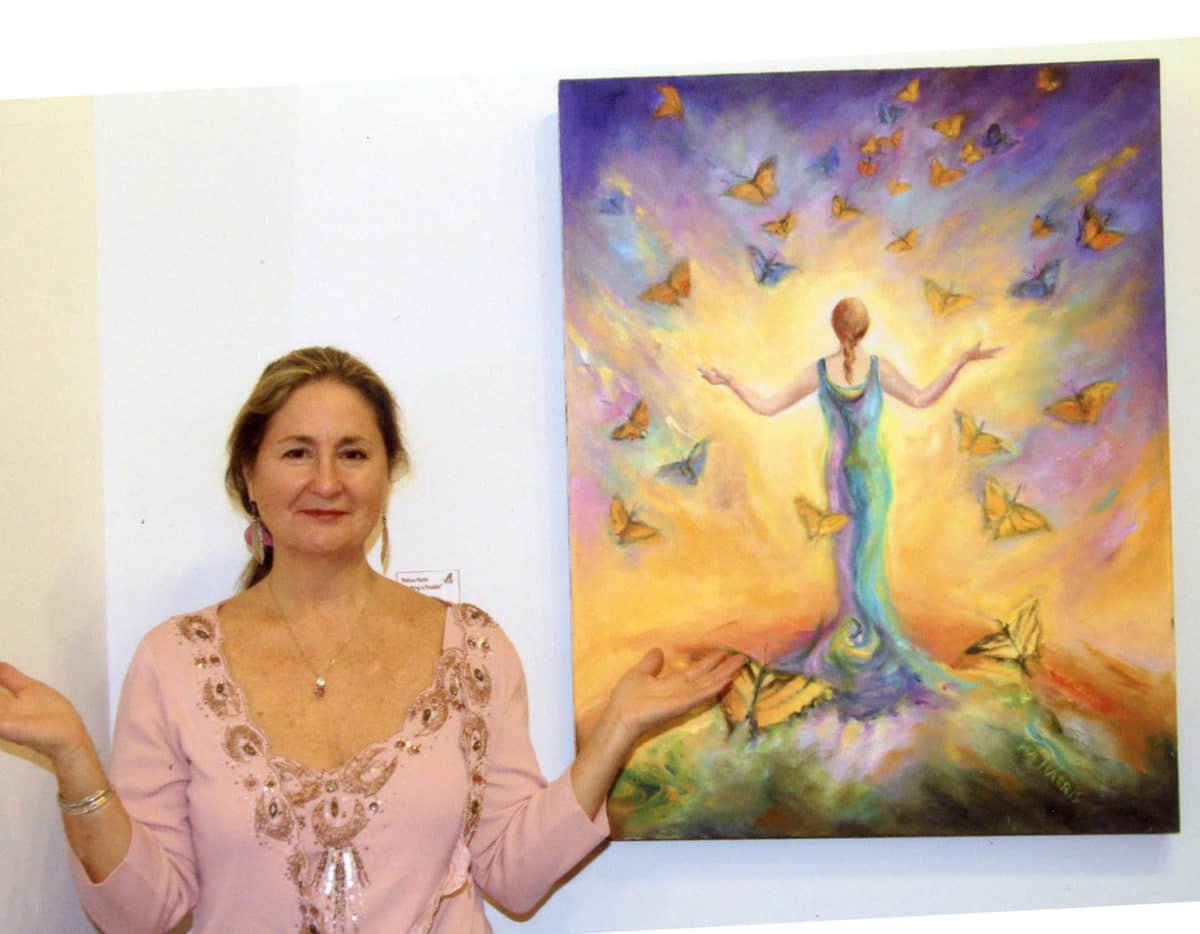 Melissa Harris is an internationally published artist and author, and offers a unique combination of highly experienced artistic technique with a strong intuitive capability. Her book,99 Keys to a Creative Life,combines creativity with spirituality. 99 Keys offers solutions to helping everyone access more of their own creative potential in everyday life. Melissa's Art and spirit workshops and retreats marry her love of travel, art, and meditation. All levels are welcome. Her dream studio is situated on Dragonfly acres, 9 beautiful acres of forest and meadow in the Catskill mountains Her favorite way to vacation is to document her travels in paint. She is the owner of Creatrix, a company featuring her imagery on original art and reproductions more since 1990.
Rita: I like how you have combined your love for art, teaching and travel by offering Art And Spirit Retreats. What are some of the reasons people choose to go on these retreats?
Melissa: Sometimes it's the call they feel towards the particular place that we are going. Sometimes it's the desire to work with me or it's a desire to travel and be with a group of like-minded souls. There is an upcoming trip to Ireland, and people love that we are going to paint at the sacred sites. So it's different for different people but there are definitely some overlaps in terms of what people are looking for in the retreats.
I also do four retreats a year at my studio and for some people those are travel retreats if they are not local to the area.
Rita: Where is your studio?
Melissa: My studio is in the Catskill Mountains in New York on nine acres. I have a big beautiful studio with skylights and there is a meadow in back and a stone circle fire pit outside and a forest. So it's pretty special up here.
Rita: Where do students spend the night during retreats?
Melissa: I have an air B&B at the studio and I have a friend down the road that puts people up and then some people stay at other local B&B's. I am actually thinking about expanding accommodations here at the property. But until then, I help people find places to stay.
Rita: What can people expect when they go on a travel retreat with you?
Melissa: On anything that I do there is always going to be some kind of meditation and guided visualization. There are going to be demonstrations that cover artist technique.
On the Retreats there is time for relaxation and to be alone and process some of what comes up. Sometimes people combine that with their own private practices such as journaling.
In Ireland we do some "plein air" painting (painting on site). There is a particular castle and beautiful gardens where we paint – as well as a holy well or whatever else we come upon where we can fit in a painting session!. One person said that they experienced a lot of fairy energy while there, which was cool. When we went to a particular spot in Ireland, another woman said that she had a profound experience where she felt like she was actually visited by the Goddess Diana. People have had really mystical experiences and they return for more retreats. It's pretty special.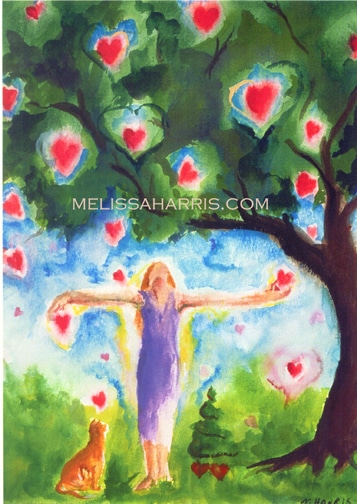 Rita: How do you help your students when they feel blocked by their inner critics?
Melissa: At the beginning of any kind of class or workshop, I say to my students, "We are going to throw the inner-critic aside" I try to take off the pressure by saying, "There's not going to be any masterpieces being made today and we're not going to have any kind of expectations. We can just throw expectations into the garbage so we won't have to worry about them" and then everyone starts laughing and they begin to relax.
As the workshop progresses we will have discussions. I might be working with one person and then call the others over and say, "Have a look over here at what she is doing," and the other students offer feedback. Everyone learns from each other! What that also does is that the person who is making the art, who is having a little bit of difficulty, sees the positives in what they are doing. A lot of people who come to my workshops are people who have been damaged in Art School by being criticized too much, therefore we will always point out positive pieces in what they are doing.
What I enjoy doing the most is looking at people's styles and personalities and picking out where we can strengthen the strongest points and make their artwork better.
It may be that the person doesn't have the skills or the tendencies to paint the kind of image that they set out to do but we can usually find a way around that and we can also discover different types of imagery that might satisfy them and be more aligned with their personality, their hand-eye-coordination and their tendencies.
Rita: In your book you say that painting is your medicine. In what ways is your art and creative process medicine for you?
Melissa: In that I don't feel good when I am not doing it. It feels like something is off. When I am not painting, I really don't feel connected to the core of my being. I don't have the general sense of excitement and passion that I have when I am painting regularly. So, it just makes everything right; it makes everything good.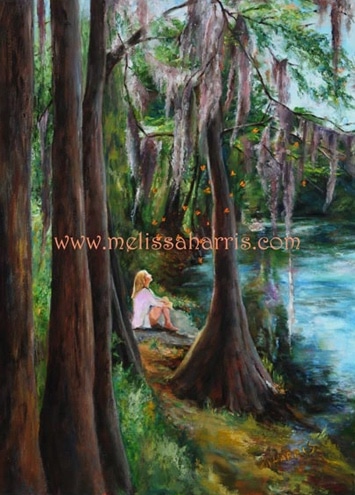 Rita: How long do you go without painting?
Melissa: It can be a really long time if I am super busy. I don't like it, but yah, it can go a really long time. Sometimes I will keep a journal and jot down ideas for the future. What happens for me is that I will put so much creativity into my classes and my retreats that it partially takes care of some of that need to create.
Rita: Do you have any final words you would like to add to the interview?
Melissa: I really like to support people following their call. It's so important for us to be connected to our passion; to be connected with our core; to know what is calling us so we can live the most fulfilling life possible. I know there are many people out there doing the 9-5 and they need to and I support that and of course I support being responsible and doing what we have to do. But I do think it's important to know what calls to us, so that maybe we slip in five minutes in the morning for that. Or maybe we can make a play date for ourselves to get a little bit of that JUICE so we can feed our spirit if we are not someone who is able to do exactly what we want to do all the time.
I support people in really listening to their inner beings so they can live the most fulfilling lives that they are able to live.
Rita: That is really beautiful. That is going to speak to people.
Melissa: I think it's important. And I think people are very removed from that in general. I think that's why there is a lot of anger and frustration right now in the world, so I support people to come back to themselves.