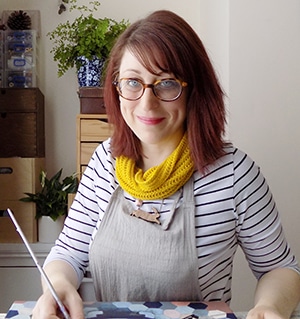 Rachel Grant is a freelance artist, illustrator and surface pattern designer based in North Staffordshire, UK. As well as creating original art and prints that she sells in her Etsy shop, she also licenses her artwork and patterns across a wide range of product categories including books, editorial, stationery and home decor. She is represented worldwide by Jennifer Nelson Artists Inc and her clients have included The Boston Globe, Abrams Chronicle, Taproot Magazine, American Greetings, Peter Pauper Press, Martha Stewart Living, Amber Lotus Publishing and many, many more.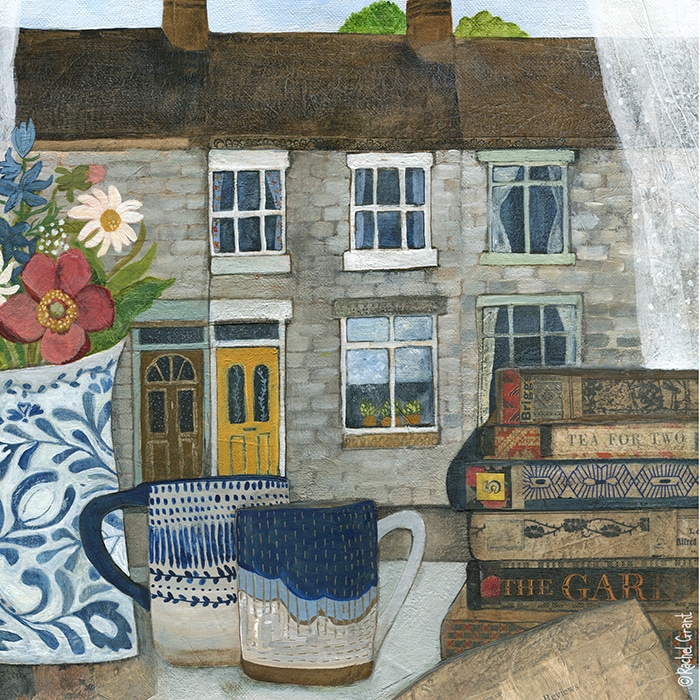 Were you encouraged or influenced in childhood to be creative?
I was one of four children and we were always encouraged to use our imaginations and be creative in whatever we did. Not necessarily in a traditionally artistic way, although that most certainly wasn't discouraged, but we were relatively 'free range' kids. Exploring, building dens, riding bikes and making things. My Mum was always making something, clothes, bread, jam and her big passion was, and still is, gardening and growing food. Thanks to my Dad the house was often full of music in one form or another and so all these creative influences shaped the way that I experienced and interpreted life.
What kind of art did you create as a child?
As a child I was definitely more of a 'maker' than a painter. It began with cereal packets and paper constructions and quickly moved on to sewing and knitting, I think I was doing both by age six or seven and knitting baby jumpers by middle school. However my ambitions were always greater than my abilities and I would end up with bags and bags of half finished projects and that went on for years! I always seemed to do well in art at school and enjoyed it but it wasn't until my mid-teens that I began to see the possibilities in it for my future.
Did you have formal art education?
After high school I went to my local university for a foundation course in art and design, in the UK this is a standard one year entry course for all arts degrees. After that, I moved away to Buckinghamshire, just outside London, for a three year degree in Textile Design and Surface Pattern. I absolutely loved these years full of independence and creativity. By the time I was in my final year I thanked my lucky stars everyday for having had the opportunity to experience it.
I knew then that being able to get up and devote that whole day to creativity was all I wanted to do for the rest of my life.
What influences your painting style and what you paint?
Painting for me is a fully meditative process. When I sit down to paint I am looking to escape my reality, especially the chaos, and to connect to my inner calm. I describe my style and what I choose to paint as being my 'hand' and my 'voice'. What people refer to as a style is just a constantly evolving set of repetitive actions that come through my hand from a deep place within my subconscious. Sometimes my hand is looser, sometimes it is detail orientated, sometimes it wants to cut up paper, other times just play with paint. Rather than saying "this is my style" I like to think that you can see my hand in everything I do and that is influenced, I guess, by decades of things I've seen and absorbed, shapes and strokes that I've repeated over and over. My voice is how I decide what to paint and this is influenced by all the things I love, things that bring me a sense of peace and calm, and the things I believe are most important in this world.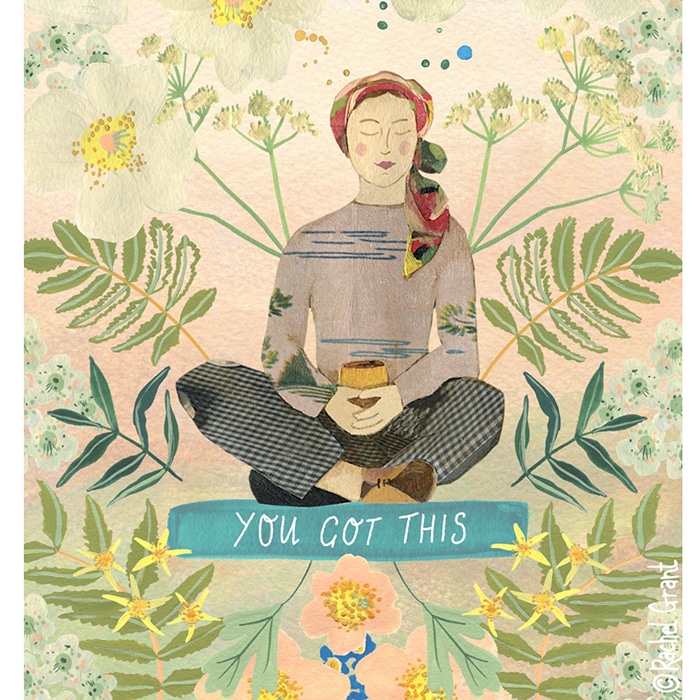 Does your philosophy of life enter into your artwork?
I very much believe in living a life that's connected to, and grounded in, the seasons and the simple things, redefining wealth as health, peace of mind and fulfillment of soul. I hope that this does enter into my artwork in different ways.
Where do you find inspiration to paint new paintings? Can you explain your creative process?
Only a tiny proportion of the paintings that I see in my mind ever actually become paintings. My mind processes everything that I see and responds with ideas all day long and during times of particularly high creative energy this can actually become quite exhausting as my hand would never be able to keep up with my brain. When I sit down at my desk I first have to decide the end use of the artwork I'm going to create that day. Some days I have client work to do. Commissions for me usually mean books or magazines so the subject will be dictated by the text. Other days I am creating work for my art licensing portfolio. I am represented globally by Jennifer Nelson Artists Inc. and my artwork is purchased and licensed for use on all sorts of different products like stationery, greetings cards and home decor. I regularly create new work for Jennifer to present to clients in these categories so when I'm thinking about what to paint that day I am likely to choose subjects that are needed most like florals and holiday art.
Finally, there are also days where I create original art and illustrations to sell in my Etsy shop. On those days I will most likely go to my desk, without a plan, and look through my sketchbook and saved photos for ideas that I've jotted down at other times. And then really just go wherever my heart pulls me that day.
What would you like your art to accomplish?
I would just like other people to like it enough to want it in their life in some way in order to give purpose to my experience of making it and enable me to continue to do that.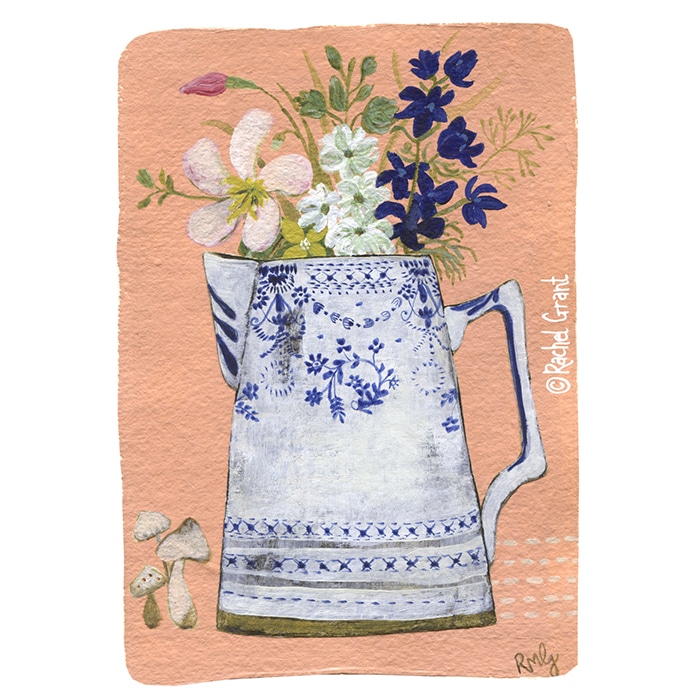 Has your art and the creative process been healing for your life?
Like most artists, creativity is essential for my mental wellbeing. My brain gets 'buzzy' and anxious when I'm not creating and as soon as I get that brush in my hand, I can feel calm again and peaceful.
Was the inner-critic ever a problem for you? How did you get past the voice of the inner-critic?
I think when you focus on the benefit of the process, it helps a lot to avoid excessive critique.
I've always spent more time absorbed in my subject and in the process than I have been in analyzing if it's 'good enough' or not. I have also been very lucky to have benefited from many years of positive art education that gave me a lot of confidence in my ability and beyond that, I have always just been surrounded by really positive leaders, colleagues and probably the most important, buyers and clients! As Andy Warhol once said "Don't think about making art, just get it done. Let everyone else decide if it's good or bad, whether they love it or hate it. While they are deciding, make even more art."
Of course I make lots and lots of art that I'm not happy with but I'm ok with that, I simply vow to do better the next time and I suppose that's part of what drives me to keep going!
Is there anything new or different you would like to accomplish with your art? Any new direction you would like to go into in the future?
There are lots of products out there that I would absolutely love to see my artwork on. Collaborating with companies to create actual real life usable 'things' with my art is the greatest buzz in the world for me and although I have been lucky enough to work on lots already I still have plenty of dreams yet to be fulfilled. I would love to create a fabric or clothing line, bedding, curtains. I'd love to see my art on ceramics, glasses, tins, trays, umbrellas, welly boots and wallpaper!!