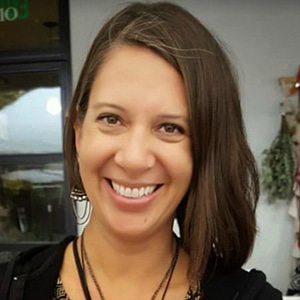 Regina Lord was born and raised in northern Arizona and has lived in Arizona for most of her life. Regina studied art throughout her school years along with studying to become a registered nurse. She received her BSN from Northern Arizona University in 1999 and worked as nurse for almost 15 years as a nurse in various hospital settings. Eventually, the call to become an artist became so strong that she left her nursing career behind to pursue her creative dreams.
Regina currently lives in Tucson, Arizona with the love of her life and her two beautiful boys. She is strongly influenced by the warm weather, bright sun and the Mexican style, colors, and architecture.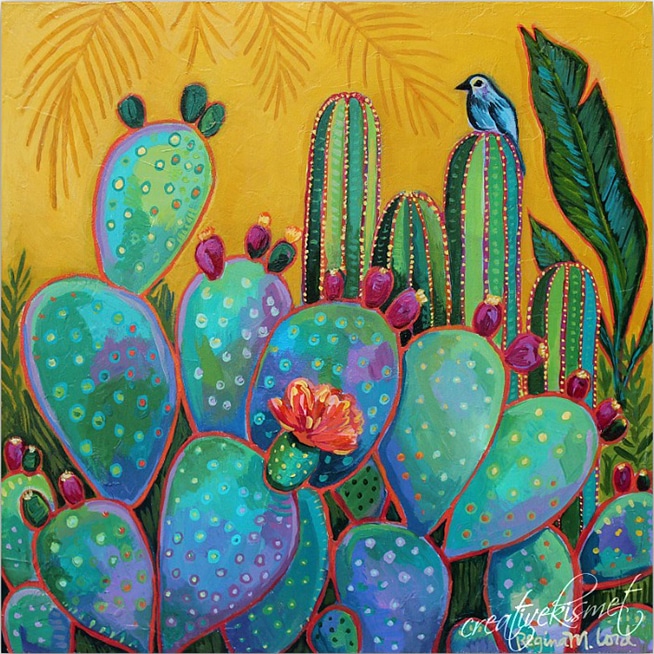 What was your job before becoming a professional artist?
I was a nurse for about 14 years. During that time I would make art as a way to relieve stress. Nursing is a very stressful job. I worked mostly with women and children. First I worked in the department of pediatric oncology which was difficult but after having my first child it became so much harder so I switched to general pediatrics which was also very challenging.
Then I decided to do something less stressful so I went into mom-and-baby care. There I helped new mothers with post-partum care and newborn care. I was also a lactation consultant, which has its own challenges and stress.
Just being a nurse in general is stressful because there is a lot asked of you especially in a hospital setting. The hospital doesn't really give nurses the support that they need but they are starting to now. My sister is a nurse and they are starting to set up rules and laws to help take better care of the nurses.
So your art helped you to relieve stress while you were a nurse?
My whole life I have always been creative and I have always been into drawing and making things. So it was natural for me to pick up a pencil and sketch. I wasn't into writing in a journal so my art was my way to deal with stress. Having a sketchbook always on hand was my therapy for a long time.
Are you a self-taught artist?
Yes, I am self-taught. I did take some art classes in college before I knew I wanted to go into nursing. At first, I wanted to be an art teacher but it was right at the time they started shutting down art programs in the schools where I lived. I had taken classes in ceramics, art history, drawing and that sort of thing. But when I changed directions into nurses my classes became all science.
What category would you say your art falls into?
I usually say contemporary folk art because it has a whimsical element to it. My colors are very bright and bold. It has an inspirational element to it too. It's positive art. It's very hard for me to pin down exactly what it is.
The feedback that I get from people is that it is inspiring to them. It makes them feel happy. My tag line for my art is, "Happy, make-you-feel-good Art."
You seem like a prolific artist. Is that true?
Now that I am a full-time artist and I have to contribute to my household, I sit down every day and put my head down and get to work. I don't wait around for ideas, I just take up the paint brush and see what happens. Like right now, I have 6 different paintings that are half-finished because I hop around a lot. I also like to do a lot of little pieces because they seem to move better. When people first find my art, they want to buy something little and then they come back for something a bigger. So I do a lot of little pieces which are easy for me to paint every day.
I do a lot of local art shows and art markets with my art. And so that keeps me producing my art.
I also use facebook and instagram as accountability to keep me making stuff.
I am the happiest when I can sit down and paint even if I am having a busy day with my kids or working the business side of my business like computer stuff. If I can sit down for just 30 minutes… I feel a lot better if I have been able to have that creative time.
What inspires you to create?
My biggest inspiration is nature. I live in Tucson, Arizona, and I love the sunshine and the desert. We have a very large Hispanic and Mexican community and so there is a lot of influence from Mexico. There are a lot of brightly colored buildings and really cool Adobe houses. All of that brings me inspiration.
I will only paint things that I really love. People will try to give me suggestions of what to paint but I can't do it. It has to be something I am familiar with and I really love because joy is a big part of my life.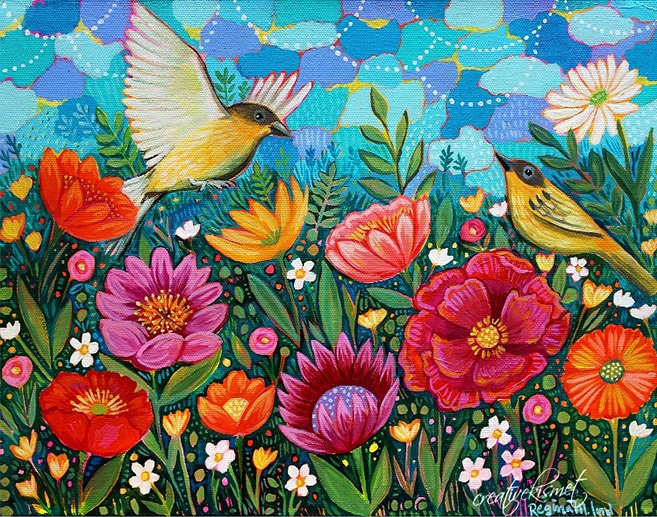 What made you leave nursing?
I was feeling really burned out from nursing. I had been given a bad evaluation at work because they didn't understand why I needed to spend so much time with my patients.It was very frustrating for me because they couldn't understand why I needed to make sure that the new mother's felt confident in their abilities to breast feed. There were 25 babies born a day at the hospital and the hospital just wanted to get them in and out as fast as they could. But it was scary to me. I was literally worried about these babies. Only about 20% of the new mothers were actually prepared to be mothers.
All of this made me realize that this job wasn't for me anymore. And If I left the hospital to work in an office, I wouldn't make a third of what I made at the hospital.
Plus, I had already been selling on Etsy and slowly growing a following. I was wanting to spend more and more time making my art. A year before I quit nursing, I had taught an e-course in art and it had gone really well. And so I was like, "Okay! I quit."
Leaving nursing had been a slow progression. At first I worked full time and then slowly I went to part time and then I went per diam which was as needed. And I slowly helped my husband prepare for the idea of me not working as a nurse anymore as I was trying to do my artwork on the side. I felt that my art was something that I needed to do and I wanted to do.
Even the first week of being a nurse I knew it was not what I wanted to do for the rest of my life. I knew it was just about helping me through building a family and getting a home and that kind of thing.
How has your art and creative process been healing for your life?
I am actually a really anxious person and I suffered anxiety all through nursing school. I had really awful heart pounding episodes where I felt like I was going to die. I didn't have them as much when I was a nurse because my art helped to calm me down and feel better. And then when I quit nursing altogether, my husband saw a big difference in me. I was no longer moody, unhappy or short tempered. I became calm and so much happier.
Even though I now have pressure to make a living with my art, it still gives me a good feeling. It's the only time that I feel super relaxed. Like, I get into a painting and it just sends me out. I don't think about anything but what I am doing. It's a very in the moment experience. Anything I had been stressing over just melts away.
Art has always been my way to hide from uncomfortable situations. I take my art journal with me wherever we go. If I have an encounter with someone who I have to spend a lot of time with and maybe we don't have the same vibe, I can just dip into my art journal and kind of play around and zone out.
What do you prefer? Teaching art in person or through internet courses?
Actually, I really like teaching in person because I feel comfortable with what I am doing. It's when I am not prepared or I don't have a plan that I feel anxious. But I really like the interaction. And I make sure I am prepared. Also, I don't usually do a class with more than 6 or 7 people. I keep it small and that helps it be relaxed. But I always spend the first 5 minutes with my voice shaking and then I get over it pretty quickly.
Have you always been creative? Did anyone influence your art?
My grandfather was very creative. He was born and grew up in Jerome, Arizona, which was a small mining town. He was a copper miner and he painted a mural of Jerome, Arizona, on his downstairs living room wall! He was the kind of guy that would say, "I think I am going to try wood burning" and he would do wood burning. Or he would say, "I think I am going to try carving today" and then pick up a piece of wood and carve something. He was always busy hopping around making all kinds of things. He was always tinkering and making things for the house. He was handy at fixing things.
I lived with my grandparents for part of my childhood and he would paint the windows for Halloween. I was the firstborn granddaughter and me and my Mom lived with my grandparents the first few years of my life. My grandfather was always sticking a pencil in my hand. He was the one who encouraged me to paint and draw and make things.
So I spent a lot of time doing art and I was really good at drawing what I saw. I could look at something and draw it or I could copy something I saw from a magazine. I got a lot of attention for being able to do that. My whole childhood I was known for being artsy. When I left my career in nursing all of my old friends would say, "I knew you would get back into art some day." Everyone thought that I was always going to be an artist. Art has always been something that I have always done.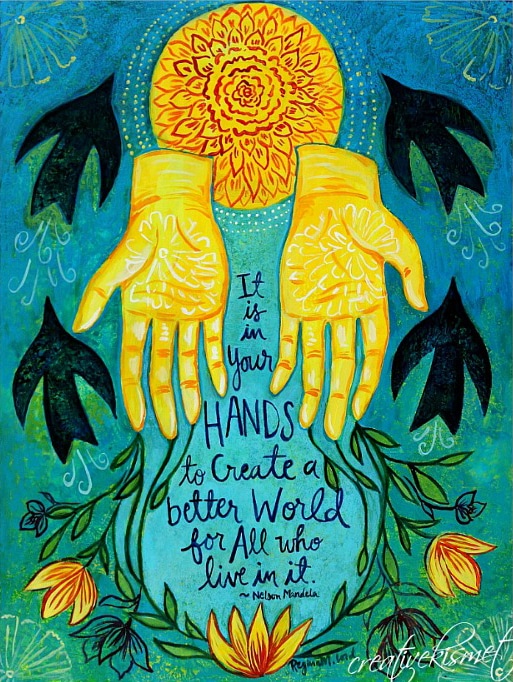 What about the inner critic? Was it ever a problem?
I think I have spent too much time trying to do what other people liked. And not really liking it myself and not being happy with it. I see that with a lot of people. They are not happy until they find what they love.
I once went to Art Fest, a big Art Festival in Seattle in 2010 or 2011. I took my first painting class there from this one artist who uses very earthy monotone colors and I tried to duplicate what she did and I hated it. I thought, "This is not working out for me. Maybe I shouldn't be an artist?" But when I realized that those were just not my colors, things started turning around for me and I learned to stick to doing what I loved. At first I had thought, "She is really popular. Everybody really likes her. I should try to do what she is doing." But everything turned around for me when I said, "I don't want to paint like her. I want to paint how I want to paint."
Also, I don't really like to be like everyone else. Like when everyone was getting apple phones I got an android. I kind of always want to go a little bit against the grain. When I was doing what other people liked or what other people were doing…I didn't feel like me. So then I started to pay attention to what I liked and what I wanted to express and it really turned it around for me.
When was that?
I would say that it was a little before I quit my nursing job when I decided, "These are my colors and this is what I love!"
Any new projects on the horizon or any future goals?
Last year, I joined a Cooperative Art Gallery because I thought that was the direction I wanted to go in but it didn't work out for me. There was so much to do on the business side of keeping a gallery open that I didn't have time to create my art. A lot of the computer, social media and website work fell on me. So I had to get out of there. But now I know what goes into a brick and mortar business and I know I don't want to do that. It was a big learning experience and I met a lot of great people in the process.
After that happened, it kind of drained me. So I am just going to do what I do. I have so many art pieces in my head to explore and to sit down with. I also want to do some more e-courses which I haven't had any time to do. I am hoping to do that and to teach a few classes in the summer.
My big dream is to be able to afford my own art studio in my back yard. Right now I paint in a tiny room in our house. I would like a place of my own to teach where I don't have to pay expensive rent. My oldest son is going to college next year so we are trying to get through that first.
Does your philosophy of life enter into your artwork?
Yes, I really believe in putting out the message to look at the bright side of things. I didn't have a great childhood so gratitude is very important to me.
I am so thankful for my kind and loving husband and my happy home. We have a very calm household, no drama. I grew up in a kind of crazy household with an alcoholic step-parent and that sort of thing. So I am very grateful for the peace I have in our home. I like to add that gratitude message in my artwork. I believe that things can get hard in life but you can still look towards the light and try your best to live in a positive way.
Right. Sometimes you actually write positive statements into your artwork.
Sometimes I will use a quote but other times I will just think of something to write. I have a whole notebook full of things I think or I see. I like to integrate them into my artwork. Sometimes it's politically charged…something may have upset me and I will put out something positive like how I wish things could be.
How do you see your art, creativity and self-love intertwine?
I think they are very intertwined. I am 47 so it's taken me time to get here. I think that is true for most women. As you get older you start realizing that it doesn't matter what people think of you or what you look like. What matters more is how you feel about yourself and to love yourself. And I have put those themes into many of my pieces. If you can't love yourself first then everything else won't come together the way you want it, I believe. I like painting women sometimes and my most popular painting is called Self-Love.
I love the idea of taking care of yourself. It was totally not something that I was taught. My family is Hispanic and my Grandmother was born in Mexico. It's all about, "You just suffer. You take care of everybody else. It doesn't matter what you want." That's how it felt while growing up with my Grandmother and my Mom. It doesn't matter how you feel. You just have to be strong and do the work. Take care of everyone else first.
But then I learned through nursing that if you don't take care of yourself, then you can't take care of anyone else. You just get too wiped out and then you become bitter. So many nurses I know are bitter and not happy.
Especially now having my own kids, I want to be the best Mom I can be. And taking care of myself is a part of that. I am actually a much better Mom now that I have followed my path and have done the things that I wanted to do. And my kids get to see that I have created this business all by myself.