Sonia Koch was born in Arica, Chili in 1968. At age 18 she moved to Santiago to study at the University of Chili where she received a degree in Design. Her first solo art exhibition: Suenos de Mujer, was in 2002. Since then she has participated in many more individual and collective exhibitions within Chili and abroad. Her art has been featured on the cover and inside of the Latin Version Louise Hay datebook for the last four years.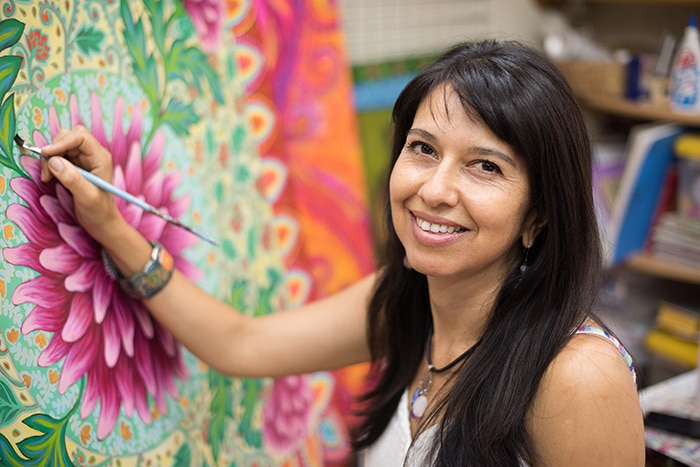 Rita: On your website, you wrote that from your earliest memory you were linked to the world of art through your Mother. She showed you a beautiful world of colors, shapes and textures through art books and through the observation of nature. Is or was your Mother also an artist? Could you tell me a little about her and how she inspired you?
Sonia: Yes, my Mother is an artist too, and she was an Art Professor for 20 years at the University of Chili. So I learned from her the theory of color, composition, painting and drawing technics since I was a little girl. She also taught me to look at nature with amazement, discovering its shapes and colors. She connected me with the creativity that I had in an innate way.
Rita: Are you also influencing your children to appreciate nature and art as your Mother influenced you? In what ways do you do that?
Sonia: Yes, I have always taught them to thank and admire the creation…to see how sacred it is to witness so much beauty. Nature is a gift for us, to human beings. I have also opened the door to music, good cinema, art and books…everything that means creativity.
I have 3 sons, and my influence has been strong…in some way. I know this because the older one studies architecture and the middle one, studies Visual Arts.
Rita: You have a beautifully developed style and your choice of colors is so vivid and bright. How long did it take for you to develop your own style? Did that happen before, during, or after your education at the University of Chili?
Sonia: I think that the development of my own style was after my time at the University. The University gave me formal tools, but my pictorial world was waiting asleep until I decided to give it space in my life and that was in the year 1996, when I quit my job as a designer and started painting in a self-taught way. That was a hard decision to make in my life…to leave my formal profession and take a risk in artistic painting.
Rita: Were there artists in the past who influenced your style of painting? Who are they and how did they influence you?
Sonia: Really not, maybe the principal influence on me was Indian Art. When I was a girl, I loved seeing the books about Indian Art that were in my home. I think even until today there is something oriental in my drawings.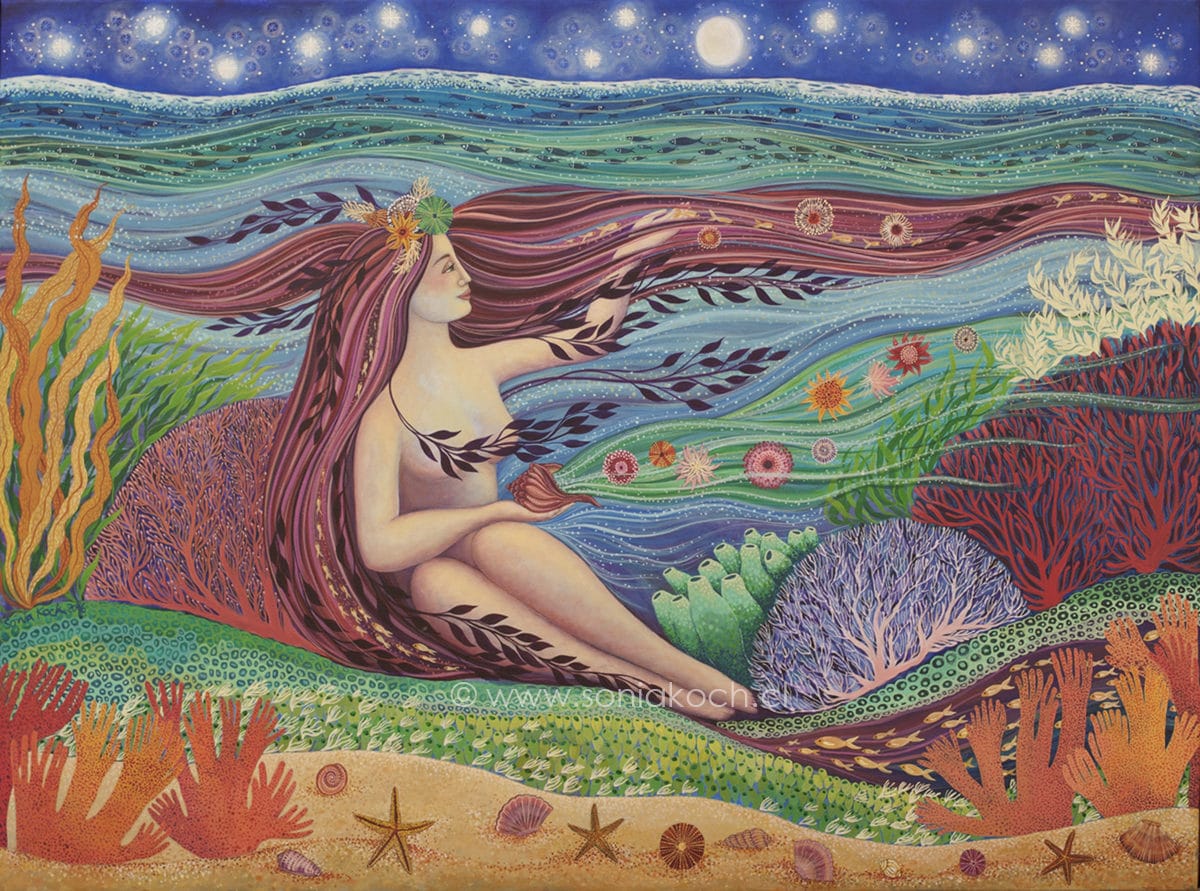 Rita: What category do you place your art in? For example, is it visionary, whimsical, spiritual, other name?
Sonia: I would say that it is a spiritual, internal and also naif art.
Rita: What do you hope your artwork accomplishes when people view it?
Sonia: I would like people to feel more joy, more peace and more energy than before looking at it. I hope in some way, my art is a channel of healing for them.
Rita: Does your artwork reflect a philosophy you have about life? If so, what is that philosophy? What is the message?
Sonia: Yes, because I try to live in the awareness that our Mother Earth is our most beautiful and sacred place where we experience life and can develop as human beings.
Therefore, I live in a lot of respect and gratitude with nature that allows us to be. My art seeks to reflect the love that I feel for nature.
Also, my way of painting with patience gives me the time to reach the result I'm looking for…just like the cycles of the seasons…like pregnancy…everything shows us the importance of waiting; waiting for the details in the necessary time.
Rita: What do you do when you feel creatively blocked?
Sonia: That very rarely happens to me, because I usually have images in my mind and heart that I want to paint! But when I get blocked, I like to live some days without going into my STUDIO, I do other things, like working in the garden or cooking…I change my focus. Also, looking at art books, or books from ancient cultures helps me overcome the block.
Rita: Was the inner-critic ever a problem for you when you first began painting? If so, how did you get past it?
Sonia: Of course, yes!! But that inner critic, in reality, is the fear of the external critic…because everyone wants to be accepted. However, when you realize that your way of doing art is unique, and it's a need of your soul…and what you want is to be happy and enjoy the moment of making art…the pressure disappears.
For quite some time, while I was painting, I thought, "Does what I'm doing have artistic value?" And, then I thought, even if it did not have that value…I could not stop painting. So I followed my inner voice and stopped putting power in what other people think. When I released that limitation and decided to be myself through my painting…my art began to flourish and to connect with many people.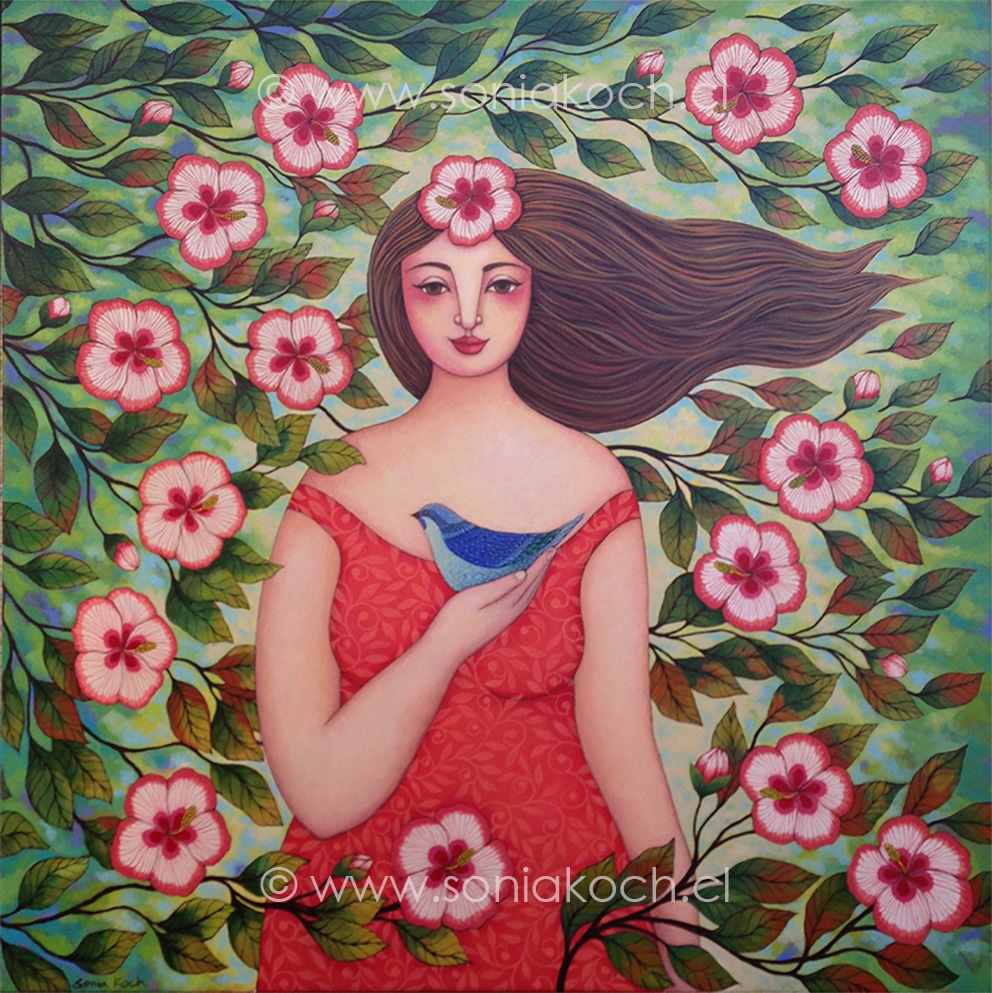 Rita: I read that your creative process is very intuitive and you find inspiration in things such as love, motherhood, sacred geometry and nature. Where are you when you receive inspiration of what to paint next? What kind of process do you go through?
Sonia: What inspires me most is to be in contact with nature: trees, flowers, the sea, the mountain, the wind, a sunset. This connects me with my own being and I can feel the unity of everything. My heart asks me to paint that feeling…from the feminine. Being a woman is a very strong experience in me, I feel that my painting is very feminine and fertile.
The last exhibition I did last year was about the trees. I drew many sketches … it's what I do first, make small sketches, then some become paintings. Some are left behind and years later I take them back out again…sometimes.
Rita: How has your art and your creative process been healing for your life?
Sonia: Art is my inner sanctuary. It really is my haven of peace. When I was 21 years old I was depressed, and painting helped me a lot to get out of there. I can be living difficult moments in my life, however, painting and drawing is always my path to light. I feel like I'm in love with what I do!
Rita: There is such serenity in your artwork. Do you sometimes find yourself floating away in bliss as you paint?
Sonia: Every day I paint without exception. I feel so much gratitude when I'm painting! I get excited and I thank God for this gift that I have received; the gift of finding my place in life through art. Sometimes I feel my heart bursting with happiness when I am painting! Not only for the act of painting itself but also because it allows me to be in my home, close to my children, to have freedom in my schedules, and to always have new and fun projects! Knowing that there is some uncertainty in what will come in the future in the work place stimulates me too! For example, this unexpected interview that allows me to establish new connections with people who are in other parts of the planet!
Rita: What achievement in your art career are you most proud of?
Sonia: I think the greatest achievement is having been brave to leave a "normal" job and start doing this path, without any certainty as to whether it could become my work. I heard only my heart and now that I'm looking back, I'm proud of myself.
Art has allowed me to know myself more, to know that when you leave the fear of change, everything begins to flow…and you align yourself with what you were destined to be.
I have been able to take my art to other countries such as USA, Colombia, Argentina, France, South Korea.
My art has reached the field of illustration in a natural way, without looking for it. This also gives me satisfaction. I appreciate being in the digital age, which has been fundamental to achieve this expansion.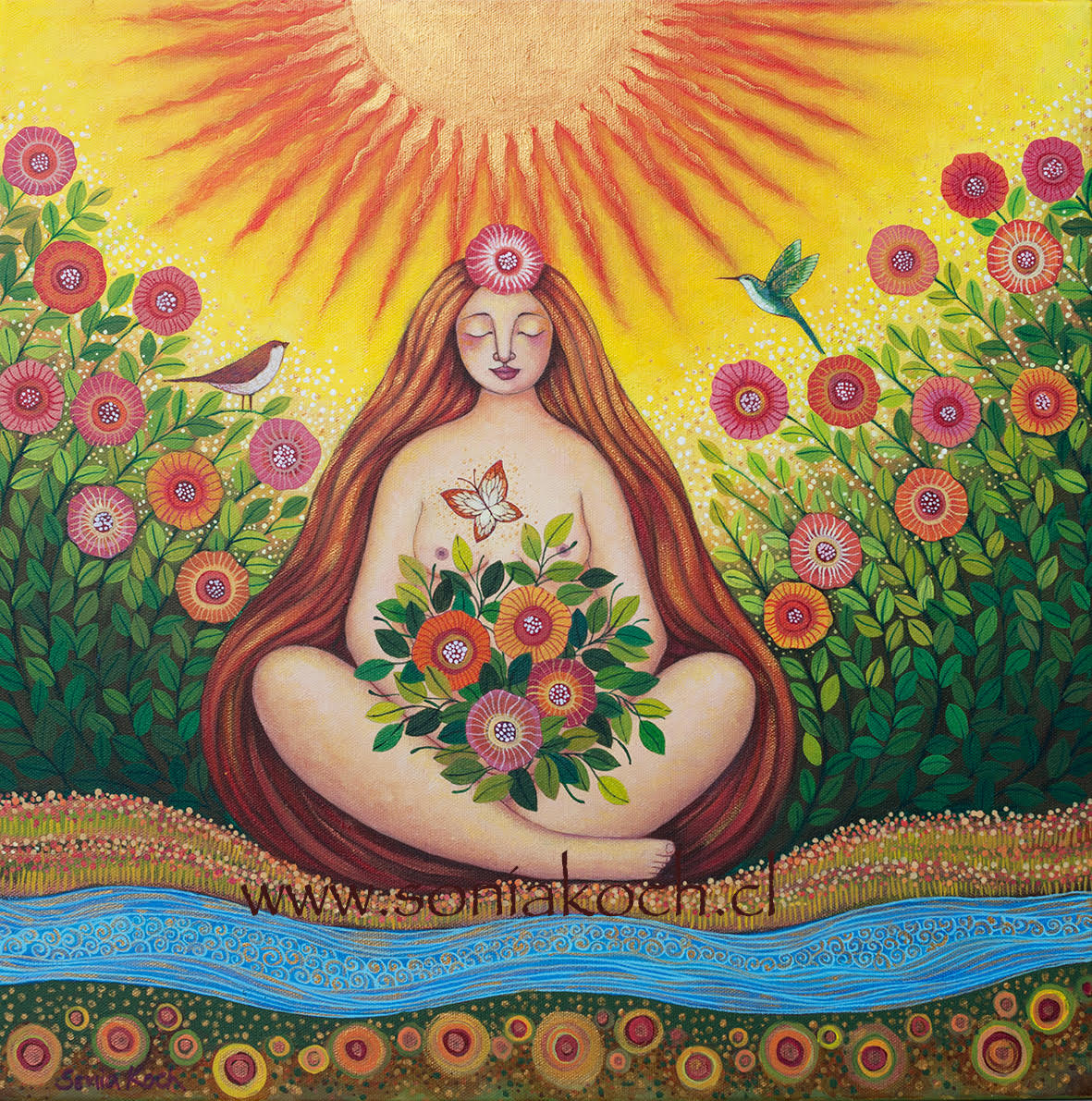 Rita: What is your work schedule like? What kind of art projects do you take on? I know you once did the beautiful artwork for a Latin-American Louise Hay date book for Hay House.
Sonia: At the moment, for the fourth year, I am preparing art to go into the Louise Hay datebook for Hay House to be distributed to Latin American countries. In May, I will make an exhibition in a gallery in Santiago and I am committed to painting a mural in a health center that cares for burned children.
I try to be very organized with my schedules. I like to start painting in the morning around 9am to take advantage of that energy of the day. But also, I like to paint in the night…it is very pleasant.
For me, painting is a necessity. So it's not a very "normal" job…because not painting unbalances me. My work is my greatest pleasure and my therapy!
Rita: Do you do custom pieces for the general public? Where can people in the USA purchase your art?
Sonia: Yes, I receive personalized orders, but only if they are themes that connect with the topics that excite me. For me it is an honor that someone wants to have something specially painted by me. I have received really nice and special orders!
In USA, I do not have a place to offer my original artworks. People would have to request me to do a special commission and I can send it once I finish the painting. But, you can purchase giftware with my exclusive art designs at Redbubble.com
Rita: Is there anything new and different that you would like to accomplish in your future art career?
Sonia: I would like to paint murals in places where my art can be seen by many people and make them feel happy. I would also love to develop my art in pieces of utilitarian ceramics.
Rita: Who are your favorite artists?
Sonia: Some of my favorite artists are Gustave Klimt, Vincent Van Gogh, Marc Chagall, Monet, Botticelli, and Georgia O'Keeffe.
Rita: Is there anything about your art or yourself that you would like to add to this interview?
Sonia: I could only add that I would like my art to remain as my contribution after my passage through this life is over. And let my art be evidence that I was able to connect with my gift. Every human being can do it. Because all of us, without exception, have a unique gift to give to ourselves and to others. The world will be better when more people do what enhances their heart.