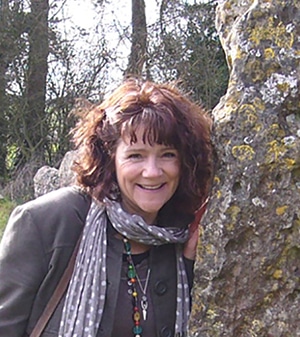 Wendy Andrew has painted almost all of her life, being encouraged from a very young age by her artist father. She went on to study fine art at Salisbury and Cheltenham College of art. She now lives, paints and dreams in the beautiful land on the Wiltshire/Dorset border of England. Wendy's work is inspired by the ancient mysteries that are wrapped in the turning of the seasons and the voice of Goddess speaking through the mythical realms. Wendy wrote and illustrated 'Luna Moon Hare – a magical journey with the Goddess' in 2008. Much of Wendy's artwork is available as greetings cards, prints, and calendars. Originals are in collections around the world. Wendy hopes that the images she creates will bring a feeling of oneness, love and care.

How long have you been a professional artist?
Goodness! It's been well over 25 years! How time flies!
What inspired you to begin creating healing art?
I began creating paintings to describe my sense of wonder at the mystery, beauty and enchantment of life. As I discovered mythology, the olde stories and the wheel of the year, my paintings moved from being purely descriptive to carrying more of a message. It is WONDERful when people find healing in my paintings.
Many people tell me that my artwork 'speaks' to them on a deep level and that it brings solace, happiness and healing. I hope that my paintings bring a feeling of nurture and love.
What is your creative process like?
Many of my paintings describe the ever-changing quality or aspect of Goddess as She can be felt through the changing seasons of the year. So I very often will get out into nature, soaking up the energy of the season and come back to my studio and portray in paint how that divine vibration touched me.
What keeps you inspired to create your art?
A constant desire to share my love for the amazing gift of life! I am blessed to live in a very beautiful part of south west England and I am surrounded by gorgeous countryside and ancient woodlands. I hear the voice of Goddess in the natural world and She inspires me to be creative and share my "wonder". I also feel that inspiration when I read folklore and mythology and the "olde ways" that I feel need to be remembered.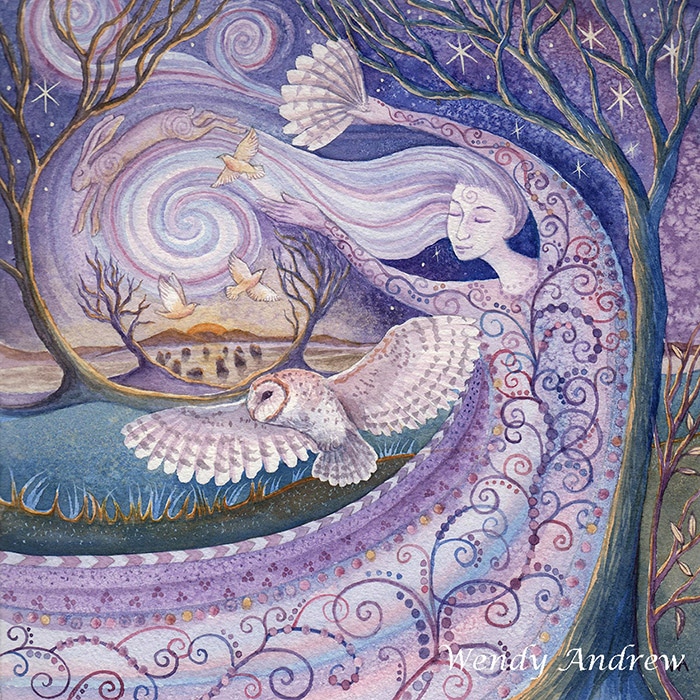 How has your art and your creative process been healing to your life?
The process of painting for me is very much like a meditation. I become so completely absorbed that everything else fades away….any worries or concerns evaporate as the painting emerges.
It doesn't always happen, but sometimes, just like in a lovely meditation, I can let go of my brain (that wants to be in charge) and my heart opens and then I feel like a channel for a higher energy (I call Her Goddess) and the painting flows in the most wonderful way! When this happens, it feels like such a blessing! I think the most healing thing is to feel a connection to the divine and realize that we are all one.
Was the inner-critic a problem for you in the beginning of your art career and how did you get past it?
Oh yes, the inner-critic did have (and still does have) an annoyingly loud voice in my head! Unfortunately, I think it's a common problem for most creative people! When he is being particularly annoying, I remind myself that it is me that is giving this critical imp a voice to start with! Haha! It's crazy isn't it?! So then I consciously silence the imp and replace all the negative comments with positive ones! There are still days when that imp rears his ugly head again but I am getting better and better at silencing him!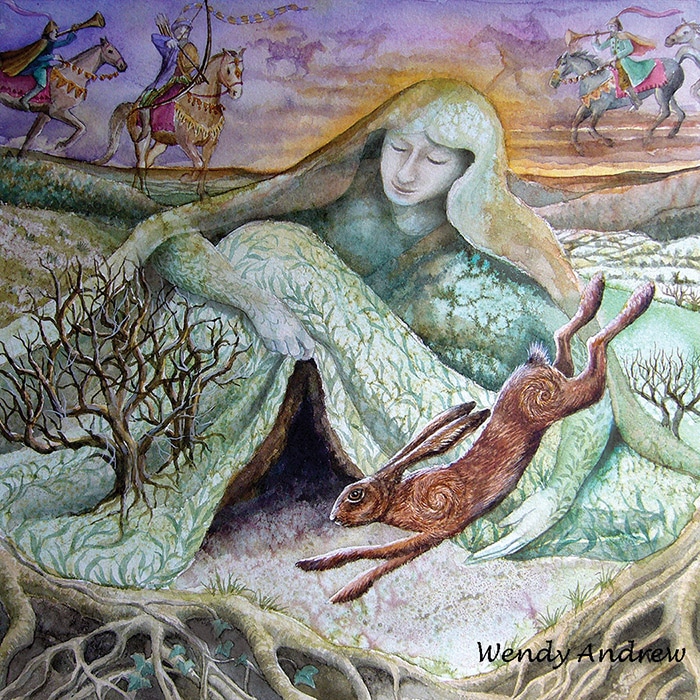 What achievement in your art career are you most proud of?
Oooh that's a tricky one because I am pleased with different paintings and projects for different reasons! But I think it has to be my book 'Luna Moon Hare' which I wrote and illustrated.
Over the years, since it was published in 2008, so many people have written to tell me how much it has touched, helped and brought comfort and pleasure to them. That makes me feel so happy and proud!
What would you still like to accomplish in your art career?
Oh, I have SO many things that I would still like to do! Where to begin?
Well…I have a second book that I have written and illustrated (in my head) that I am longing to have time to set to paper and publish! So many paintings that are swirling around in my creative cauldron just dreaming of being created! Puppets I want to make (I used to be a puppeteer) and stories I long to tell. I have two beautiful grandchildren and I long to write and illustrate stories for little ones! And I have just created a beautiful oracle deck, that I am very excited about, and it will be published at the end of this year!
Who are your favourite modern day artists? Gosh, there are so many amazing artists! I have quite an eclectic taste! Mostly, I adore whimsical, enchanting work like the illustrations of Terri Windling, Fidelma Massey, Cecile Veilham, Lucy Campbell, Diana Sudyka, Jackie Morris, Olivia Clifton Bligh, Holly Sierra, Rima Staines to name a few.