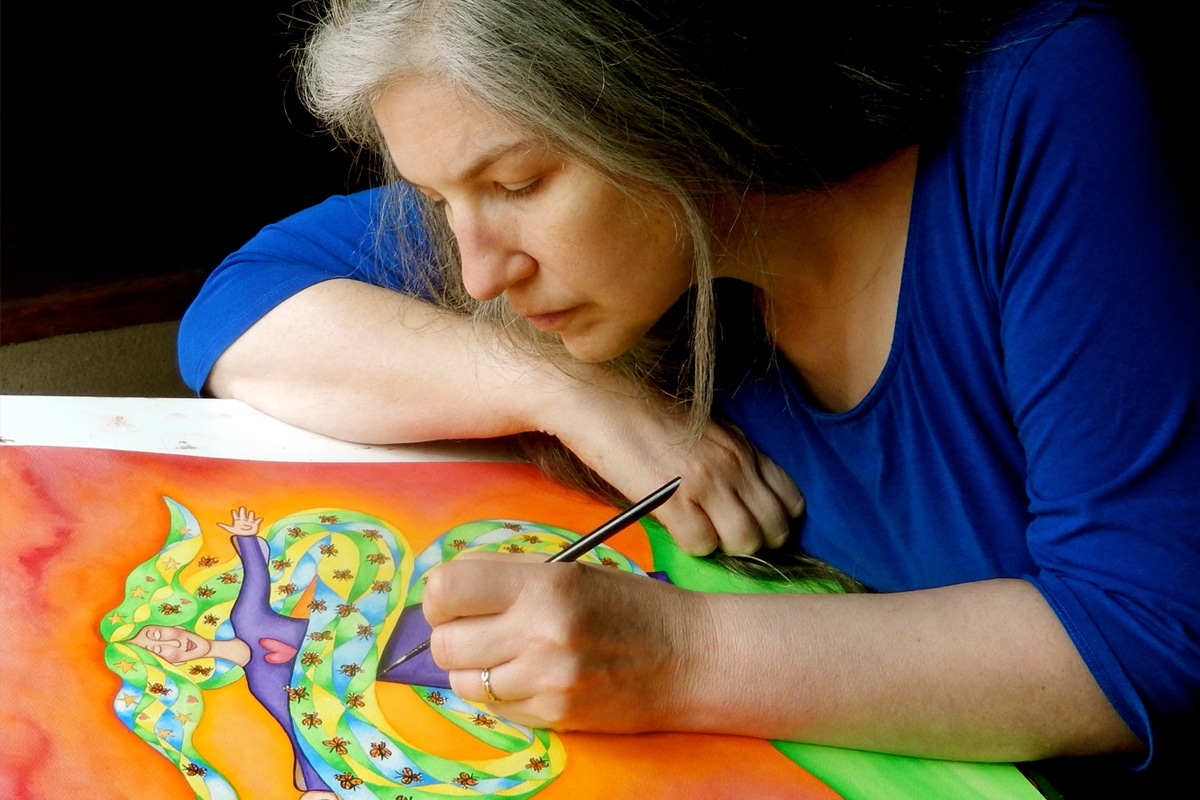 The inspiration to paint healing art
came to me in 1996 as a way to create a sense of wholeness in my life after a year of debilitating and chronic stomach problems that would lead to 20 plus years of chronic fatigue syndrome. I had tried both western medicine and alternative medicine to heal, but without success. I also explored healing on a spiritual level through books but, although helpful, I still felt myself disappearing into depression. So I decided to paint art as a way to lift my spirit.
In order to paint images that would lift my spirit, I first had to examine the areas of my life that needed lifting. So I would ask myself questions, such as, "What is bothering me? How does this make me feel? How do I want to feel? Why does it bother me?" And then I would reflect upon my spiritual studies for advice to see how I could look at life differently, and then that advice was what I painted.
During this time, my creative process became my teacher, healer, and friend
A friend who was always there for me, willing to listen and eager to help.
A healer who helped me to process my thoughts and feelings. And helped me to visualize myself strong and at peace.
A teacher who taught me valuable lessons about life. The most important lesson was that it taught me WHAT real self-love is and HOW to truly love myself.This was something that I could never understand before.
When I first began to paint nurturing art, I didn't know that my art was going to be about self-love. In fact, I didn't know what self-love was. I thought I had known what it was before getting sick, but afterwards when I lost the ability to do the things that I use to be able to do, I stopped loving myself and realized that my self-worth had been conditional.
Then one day in 2005, I had an epiphany.
(I wrote the details about this in my book.) After years of painting, I could suddenly see that my creative process was teaching me HOW to love myself and my art was a reflection of that journey. The way the creative process taught me this was that it gave me a SETTING and a REASON to:
Slow down
Look inward without judgment
Ask myself questions
Look for healthy answers to my problems
See life in a more positive way
Process my fears, feelings and doubts
Be kind and patient with myself
Believe in myself
Trust in my intuition and ability
Value my opinion and sensitivity
Allow myself to have a voice in this world even when no one else supported that idea.
Now that I could see what self-love was, at least within the boundaries of creating my art, I was motivated to keep learning about self-love in order to incorporate self-love into all areas of my life. I have since gained a greater sense of peace, wholeness and empowerment. I know now that self-love is an ongoing, ever-evolving process and when I remember to realign with unconditional self-love, I am able to shift from a place of negativity and defeat to a place of freedom and empowerment.
I am grateful
For what started out as a path to self-healing has grown into a business that allows me to share my tools for nurturing self-love with others. And it is so rewarding to hear from the people who have received inspiration from my work. I am also proud that my book, therapeutic line drawings and unconditional self-love message card deck are being used by therapists, healers and yoga teachers all around the world.
In 2016, my Mother passed away from Alzheimer's disease. Before she passed, I helped my Dad care for her at home for the last five years of her life. It was a deeply meaningful experience but also very difficult.
I am currently writing a book for caregivers from all that I learned during this sacred journey with my Mother. And I am deepening my experience with unconditional self-love every day as I go through the new challenges of my life.
I can honestly say that I understand what it is like to not love yourself and to search for its meaning.
I hope you find meaning here. I hope you find inspiration to begin, continue or to return to the path of unconditional self-love.