For additional greeting card images and art prints, visit my Zazzle storefront.
To pay by check, print out this form and mail in your order.
SHIPPING: A shipping fee of $7.00 per order applies to retail orders shipped inside the U.S.A. Orders shipped outside the U.S.A. will have an $20.00 shipping fee for the first item and $5.00 for each additional item.
NOTICE: If you're experiencing a problem with the shopping cart unexpectedly dropping items, please try an alternate internet browser or simply email me to discuss other PayPal options.
The Art of Unconditional Self-Love Book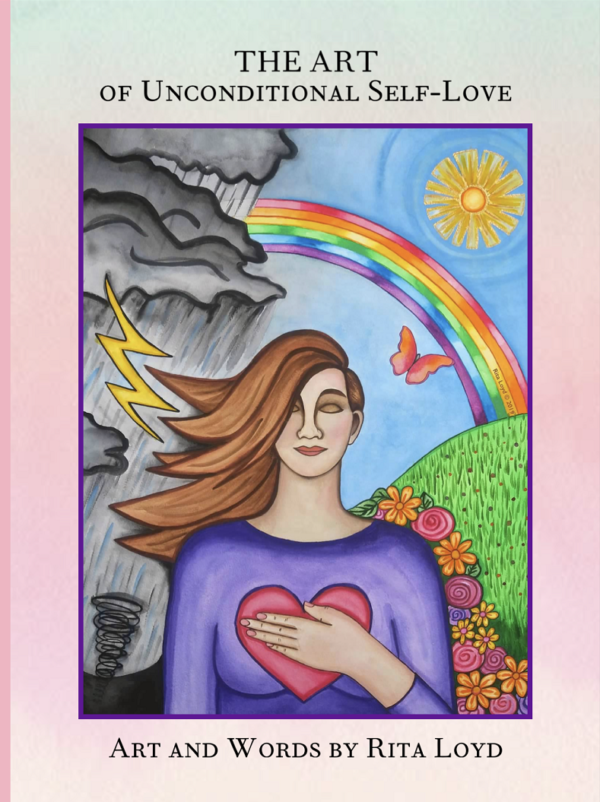 I'm so excited to share with you my new Art Book because it teaches unconditional self-love in such a beautiful and unique way by using healing art images to illustrate each point. Plus, it goes DEEPER into all the essential ingredients needed to cultivate unconditional self-love yet the writing is condensed into just 30 pages making it a perfect read for anyone who has limited time or attention.This Art Book features 25 of my latest paintings with 12 never before seen images. It's hard bound, full color and is 11×8 in size. Available only on my website.
My New Art Book answers these important questions:
Why did it take me so long to love herself?
What is unconditional self-love?
What is self-hate?
Why is unconditional self-love important?
What blocks us from unconditional self-love?
How do you cultivate unconditional self-love in your daily life?
$29.95 each
Unconditional Self-Love Book 2nd Edition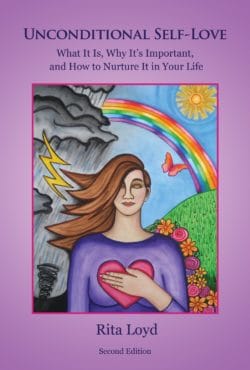 Inside this book are four sections: the story of how I became a painter of healing art and how the creative process taught me to unconditionally love myself; a colorful collection of my art and affirmations; what I have learned about unconditional self-love (including what the difference is between ego-based self-love and spirit-based self-love); and fourteen therapeutic exercises that will help you incorporate unconditional self-love into every aspect of your life.
$16.95 each
Attention Non-Profit Organizations: Email Rita for non-profit discount.

Self-Love Prayer Flags
A set of nine prayer flags with messages of self-love. Hang in a place where you need a reminder to unconditionally love yourself. Comes with an 8 ft ribbon.
Only 7 sets of prayer sets left. Order now before they sell out.
$15.50 each
Unconditional Self-Love Message Card Deck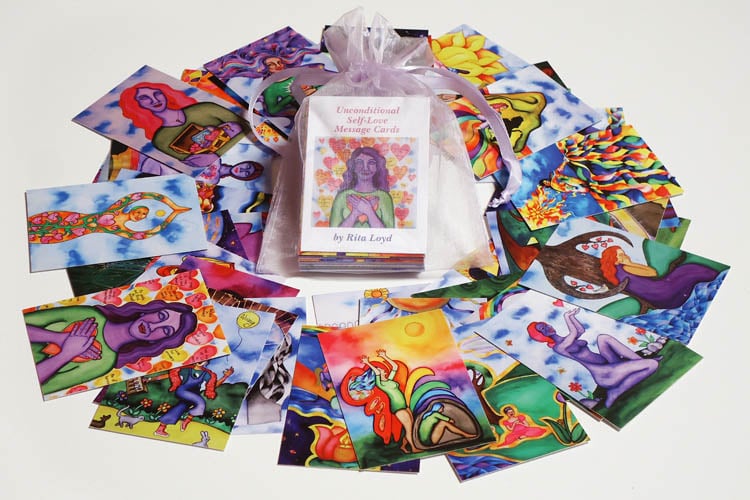 A collection of 50 art images by Rita Loyd with messages of unconditional self-love on the back of each card (card size 2.5 x 3.5). Packaged in a purple lavender organza bag.
Decks are $16.00.
Assorted Greeting Card Bonus Pack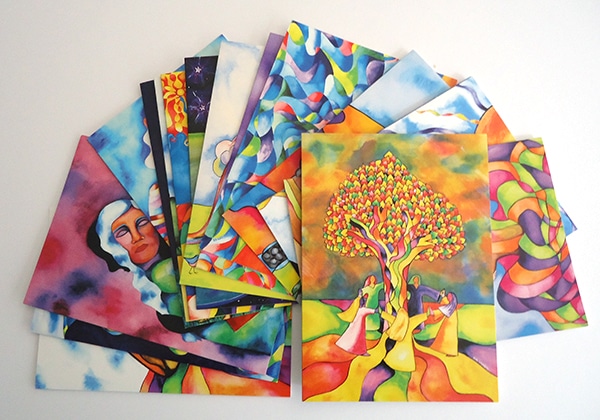 Each greeting card has an affirmation by the artist on the back. All 16 images – savings of $30.
$34.00
Original Paintings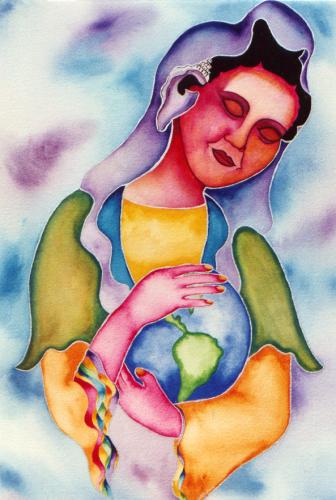 Not all paintings are available.
Contact me
for exact price.
The price range is $300 to $1200.
Individual 5×7 Greeting Cards
Each greeting card has an affirmation by the artist on the back and is blank inside.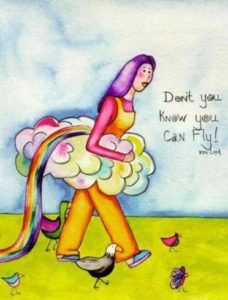 Affirmation on the back of card: Like the eagle, rainbow, and butterfly, I too was born equipped to fly.
$4.00 each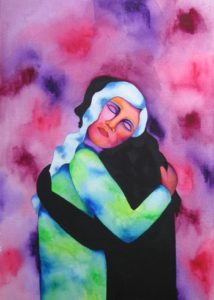 Affirmation on the back of card: I embrace all aspects of self, shadowed and illuminated. I embrace the illuminated self for she is my spirit realized. I embrace the shadowed self for she reveals to me the pain and fear within still unresolved.
$4.00 each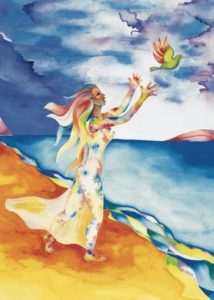 Affirmation on the back of card: I release like a dove all burdens of my heart and surrender to God all expectations and control. I give life my best effort while detaching from any particular outcome. If predictions and worry carry no aid then I discard the fruitlessness of those thoughts, that I may no longer be drained by them. With a clear mind I journey through life with only the tools that bring power to my circumstance.
$4.00 each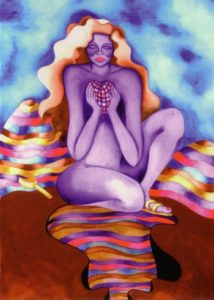 Affirmation on the back of card: Searching for meaning, searching for worth, I am directed inward. I excavate through the layers of resentment, guilt, sadness and shame to find that my identity is none of these emotions but a beautiful spirit that waits just beneath. Buried beneath the tiers of buried tears, I am discovering the unique facets of my spirit being. Quietly she has waited for the rage of the ego to subside, for her voice is gentle and is not easily heard over the rant.
$4.00 each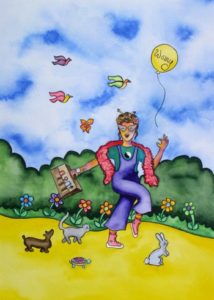 Affirmation on the back of card: I take time out each day to create joyous moments through humor, appreciation and love. I may not be able to change the fate of a whole day, month or year, but as long as I can create joyous moments, then even in the darkest of times, life is still good.

$4.00 each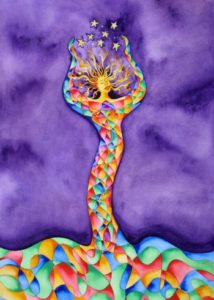 Affirmation on the back of card:The stars are not so far away, the ocean not as deep, hatred not impenetrable when prayers our heart does keep
$4.00 each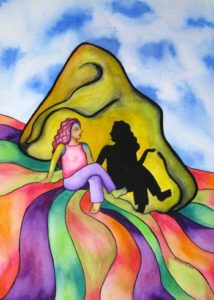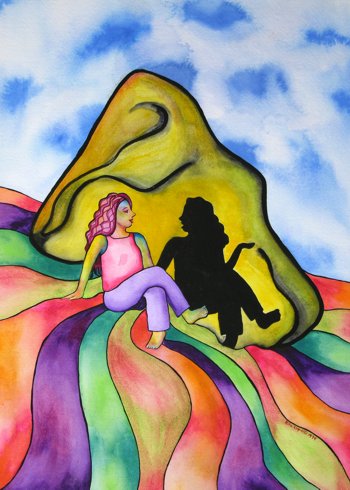 Affirmation on the back of card: I take the time to listen to the voices within. I hear the pain and the disappointment. I hear the dreams and the desires. And I do my best to honor each voice with compassion and examination.
$4.00 each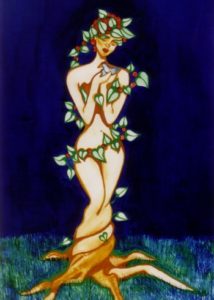 Affirmation on the back of card: As a tree seed planted into the ground, I have slowly slipped my tiny roots into life, gingerly sensing a safe place to take root and grow. As I have grown and become more secure within my setting, I am able to branch out my love, nurturing others whose path has brought them beneath my shade.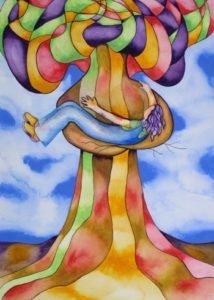 Affirmation on the back of card: The magic of an embrace is beyond the physical touch ~ It is in the feeling of love and security. This feeling is not from outside of myself but rather from within ~ laying dormant…. and waiting to be remembered. Since this feeling is from within, then it is always in my power to recreate it.
$4.00 each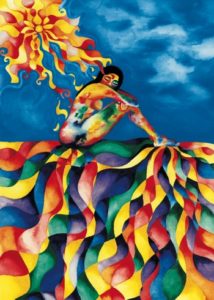 Affirmation on the back of card: Closing my eyes, I visualize the healing of Mother Earth and Father Sky. Heavenly rays of sun stream through my body cleansing away all toxins and nourishing all weaknesses. As the earth replenishes my energy with her own, she also draws out anxiety and other heaviness through the soles of my feet.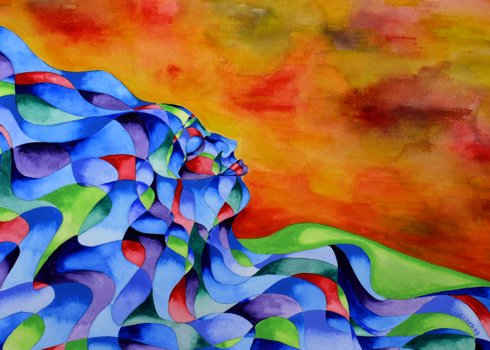 Affirmation on the back of card: I flow with the river of life. Eddies of concern swirl only momentarily in mental process. I no longer dam the waters in an attempt to reroute something that is more powerful than my own preference. I strive for a deeper awareness of truth so I can perceive correctly the difference between what is and what only appears to be real and unmovable.
$4.00 each
Affirmation on the back of card: We all carry burdens on this earth journey. What we have experienced, and how we have perceived and interpretted that experience, colors our response to life. Each interpretation and path is unique. That is why I take not personally harsh words from others, for those harsh words only reflect the journey of the traveler who has spoken them.
$4.00 each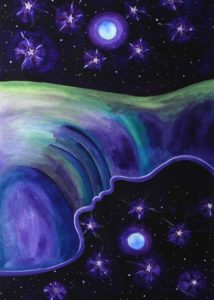 Affirmation on the back of card: As I still and clear the turbulent pools of my mind, I am able to mirror God's loving reflection in my existence.
$4.00 each
Affirmation on the back of card: The beauty of a rainbow is in its diversity of color. I desire to appreciate the beauty in all life's contrasts. By allowing others their uniqueness, I, in turn, allow my own. In our varied shades of opinion, expression and appearance, my spirit knows that we are all rays of the same shining sun.
$4.00 each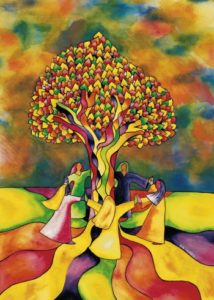 Affirmation on the back of card: Let us join hands in celebration of the Earth. We are stronger and louder united. Beautiful is the sky, the water, the land. We are all the native dwellers of this sacred ground. Let us protect and nurture our home, our planet, our mother.
$4.00 each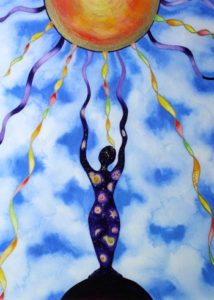 Affirmation on the back of card: As a ray of sunlight contains the essence of the sun, so as I contain the essence of God. God is love, and God's love is a current of energy that flows to me, through me, and from me.
$4.00 each