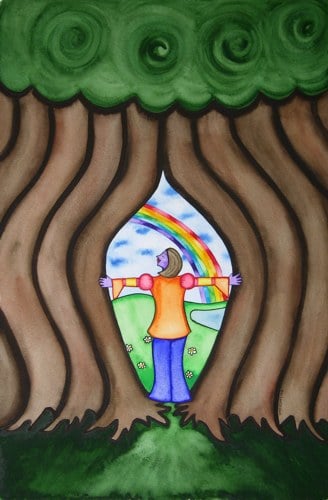 I have experienced frequent bouts of depression all through my life. When it has gotten really bad, I have asked myself, "What does my life matter? Why bother?" After decades of asking myself this question, I have finally found my answer. My Life matters because I am here and since I am here, I might as well matter. I might as well make my day matter, my voice matter and my actions matter. How I think matters too because it determines the quality of life I experience.
When I am depressed, depression affects the way I feel and how I feel affects the way I think. So I like to remind myself that I am more than my feelings and thoughts. I am the observer of my feelings and thoughts. And I can make decisions about my life from a place of knowing what is healthy for me rather than based on how I feel. And I know self-love is the healthiest choice for my life.
I have learned that depression is a liar and it will try to negatively narrate the story of my life. So I instruct myself to pull out of that story when I become aware of that story being told in my head. I tell myself to come back to the present moment and to what is real right now. I also like to tell my negative thoughts, "Negative thoughts go to the light of God. I replace you with positive, healing and loving thoughts." This helps me to shift my thought pattern to thoughts that are more encouraging and kind to myself.
My depressed thoughts are usually about the pain from my past or imagining a future situation or conversation in a negative way. These conversations and situations can feel so real. That is why it's good to remind myself that thoughts are just thoughts. What we are thinking right now is only a reflection of how we feel at this moment, they are not a secret glimpse into our future.
Now that I know how to love myself, I accept that depression is a part of who I am and how my brain functions. I don't feel shame about it any more. I know depression affects a lot of people including smart and creative people such as famous actors, news casters, writers and painters. So I am in good company.
And because I practice self-love, I feel motivated to try different things to ease my depression. For one thing, I look at what I have been eating and drinking. For example, I have noticed that benedryl and stevia seem to make my depression worse. So I try limit the intake of those 2 things when feeling depressed. Also, I have read that vitamin D and sunshine help decrease depression so I try to get plenty of both.
Also, If I am doing any kind of cleanse for my health, I notice that released toxins can cause depression so I make sure not to get constipated. Also, I found drinking happy tea with saint johns wort from Republic of Tea helps me to feel better.
Exercise also helps to diminish my depression if I am able to exercise but since I have chronic fatigue syndrome, I don't always have the energy. Science has found that exercise stimulates the release of endorphins, dopamine, norepinephrine, and serotonin. And according to Dr. Suzuki, "One reason exercise leads to a happier, healthier brain is because it promotes neurogenesis, or the birth of new brain cells, which helps improve cognitive function."
Yes, depression can initially block us from self-love. But if we can choose self-love in spite of how we feel, self-love can be a refuge to return to when we feel lost in depression. Self-love can remind us to be compassionate with ourselves as we navigate the highs and lows of life.