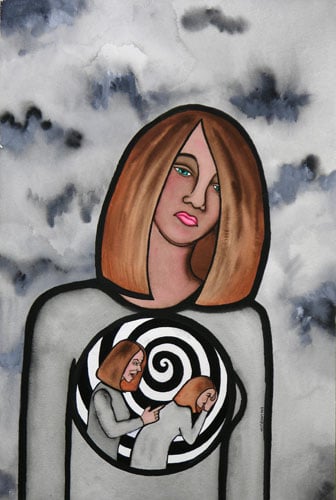 Self-hate is actually not something that we easily detect within ourselves because it comes in many shades and disguises, ranging from the extreme state of self loathing and abuse to the subtle shades of indifference, negativity and neglect. All degrees of self-hate are harmful because any form of self-hate depletes our health, our happiness, our relationships, and our lives to some degree.
Self-hate comes from the negative messages in life, which we have received and carry around with us as our truth. Often times, these negative messages were spoken by people who we have looked up to, and how deeply their opinion affected us depended on how sensitive we were to their words. The irony is that, often these words were never spoken with the intent to strip us of our self-worth. Rather they were spoken in moments of frustration, exhaustion, anxiety, pain, fear, emotional breakdown, drug use or alcohol use. In other words, they were spoken in ignorance rather than in truth.
By examining what may have been the state of mind of those who spoke those words to us, it can change the effect those words have on us today. If we can begin to understand that those words were spoken by people who felt as frustrated and overwhelmed with life as we have felt, we can then see that we have put too much weight into their meaning and that we are now free to change their interpretations. In fact, we are free to discard those words altogether in order to re-define our own value and truth. We are now free to choose unconditional self-love.
Note: This blog post was inspired by my book, Unconditional Self-love:What it is, Why it's important, and How to nurture it in your life.
I will continue to share Lessons in Unconditional Self-Love with you. It is my hope that my words inspire you to continue, to renew or to begin your commitment to always love yourself with unconditional love. I will post Lessons in Unconditional Self-Love on a regular basis 2 to 4 times a month. And I hope you will join me and share with me your thoughts and experiences.